ACT Brumbies enforcer Fotu Auelua​ was watching his mates at ANU North Oval, but in an ideal world he would have been in South Africa resuming his Super Rugby career.
Auelua returned to the ground where he tore the medial ligament in his knee for a second time a fortnight ago to support his Brumbies teammates Siliva​ Siliva and Tom Staniforth in their John I Dent Cup match for Royals.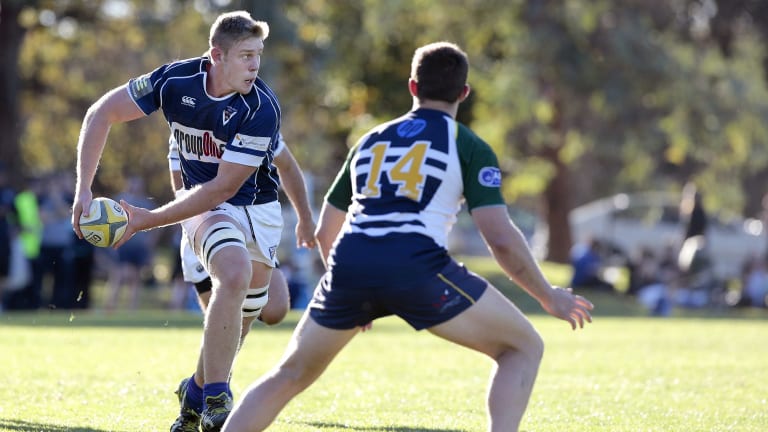 Royals easily accounted for Uni-Norths 50-0 on Saturday, but the game had to be moved to an adjoining field after Royals winger Otto Wrakonei​ suffered a suspected broken leg.
Wrakonei stayed on the ground until an ambulance arrived.
Auelua's wretched luck with injury continued two weeks ago when he tore the medial ligament in his knee in the first carry of the game playing for Wests.
He will be sidelined for the next 12 weeks and has most likely played his last game for the Brumbies, as the 31-year-old contemplates playing overseas next year.
Auelua was due to fly out to South Africa with the Brumbies the day before his knee injury.
"Mentally it's been tough," he said. "I had my bags packed ready for Africa, and when I done this, I threw my bags upside down and had to unpack it again.
"It's been a frustrating year because when you're so close to playing, there's always been another setback. That seems to be the story of my life the last couple years.
"I have to keep my head up, keep looking forward and get my knee better."
Auelua said he had not made a decision on his future, but admitted the toughest battle will be to stay positive during the rehabilitation process.
"If I was to retire, it wouldn't be because of my injury, it would be because of my mental attitude," he said.
"That's where I have been finding it tough and you start to doubt everything you've done. I know I have a lot of footy left in me because I haven't played much the last couple of years.''
Royals were on top from start to finish in a complete display, leading 22-0 at the break before carrying on the job in the second half.
The trend of one-sided games continued across the John I Dent Cup. Wests ran out 41-20 winners against the Gungahlin Eagles, while the Tuggeranong Vikings stamped their dominance thrashing Easts 68-0 at Viking Park.
Lee Gaskin is a sports reporter at The Canberra Times.