Welcome to the brave new world of the AFL draft. You might have thought father-son and academy bidding added an extra element to the event. That was something, but live trading is another matter altogether. Clubs enter this draft with an extra element of uncertainty because trades can push them into a range they didn't anticipate.
That means doing more homework on players that in previous years would have been a waste of time. Still, the general feeling around the league was that clubs would be gun-shy to make bold live trades at the first time of asking. There has been a lot of hot air, but how much of it will materialise into actual moves. Another distinguishing feature of this draft is the amount of father-son and academy players, promoting a bidding frenzy.
Then there is the group of highly rated South Australians who have had tongues wagging for years and added considerable intrigue to the behaviour of Adelaide and Port Adelaide, both of whom have traded heavily into this draft. The other big change this year is that the draft is being held over two days, rather than one. The first round will begin on Thursday night, with the remainder of the draft to be completed on Friday. The rookie draft comes later on Friday, so in essence, all drafting this year happens within a 24-hour window.
I'm taking it one day at a time, though, so here's how I see things might pan out on Thursday night. There are 19 listed selections, however this is likely to balloon to 22 or perhaps 23 because of matched academy bids.
1. CARLTON
Sam Walsh (midfielder) 184cm 77kg Geelong Falcons
There are those who argue that Izak Rankine is more talented, that Jack Lukosius' upside is greater or that Max King is a better long-term proposition. Those arguments have merit, but Walsh has emerged in recent months as the likely No. 1 pick, and with good reason. He is polished, courageous and dependable. Rankine gave Carlton something to think about but the strong expectation is that unless the Blues are offered something unbelievable on Thursday night then the boy from Ocean  Grove will join the wooden-spooners.
2. GOLD COAST
Izak Rankine (midfielder) 179cm 79kg West Adelaide
Rankine is a delight on the eyes, with his ability in the ground and in the air winning rave reviews. He can turn a match on its head, and was magnificent during the national championships. He has some rough edges but the expectation has been for some time that the Suns will pounce, although whether it's with pick two or three - largely academic in the long run - was believed to be a mystery even to those involved as of Wednesday.
3. GOLD COAST
Jack Lukosius (tall forward) 195cm 83kg Woodville-West Torrens
Lukosius was being spoken about from a long time before this draft as a potential No. 1 pick, bursting onto the scene with four goals in an SANFL preliminary final last year. Athletically gifted he can play at either end and it's understandable why he's been compared to Nick Riewoldt. Talk has long swirled that Adelaide would make a compelling play to get a pick early enough to take Lukosius but it's very hard to see him being drafted by anyone other than the Suns. As stated above, whether it is with pick two or three looks a toss-up.
4. ST KILDA
Max King (tall forward) 204cm 90kg Sandringham Dragons
Things could well have been different had the Haileybury College star not suffered a serious knee injury early in the year. There are plenty who maintain though that he is the best player in the draft pool, given his brilliant athleticism and marking ability. The Saints arguably need midfielders more than tall forwards, but despite the Saints being strongly linked to fellow St Kilda supporter Connor Rozee, they are still favoured to take the older King twin here. He's spent plenty of time at Moorabbin this year while undergoing his rehabilitation.
5. PORT ADELAIDE
Connor Rozee (medium forward/midfielder) 185cm 74kg North Adelaide
There's plenty to like about this member of SA's outstanding national under-18 championship -winning side. He's strong overhead, is good in tight confines, and versatile. If Max King fell through it's expected Port would pounce, and they like Ben too, but a local player this impressive is probably too good to overlook.
6. GOLD COAST
Ben King (tall utility) 202cm 87kg Sandringham Dragons
Ben has played at both ends of the ground during his junior career, impressing during an extended stay as a forward this year while Max was injured. He'd prefer to stay in Victoria, and the Suns would have to be conscious of the potential go-home factor, especially given the likelihood Max will head to the Saints, but Ben appears too good to pass up. If Port opt for King then expect the Suns to take Rozee, although Jye Caldwell has also been spoken about for this pick.
7. WESTERN BULLDOGS
Bailey Smith (midfielder) 185cm 83kg Sandringham Dragons
Smith is an extremely fit and diligent goalkicking midfielder who finds plenty of the ball. The Xavier College star has been linked with this pick for a while and would add plenty to the Dogs' midfield mix. He's another whose preference is to stay home, and the expectation is he will get his wish. The Dogs would have something to think about, though, if Ben King was still available. There has also been talk this week of the Bulldogs trading down a pick or two from here in the hope they could still get Smith. Adelaide, Port and the Giants have been floated as trading partners. The Dogs were keeping their options open this week, meeting Zak Butters who is expected to fall late in the first round, perhaps with an eye to picking up a pick in the back end of the teens as part of a swap with one of the aforementioned clubs.
8. SYDNEY
(Matching Adelaide bid)
Nick Blakey (tall utility) 195cm 82kg Sydney Swans Academy
Blakey has had his injury problems but the son of 359-game Fitzroy and North Melbourne servant John Blakey is clear talent, with a terrific left-foot kick. He is probably best utilised forward but can play several positions. Blakey chose the Swans over Brisbane and North, both of whom had father-son claims over him. There'd been some talk a few days ago that a bid could come from Port Adelaide at pick five, but the expectation now is that it will be the Crows who will force the Swans' hand.
9. NORTH MELBOURNE
(Matching Adelaide bid)
Tarryn Thomas (medium forward) 188cm 82kg North Launceston
Thomas has his knockers, but the North next generation player from Tasmania is versatile and starred in the national championships for his state. Again it is the Crows who are tipped to keep the Roos honest.
10. ADELAIDE
Chayce Jones (midfielder/forward) 180cm 77kg Launceston
This is a fork-in-the-road pick. Versatile Tasmanian state captain Jones has been linked to this selection and talk continued to rage on Wednesday that he could be the man. But Jye Caldwell has firmly been in discussions as well. Tough midfielder Caldwell is good both on the inside and outside and has plenty of fans despite an injury-cruelled year.
11. GREATER WESTERN SYDNEY
Jye Caldwell (midfielder) 184cm 82kg Bendigo Pioneers
The Giants have shown interest in several players, and have a tactical decision to make given they sandwich Port's second selection. Could GWS chance their arm on someone they like in the belief a player they rate even more could be overlooked by Port? Caldwell, Jones, Riley Collier-Dawkins, Jackson Hately and former cricketer Jordan Clark all look like chances here. Clark has made a rapid rise this season, and could be a playmaker off half-back for years to come.
12. PORT ADELAIDE
Jordan Clark (medium defender) 185cm 81kg Claremont
Port have been linked to a lot of the same players as the Giants given they come in the middle of the two GWS selections. Again it wouldn't be a shock to see them take one of Hately, Jones or Caldwell.
13. GREATER WESTERN SYDNEY
Riley Collier-Dawkins (midfielder) 190cm 91kg Oakleigh Chargers
In some respects Collier-Dawkins is the prototypical modern tall midfielder, good on the inside and outside with plenty of explosiveness. The expectation is that he will get to the Giants, with one of their mid-first round picks.
14. GEELONG
Jackson Hately (utility) 189cm 80kg Central District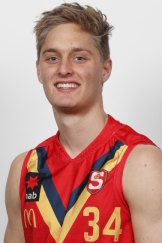 The affable Hately showed plenty for SA during the national championships this year. He is an excellent contested-ball player and has impressive fitness too. It would be no surprise if the Power or GIants snapped him up somewhere between 11 and 13, and it is very hard to imagine Hately slipping past the Cats. If Hately is gone already, Jones could be the man here.
15. COLLINGWOOD
(Matching Adelaide bid)
Isaac Quaynor (medium defender) 180cm 83kg Oakleigh Chargers
Again it's the Crows who are expected to keep another club honest. Dashing half-back Quaynor has been spoken about as a possible top 10 pick and it wouldn't be a complete shock if Adelaide bid on him with their first pick. But we're tipping the Collingwood next generation player will get through to this point, which all things considered would be a reasonable result for the Pies, who have limited points to play with.
16. ADELAIDE
Xavier Duursma (midfielder) 186cm 73kg Gippsland Power
The nephew of former Melbourne, Brisbane and Sydney player Jamie Duursma, Xavier has speed and finds plenty of the ball. Port Adelaide are also in the frame for Duursma, while Zak Butters has been linked to the Crows with this selection as well.
17. FREMANTLE
Zak Butters (midfielder) 181cm 71kg Western Jets
Butters battled a shoulder issue this year but his neat ball use has won admirers, and he has long been linked with the Dockers. Interestingly it's believed he met the Bulldogs earlier this week, which suggests the Dogs are keeping the door ajar for a trade which could leave them in a pick with this region. West Australian Ian Hill has also been linked with this sort of draft territory.
18. PORT ADELAIDE
Ian Hill (small forward) 175cm 65kg Perth
The cousin of Fremantle's Stephen and Bradley Hill is perceived as something of a draft slider but he has undeniable talent, with his pace a feature. Port are believed to be keen, while there's also a school of thought that has him slipping to West Coast's first pick, which will be the opening selection of day two. It wouldn't shock at all if Duursma fell to here.
19. ADELAIDE
Ned McHenry (small forward) 178cm 71kg Geelong Falcons
One of the draft's real characters, it would be no surprise if McHenry develops a cult following. Richmond are tipped to pounce if the Crows bypass McHenry. Adelaide are keen on a tall and could bid on GWS academy player Kieren Briggs but that's tipped to be early in the second round.
20. RICHMOND
Liam Stocker (midfielder) 183cm 85kg Sandringham Dragons
Supreme competitor Stocker won the Morrish Medal after an excellent year for the Dragons despite missing the national championships due to injury. Ely Smith has been invited to the draft and is considered an outside chance here, while the Tigers are believed to like McHenry a lot.
21. BRISBANE LIONS
Luke Valente (Midfielder) 187cm 82kg Norwood
The Lions are committed to taking a midfielder with their first pick and South Australian under-18 captain Valente will be considered along with the likes of Xavier O'Halloran and perhaps Smith.
22. GREATER WESTERN SYDNEY
Ely Smith (midfielder) 188cm 87kg Murray Bushrangers
Missed initial selection for Vic Country but impressed when called up. The fast-finishing Sam Sturt, Xavier O'Halloran, Luke Valente and Hill could all be in the mix too. It's worth noting that Bulldogs father-son option Rhylee West will be watching the draft from home, so is unlikely to be a first-round pick.
Daniel is an Age sports reporter.