Adelaide posts nine-point win over Bulldogs
ADELAIDE 1.4 5.7 8.10 13.14 (92) WESTERN BULLDOGS 4.2 6.5 6.6 12.11 (83)
Goals: Adelaide: J Jenkins 3 J Podsiadly 3 E Betts 2 T Lynch 2 D Mackay M Wright R Sloane. Western Bulldogs: T Dickson 3 K Stevens 2 L Dahlhaus 2 D Giansiracusa J Stringer S Crameri S Higgins T Campbell.
BEST Adelaide: Dangerfield, Thompson, Podsiadly, Lynch, Jenkins, Talia, Smith. Western Bulldogs: Cooney, Boyd, Murphy, Liberatore, Macrae.
Umpires: Ben Ryan, Shane McInerney, Jordan Bannister.
Official Crowd: 17,404 at Etihad Stadium.
When Adelaide was winning the ball and running it, the Western Bulldogs were easy to score against. When the opposite applied, the opposite applied. Twenty minutes into the first quarter the Bulldogs had kicked four goals and eight Adelaide players had not even touched the ball. By the start of the last quarter the Crows had kicked eight goals in a row, the Dogs had hardly scored in more than an hour and Adelaide had a 16-point lead that looked like becoming even bigger. They had taken the game over gradually, but they had more work to.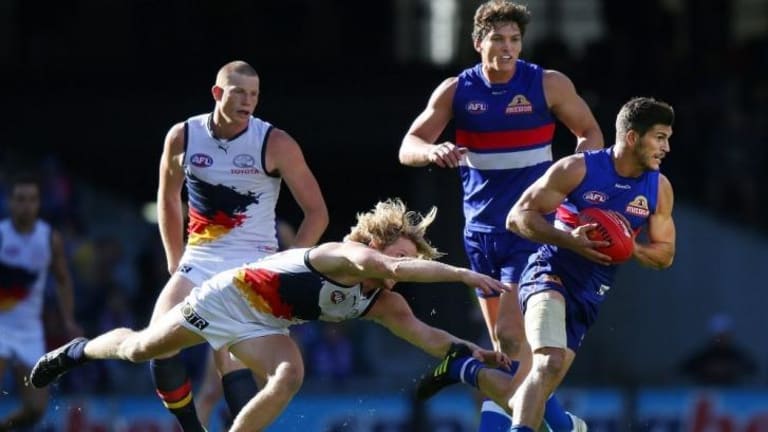 First, Stewart Crameri scrambled a goal in the square. Luke Dahlhaus ran Matthew Jaensch down, then had a clever kicked placed in his path. Daniel Giansiracusa scored one more, then Tory Dickson marked a well-directed Bob Murphy pass and the Bulldogs found themselves in front with 10 minutes to go. Having kicked just two goals in second and third quarters, they suddenly needed to be stopped.
The Crows knew how to do it; they had already done it. The first time, it was with patience. At the start of the match they were either unable to stop the Bulldogs from winning the ball; when they did, they often coughed it back up. Where the Dogs scored from their first five forward entries, Adelaide could only get the ball as far as its 50-metre line before having to go to work again.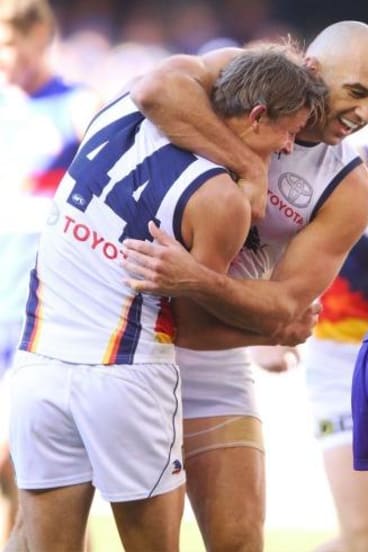 Slowly, they started to win some possessions. Slowly, they started getting the ball deeper and deeper into their forward half. By the end of the first quarter they had scored one goal, held the Bulldogs up and managed five shots of their own. And from there, they took over the game.
Patrick Dangerfield was never allowed to break away, to run too far or to score goals. But he was too strong for his energetic young opponent, Lin Jong, around the ball, and started to even up the contested possession count. In the forward line, James Podsiadly became too strong for Jake Stringer - required there with Dale Morris and Jordan Roughead missing - the more easily the ball was kicked in towards him. He kicked three goals, so did Josh Jenkins and Tom Lynch scored two. When Dangerfield, Scott Thompson, Brodie Smith, Matt Crouch and others got going, they became the tough-to-stop side.
Their run lasted too long, for two reasons that Bulldogs coach Brendon McCartney could see. He thought his side lost control of the game during the second quarter by not competing as ruthlessly as it had been. But he thought his players found a way back during the third term, only to make things harder than they needed to be.
"In the second quarter it was our inability to compete around the ball, we lost our ascendency. In the third we got a bit of stage fright moving it. We put a bit too much pressure on the bloke with the ball - when he looked up there weren't enough people moving in blue jumpers to give him an opportunity to move it and take the pressure off him," he said.
"That's the frustration of the day. We gave them two good quarters then had our chances and didn't taken them. But it should never get down to a roll of the dice like that."
Brenton Sanderson thought likewise and that, while the Crow had worked their way into the game initially, they had gotten out of trouble in the last 10 minutes through individual efforts more than anything. They got the lead back quickly, after losing it. But twice from there, the Bulldogs hit the post. Once, Adelaide needed Liam Jones to spill a mark in deep defence, Podsiadly shooting the dropped ball to Matthew Wright on the goal line. Another turnover was again sent straight to Wright, whose long kick towards goal was roved by Rory Sloane and sent on to Josh Jenkins. A Podsiadly mark in deep defence just before the final siren, made sure of things.
"That fourth quarter wasn't pretty for us, it was a shoot-out which, as we've talked about in the past, doesn't suit our style," said Sanderson. "Fortunately we had some pretty good indivudual efforts to get us over the line in the end, and that real want to win, the desire. Sometimes you've just got to win ugly."

Emma Quayle joined The Age as a cadet journalist in 1999 and has been covering football since 2001. She has won awards from the Australian Football Media Association and AFL Players Association for her feature writing, and specialised for many years in covering junior football and the AFL draft. Emma's two books - The Draft and Nine Lives (the story of former Essendon wingman Adam Ramanauskas' battle with cancer) - were published in 2008 and 2010.
Morning & Afternoon Newsletter
Delivered Mon–Fri.