Andrew Demetriou has admitted that the AFL must go back to the drawing board in a bid to rebrand and simplify its complex and wildly unpopular variable ticketing system.
Conceding the league had failed to adequately explain the new three-tiered system Demetriou said Tuesday's head office review of round-five had resulted in AFL bosses admitting they had some work to do in redefining variable ticketing.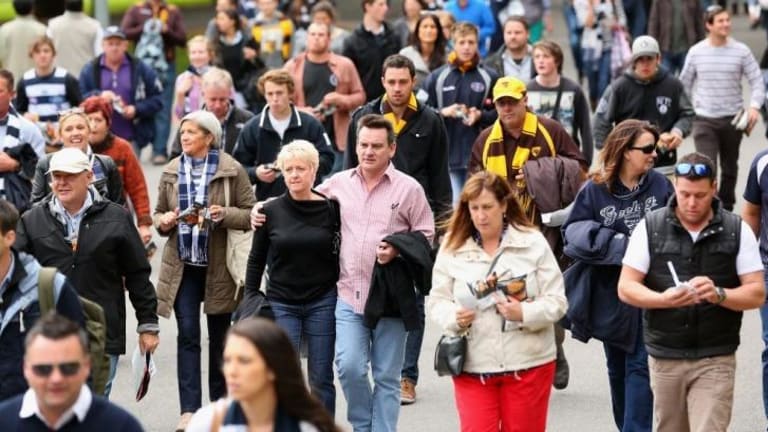 The AFL CEO, who listened to angry fans block the lines on 3AW during Easter Monday's pre-game program, said he had become increasingly aware that attempts to explain the new system to football supporters had not worked.
''Maybe we're better off not calling it variable ticketing,'' Demetriou said. ''I think we should just go back to what we had previously termed it, which was reserved seat ticketing.
''It is our responsibility to explain it better to our fans. That's our job and clearly there is still a lot of confusion. We're turning our attention to it and while I don't have the answer now we will have one soon - one that is practical and pragmatic.
''I'm not saying we are reviewing the entire system - we just need to make it simpler and better explain it.''
Monday's Geelong-Hawthorn game attracted the AFL's biggest attendance for the season to date - 80,222 - and the game's biggest yet for an Easter Monday game. But the blockbuster crowd was marred before the first bounce when the league's commercial boss Darren Birch moved to strip the game of its A-reserve status.
This meant club members could attend the game by swiping their card, infuriating those who had previously been forced to pay a surcharge to reserve a seat for the game.
Demetriou's vow to simplify the selling of variable ticketing - which in essence has meant the AFL has lifted prices significantly for big games - along with Monday's fan outrage, could stall Birch's plans to further trial the American sports-style dynamic ticketing.
Birch told The Age last month: ''In the US, dynamic ticketing runs live with the game. So seating prices can go up - and down - depending on demand. We're not sophisticated enough yet to deliver that. But we may get a trial up this year."
Demetriou did not attend an official match-day function on Easter Monday but sat in the AFL Members reserve with his four children, admitting that even he remained constantly taken aback at the high cost of food and beverages at league games.
''These are legitimate issues for football fans,'' he said, pointing out that three buckets of chips, one sports drink and two bottles of water had come at a cost of $32. ''Not only do we understand some of the confusion about ticketing but that's also been bundled with additional ticketing charges for booking online and then there's the cost of food and drink.
''A lot of this is beyond our control but we have to continue to work to improve these issues.''
With attendance numbers down by six per cent compared to last year, Demetriou said he did not yet believe there was evidence to suggest ticketing costs were impacting upon crowds. Nor did he blame the congested style of play that has drawn savage criticism from AFL legends and commentators.
Demetriou said his football lieutenant, Mark Evans, had reported his interest in trialling zones after the proposal was raised by Rodney Eade and Leigh Matthews earlier this year, but added: ''There's not enough evidence to suggest [game style] is impacting on crowds.
''Our crowds have been down because of the soft start we had in round one,'' he said. ''And we've been playing catch-up ever since. But all our indicators suggest we'll pull the crowds back by round 13 and those indicators have been extremely reliable in the past.''
Caroline Wilson has been chief football writer for The Age since 1999. She was the first woman to cover Australian Rules football on a full-time basis and the first woman to win the AFL's gold media award. She has won the AFL Players' Association's football writer of the year (1999) and the AFL Media Association's most outstanding football writer and most outstanding feature writer (2000, 2003, 2005). In 2014 she won the Melbourne Press Club's Graham Perkin award as Australian journalist of the year. She also won a MPC Quill Award in 2003.
Morning & Afternoon Newsletter
Delivered Mon–Fri.