A former AFL player has been suspended from a VFL club after he got in a punch-up with an official in front of spectators at the weekend.
Police are investigating an alleged fight between Frankston Dolphins president Bruce Cass and former coach Robert Mace at Frankston Park on Sunday.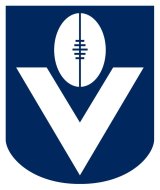 Mace played 80 AFL games during the 1980s for Hawthorn, St Kilda and the Brisbane Bears.
The middle-aged men apparently fought at half-time during the Dolphins' loss to Geelong's VFL side. The scuffle is said to have taken place in front of the social club at Frankston Park in sight of fans.
Dolphin's general manager Simon Green said Cass had stepped aside from his job as president and Mace had been suspended from the club while police were looking into the matter.
About 1000 supporters were at the match at the weekend, he said.
"I'm very disappointed, we pride ourselves on being family friendly, we're all about engaging the people of Frankston," Green said.
Green said he had not been aware of animosity between the men.
Frankston police sergeant Phil Marshall said on Tuesday the men were being investigated for alleged assault and making threats.
Mace resigned as coach of the club in 2002 citing stress, after allegations he physically assaulted then chairman of selectors Darren Coghlan at a training session.
His father Bryan Mace was a long-time general manager of Frankston and a grandstand at the ground is named after him.
Green said Mace was a Dolphins life member but did not have any official role at the club.
Sgt Marshall said violence at Frankston's matches was uncommon.
AFL spokesman Patrick Keane said AFL Victoria had asked the national body to look into the matter.
"Nothing will happen until police have completed their enquiries," he said.
Keane refused to say under what circumstances the AFL might impose sanctions.
Larissa Nicholson is a journalist at The Age.