AFL trade period updates: Thursday 17 October
* Jake Niall reports that Scott Gumbleton has told Essendon that he wishes to be traded to Fremantle, which is well placed to gain the key forward.
Gumbleton told the Bombers of his wish to become a Docker on Wednesday. Fremantle is understood to be offering only pick 54 at this stage, while the Dons have asked for Fremantle's late second-round pick, 33.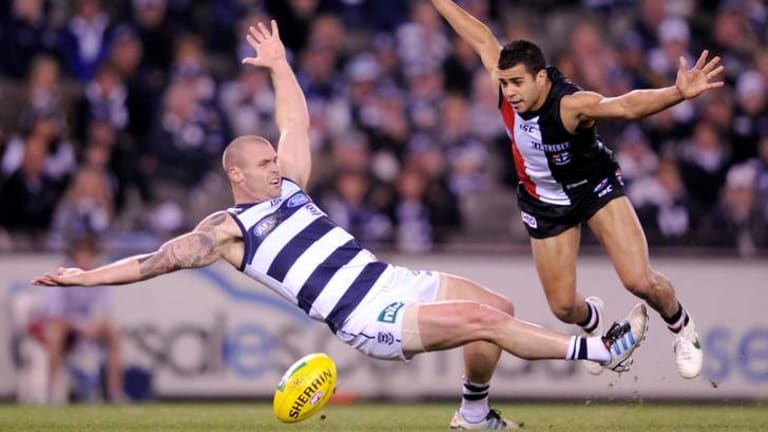 Gumbleton had attracted some interest from Port Adelaide, which spoke to his management, but as Gumbleton has not wavered from his wish to join the Dockers, who have already added Melbourne forward Colin Sylvia to their senior list. Read more
* Discarded Geelong veteran Josh Hunt is waiting to hear whether Greater Western Sydney will offer him another chance in the AFL. The 31-year-old has already undergone a medical at the Giants.
A two-time premiership defender during Geelong's golden era, Hunt was hopeful after meeting with the expansion club. "It went fine. It was just a quick once-over from them, a medical, and I don't know what the go is yet any more than that," Hunt told afl.com.au. "There are no issues. I didn't play a whole lot of footy last year either so I feel pretty fresh actually.
* Carlton chief executive Greg Swann says the AFL trade period is too long, with clubs treating it like school children with homework, leaving their submissions until close to the deadline. Swann said the three-week process, which was extended in 2012, was unfair and reducing the duration would force clubs to make quicker deals rather than leaving players to wait as clubs negotiate a deal.
"It was probably too short when it started on a Monday and finished on a Friday, but it if it had of finished yesterday – 10 days I think is plenty of time," Swann told SEN.
"To be honest it's not fair on the players, there is a lot of pressure on them, and also from an administrator's point of view it just goes for too long.
"It's a bit like school homework, when you know you've got three weeks, you wait until the end to do it all ... most of the deals will probably get done next week and all that really happens is that there is a lot of speculation in the mean time and most of it's not right.
''It can put clubs under pressure or gets peoples hopes up and things aren't actually happening."
Swann also said the Blues hunting for a key marking forward and were still interested in luring former Geelong forward James Podsiadly, who is also a target for Adelaide, but they were finding it difficult.
"They're hard to come by – those who have got them are hanging on to them, and some of the other guys who are out there, yeah we've had a look and we'll just have to wait and see what happens," he said.
"We're in the mix for them, but we're not going to do it at any price."
When asked if the Blues were interested in delisted Cat Paul Chapman, who appears to be heading to Essendon, Swann said they had to make sure they ''balanced up the list properly''.
''Having said early in the piece that we would be quite active in the trade it seems that anyone who's out there is going to go to Carlton,'' Swann said.
''We're not just grabbing anybody willy-nilly, because we're also very keen to bring in some young people into the club. We haven't had many draft picks in the last few years so we want to have four, maybe five picks for kids so that has an influence on who we pick up.''
He also said the Blues were close to signing Brisbane Lions' youngster Sam Docherty.
''We think we're pretty close but Brisbane hasn't quite agreed do it yet so we just thinking that they may be waiting to see what else is out there,'' Swann said

* The coaching changes continue at Essendon with the naming of Nathan Bassett as an assistant coach for the next two seasons. The 36-year-old has coached Norwood to back to back premierships in the SANFL. Bassett said he was excited about his opportunity to ply his trade at the elite level.
"I'm really excited to be joining Essendon as an assistant coach for the next two seasons," Bassett said in a statement released by the club. "To work alongside the likes of Mark Thompson and Neil Craig is a fantastic opportunity and I can't wait to share my experience and football knowledge with this exciting group of players."
* Emma Quayle reports that Jarrad Grant has re-signed with the Western Bulldogs, rebuffing interest from the Brisbane Lions. Grant has signed a two-year contract extension to stay at the Whitten Oval, after reviving his career in the last eight rounds of last season.
The enigmatic forward spent time in the VFL reserves on his way back from early-season injury, but kicked 13 goals and found his best-ever form after rejoining the side in round 16. READ MORE
* North Melbourne defender Luke Delaney has decided to leave North Melbourne and has requested a trade to St Kilda. Delaney, who has played 26 games since being taken in the 2009 Rookie Draft, told the Kangaroos website that he was looking for a fresh start to establish himself.
"At the age I'm at, I just needed to consider my options and find a club that would be able to provide more opportunity. North is blessed with some great key defenders and they are in front of me at the minute. It's a really hard team to break into which I completely understand but I can't afford to wait any longer," he said.

"... I spoke to Brad (Scott) about my situation and he understood where I was at and I'm glad I'm leaving with the club's blessing but it's still tough."
* Geelong radio station K-Rock has tweeted that delisted free agent Josh Hunt has been sighted at GWS.
DONE DEALS
Ben McEvoy (Hawthorn)
Big-bodied 24-year-old ruckman swapped from St Kilda for Shane Savage and pick 17.
Shane Savage (St Kilda)
Pacy midfielder/forward leaves Hawthorn with pick 17 as part of the Ben McEvoy trade after 56 games.
Lance Franklin (Sydney)
The Hawthorn forward will sign a contract worth about $10 million over nine years in a deal no one, including GWS, saw coming.
Dale Thomas (Carlton)
Joins Carlton on a four-year agreement at nearly $700,000 a season, an offer the Pies did not match.
Eddie Betts (Adelaide)
Carlton forward accepted a four-year offer of about $2m from the Crows.
Colin Sylvia (Fremantle)
The Demon No.3 draft pick to join Ross Lyon's pursuit of a premiership.
Shane Mumford (GWS)
Sydney ruckman has accepted a three-year deal with Giants.
Matt White (Port Adelaide)
White has left Richmond to join Port Adelaide on a three-year deal.
Shaun Hampson (Richmond)
The back-up Carlton ruckman goes to Punt Road in exchange for the Tigers' second round pick, No.28 overall.

DRAFT PICKS
CLUB BY CLUB (before the free agency/trade period)
ADELAIDE
Free agents: nil
Draft picks: 42, 60, 78, 96, 114
BRISBANE LIONS
Free agents: Simon Black and Jonathan Brown
Draft picks: 7, 25, 41, 59, 77, 95, 113
CARLTON
Free agents: Heath Scotland
Draft picks: 12, 28, 29, 47, 65, 83, 101, 119
COLLINGWOOD
Free agents: nil
Draft picks: 10, 27, 45, 63, 81, 99, 117
ESSENDON
Free agents: nil
Draft picks: 44, 62, 80, 98, 116
FREMANTLE
Free agents: nil
Draft picks: 16, 33, 51, 69, 87, 105, 123
GEELONG
Free agents: nil
Draft picks: 15, 32, 50, 68, 86, 104, 122
GOLD COAST
Free agents: nil
Draft picks: 5, 18*, 23, 39, 57, 75, 93, 111
GWS
Free agents: nil
Draft picks: 1, 9*, 19, 35, 53, 71, 89, 107
HAWTHORN
Free agents: Xavier Ellis
Draft picks: 34, 52, 70, 88, 106, 124
MELBOURNE
Free agents: nil
Draft picks: 2, 20, 36, 54, 72, 90, 108
NORTH MELBOURNE
Free agents: nil
Draft picks: 8, 26, 43, 61, 79, 97, 115
PORT ADELAIDE
Free agents: nil
Draft picks: 13, 30, 48, 66, 84, 102, 120
RICHMOND
Free agents: nil
Draft picks: 11, 46, 64, 82, 100, 118
ST KILDA
Free agents: Nick Dal Santo
Draft picks: 3, 17, 21, 37, 55, 73, 91, 109
SYDNEY
Free agents: nil
Draft picks: 14, 31, 49, 67, 85, 103, 121
WEST COAST
Free agents: Dean Cox
Draft picks: 6, 24, 40, 58, 76, 94, 112
WESTERN BULLDOGS
Free agents: Dylan Addison
Draft picks: 4, 22, 38, 56, 74, 92, 110
* Expansion club compensation picks
Morning & Afternoon Newsletter
Delivered Mon–Fri.