A suburban women's football team says AFL Victoria has over-reacted to comments made on Facebook by five players who are now facing a two-week suspension.
The Deer Park Football Club said the threat of suspension for the "harmless" Facebook comments about the physicality of the game demonstrates double standards within the sport.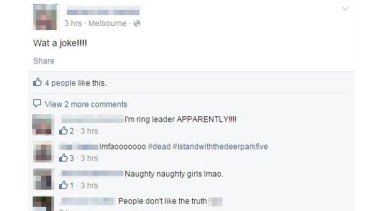 The club was notified on Wednesday evening that five of their division three players were facing a two-week ban over comments they made on Facebook.
The women's team played Mordialloc Football Club on Sunday at their Deer Park home ground.
On Monday, one player posted the following on Facebook:
"OMGGGG, The Monday morning after a Sunday footy game!!!!! the truck has hit me 1000 times over and over again … fml how did you girls pull up??"
Her teammates replied to the post, with one saying, "I have never ever ever felt so sore after a game".
Other replies could not be seen by Fairfax Media on Thursday, because the original post had been removed.
It is understood AFL Victoria received a complaint from "another team" about the online comments and issued Deer Park with a show cause notice.
Deer Park coach Colin Clohesy said the threat of suspension was unwarranted.
"They [the players] were referring to how hard the game was and how tough the opposition was. They didn't mention any club, or any particular person," he said.
"We haven't rubbished the league, or the other team. We think we've been treated a little bit harshly."
AFL Victoria female football manager Darren Flanigan said the league saw grounds to issue the show cause notice after considering the Facebook post "in its entirety".
He said the league was preparing to meet with the club's president to discuss the matter on Thursday afternoon.
According to the league's social networking policy, suspensions can be imposed if a player is critical of umpires, players, or any other person involved in AFL Victoria or the VWFL.
Should the five women be suspended for two weeks, Deer Park may have to forfeit upcoming games.
"But we're hoping for best," Mr Clohesy said.