The Ainslie Football Club's 2013 season has been bolstered by the signing of former St Kilda player Nick Heyne on a two-year deal.
Coach Chris Rourke had been chasing the signature of the 22-year-old for two years, and thought he might get him for the 2012 season, only for the midfielder to be snapped up by Carlton in the AFL rookie draft.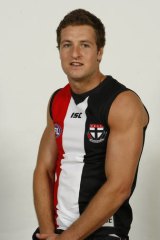 ''It's a sign of how good he is,'' Rourke said on Tuesday. ''When he got delisted [by St Kilda] we thought we were a chance, then he got picked up by Carlton, so obviously we were very pleased for him, but disappointed for ourselves.''
The left-footed Heyne was picked up by St Kilda at No. 48 in the 2008 national draft, and played three games for the club in 2010 - the year it drew with Collingwood in the grand final, before losing the replay.
''He's been in the [AFL] system for four years, and when St Kilda were at their best he was on their list and played a few games, so obviously he's got a fair bit of talent and a fair bit of know-how, and that's what we're hoping he brings to Ainslie,'' Rourke said.
''He's a running midfielder - he can go forward, he can go back, he's a typical AFL type … beautiful skills and very good endurance.''
Rourke is hoping Heyne, who was delisted by Carlton, will add as much value to the club with his off-field contribution.
''He knows how to play the game and how to prepare, and he'll mentor a few of our younger boys hopefully.
''He's just a quality kid - he comes from Orbost, in Gippsland, where our captain comes from, and has the same sort of attributes; clean-living, hard-working kid, he'll be very good for us.''
Heyne trained with the club on Monday night after signing the deal, and will move to Canberra permanently at the end of next week.