Aurora Andruska's work for the Australian Sports Anti-Doping Authority is over, with the CEO-turned-consultant making a unannounced departure from the organisation on Monday.
Retained – since May 9 – to assist her successor, Ben McDevitt, Andruska was involved for a further seven weeks in the unprecedented drug probes she launched 17 months ago into Australia's richest and most popular football codes, the AFL and NRL.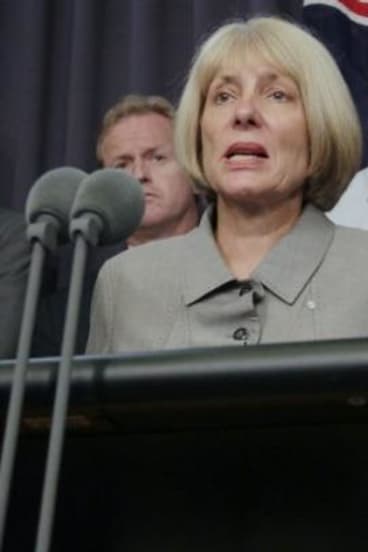 In a one-line written statement provided to Fairfax Media on Wednesday, the government-funded anti-doping body confirmed: ''Aurora Andruska concluded her role as a consultant to the ASADA CEO, Ben McDevitt on 30 June 2014.''
On the day McDevitt took over, federal Minister for Sport, Peter Dutton, said Andruska – who he termed an ''effective'' CEO in ''turbulent times'' – would stay on ''for a short period of time'' to ensure a smooth handover.
ASADA indicated that Andruska would remain at the organisation to help McDevitt for as long as he required her assistance. The move was viewed, by some insiders, as a gesture of respect for the work Andruska had overseen and a clear sign that ASADA's anti-doping cases were reaching their conclusion.
Since then, ASADA has issued 34 show-cause notices to current and former Essendon players, with McDevitt personally authorising every one. The move triggered Essendon, and the club's coach-in-exile James Hird, to launch Federal Court proceedings designed to render the anti-doping authority's investigation – conducted in conjunction with the AFL – invalid. At a minimum, the outcome of that action would appear to be seven weeks away.
While praised by former World Anti-Doping Agency boss, John Fahey, for standing up to what he termed ''bully boys in the system'' in backroom dealings over the past year, Andruska was also criticised during the saga for leading an organisation deemed cumbersome by some. During Andruska's time as boss, her predecessor, Richard Ings, also consistently lamented the scarcity of communication from ASADA about the biggest doping probe in the history of Australian sport.
Andruska gained a one-year contract extension with ASADA in May 2013, a matter of months after the AFL-NRL probes were launched. She did not, however, have her tenure extended further. In an interview with Fairfax Media when Andruska's imminent departure was announced, ex-WADA head Fahey alluded to some of the high-level, behind-the-scenes dealings she had been involved in.
''I believe she was gutsy and stood up to some bully boys in the system. And her prime objective, her only objective, was to achieve clean sport,'' Fahey said of the career public servant who was boss of Centrelink before she was installed at ASADA. ''I have the upmost respect for her integrity.''
From his first day as the new chief McDevitt made his position clear, saying in his opening media appearance that ''each professional athlete is personally responsible for what substances enter their body''.
When show-cause notices were issued to the current and former Essendon players, McDevitt was again on the front foot, and outlined – in media interviews – how Bombers footballers could have potential two-year bans reduced to six-month suspensions if they took a certain route with authorities. The comments raised the ire of Essendon chairman Paul Little and were subsequently described as ''insulting'' by Bombers player, Brendon Goddard, who was not at the club when its supplements program was running.

Samantha Lane joined The Age in 2005 and has specialised in the coverage of Australian Rules football, cycling, Olympic sports and drugs in sport. A Quill award winner and part of the Fairfax team that won a Walkley award in 2014 for its coverage of the AFL's doping scandal, Sam has rich multimedia experience. She is part of the Seven network's Saturday night AFL television coverage and was previously a panellist on network Ten's Before the Game. Sam was The Age's Olympics reporter for the 2012 London Olympics, and covered the 2010 Delhi Commonwealth Games, 2008 Beijing Olympics and 2006 Melbourne Commonwealth Games for Fairfax. Her work has won awards from the Australian Sports Commission, the Victorian Institute of Sport, the AFL Players Association and the AFL Coaches Association.
Morning & Afternoon Newsletter
Delivered Mon–Fri.