Bloodlines run deep: Bolton set for his 300th game
Sports writer Martin Blake casts off the cloak of objectivity and pays tribute to nephew Jude Bolton, who plays his 300th game in tonight's preliminary final against Collingwood.
I GUESS Jude was always going to be tough. He had to be. Growing up with two sporty elder brothers, their grand finals and Test matches in the Ballarat backyard were brutal. The elder boys, Matt and Dom, gave him nothing, bowling flat out at him when the smallest batting pads available stretched up to his hips.
There is a family tale, retold at his wedding, about Jude annoying the elder boys by running across the middle of the concrete pitch during one of those epic Test matches. Dom grew so sick of it that he swatted at Jude's bare backside with the Stuart Surridge bat. John, their father, swears little nappy-less Jude, barely old enough to walk, was airborne for a while.
He kept running, of course. He's still running, all the way to 300 AFL games for Sydney.
One of the first times I saw Jude play he was captaining a district schools team in a final at Moorabbin. It was a close game, and his team was behind. There was a stoppage in play close to the goals, and Jude willed his way to the fall of the ball, spun out of the maelstrom and hit the kid running past the pack with a handball. Goal, the matchwinner.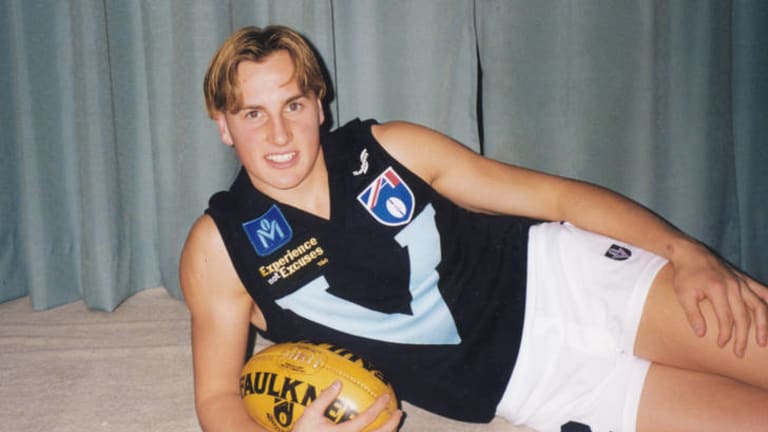 Here was a snapshot of the player he became. First, a ball-winner. Second, an animal competitor (despite choirboy looks). Third, a leader. Jude would have made a good captain for Sydney.
As a teenager he played cricket, too, and made a state under-16 squad as a leg-spin bowler before footy took over. At 17, he had St Kilda legend Robert Harvey plastered on his bedroom wall, and was vice-captain of Victoria at the Teal Cup. Sydney took him in the national draft with pick eight.
My sister Rosalie and John were brave, seeing their youngest boy disappear over the border. So began their own personal journey, filled with plane trips and coffee at Coogee Beach.
It was Steve Malaxos who coined the much-quoted ''came in pretty, won't go out pretty'' line about Jude. Malaxos, assistant coach at the Swans when Jude started, thought him harder at the football than anyone he had seen.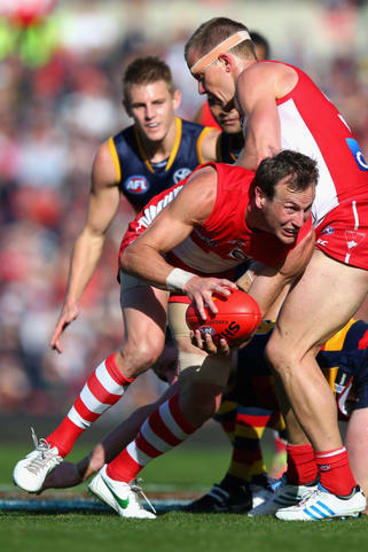 His toughness is not a myth. His typical ''stats'' would read 20 disposals (10 contested), a goal, four bags of ice and a broken nose. He should have had shares in an ice company; he is on good terms with the surgeon who kept trimming the floating bone and loose cartilage in his right knee each year until there was nothing left.
He was actually knocked out twice in separate incidents in a game (versus Brisbane at the SCG, 2010), a dubious honour. Brad Ottens almost drove his knee through Jude's head at Geelong one day when he ran back with the flight of the footy, the equivalent of going blindfolded onto a freeway.
As a family member, it's the moment you dread. I cussed under my breath; I can't begin to think what was going through his parents' heads as he lay on the turf. But he got up, wobbled around and found his way to the bench. Twenty minutes later he was back in the fray and kicking a goal.
At one point, Jude went six years without missing a game, which is quite something when you factor in a kamikaze playing style. In 2005, when Sydney won the flag, he separated his shoulder joint with a month to go in the season. You could poke the end of your finger into that joint; Jude could not put on his seatbelt in the car or sleep on that side. The medicos told him that it needed to be pinned, wiping out the season. Alternatively, he could try to play on painkillers and keep it a secret. He kept playing, getting his skull crushed in the grand final so that blood spewed out into his blonde hair.
Jude does a good line in denial of injuries. When he hyper-extended his ''good'' right knee this year, he tore both cruciate ligaments. When I saw him in the rooms he was unfailingly optimistic: ''We'll be right.'' Three weeks later, he was back playing. That's why I sometimes call him the Black Knight, from the Monty Python film. ''It's just a flesh wound …''
Jude became a very good player, but people had trouble placing him. He was not, for instance, a Chris Judd or a Gary Ablett, yet he had something. I prefer to look at what he is, rather than what he is not. For instance, he has laid more tackles than any player in AFL history (currently 1389). He is an amazing tackler, owner of the league record of 19 in a single game (versus West Coast, 2011).
He can also win the football. His 26 contested possessions against Essendon in 2010 at the SCG was a record at the time. As Rodney Eade observed, he is a ''see-ball, get-ball player'', good enough to draw a tag from the best stoppers, like Cameron Ling, when he was at the height of his career.
If the season was 18 games and not 22, Jude might have won two or three Swans best and fairest awards and a couple of all-Australian gongs. But the hits and concussions took a toll on him around August each year. As Ling once observed: ''When you play against him, you know you're going to come off in some pain.''
As a family, we celebrated all Jude's milestones in case it was the last. His 200th was against Melbourne in Canberra, and even his grandmother Molly made the trip when she was ailing. She did not live for much longer, but she hung on for that.
After his 250th, when Melbourne thrashed the Swans at the MCG, we had a nosh-up at an Indian restaurant. The result of the game put a dampener on the evening, but, in the end, no one was taking that landmark away from him.
My father is Jude's grandfather, and dad writes down his kicks, handballs and goals for every game. At 88, he has no compunction about dishing out advice. Jude calls him quite often, and you could not quantify how much it means to him.
An army of people have an attachment to him, from school friends to people from his old clubs (Calder Cannons, St Bernards) to people in the supermarket where my sister shops or to the local golf club where John and Rosalie play.
They all feel a part of it tonight. People talk about footballers like they are pieces on a board, shifted about in their Dream Teams. But they are much more than that.
Morning & Afternoon Newsletter
Delivered Mon–Fri.