Blue-collar Roos get job done
NORTH MELBOURNE 3.2 7.3 9.11 14.13 (97) PORT ADELAIDE 4.3 6.8 11.9 13.12 (90)
Goals: North Melbourne: B Harvey 3 L Thomas 3 A Mullett 2 A Black B Jacobs J MacMillan N Dal Santo S Thompson T Goldstein. Port Adelaide: J Schulz 3 A Monfries 2 C Wingard 2 H Hartlett 2 J Westhoff M Broadbent O Wines T Boak.
BEST North Melbourne: Cunnington, Greenwood, Bastinac, Mullett, Atley, Gibson, Harvey, Dal Santo. Port Adelaide: Boak, Wines, Hartlett, Carlile, Broadbent, Gray. Umpires: Stuart Wenn, Robert Findlay, Jason Armstrong.
Official Crowd: 19,111 at Etihad Stadium.
Every indicator imaginable said North Melbourne could not possibly win this game. The stuttering start, the seeming lack of speed through the middle of the ground that was its opponent's motif. The 10-point three-quarter-time deficit against a team that finishes games as if they've just begun.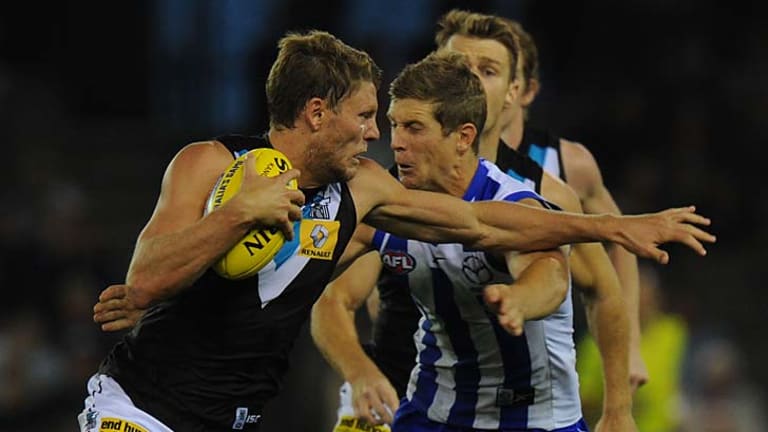 All of which made this a famous North Melbourne victory, built on an incredible will to work, and work, and work some more to overcome every obstacle in its path. It did so, famously, by seven points.
Of course Brent Harvey was at the heart of matters, putting his team in front with eight minutes left before Matthew Broadbent, Port's loose man throughout a draining and riveting contest, navigated a packed forward line in the most effective fashion, with a 60-metre bomb.
The Kangaroos had toiled too hard to let it slip, and Leigh Adams willed himself into space one more time, marked, saw Nick Dal Santo cruising past and the former Saint put them back in front. Cue the fairytale sealer, Harvey marking on the 50-metre arc, going back and roosting a drop punt that cleared the tallest timber Port could send to its goal line.
If the gravity of North's task wasn't baldly evident even before the bounce, it soon presented itself like a slap in the face. Stuttering team meets running and ball-moving dynamo is a script destined to leave one party sore and sorry.
Port gave North neither an easy passage forward nor out of defence. Its second goal was emblematic: Dal Santo metres in the clear and seemingly about to mark a kick-in one second, spoiled by Chad Wingard the next to gift Ollie Wines a goal.
The Power had given notice that its 2013 progress would not stall when it swept past Essendon at Etihad Stadium in the pre-season, and is so comfortable on a fast track under the roof it even donned the home strip on Sunday. Its early mastery of territory was such that the Roos had gone inside 50 only twice when Port went deep into attack for the 10th time.
By taking both the lead and momentum into the half-time break the Kangaroos showed the reward on offer for meeting fire with fire married to unrelenting toil.
Jack Ziebell had his arm in a sling and was never going to play. The collegiate effort of those left to do the work around the ball was stunning.
Where a week earlier against the Bulldogs they had engaged in a shutdown stalemate, here the Roos realised attack was their best defence. Ben Cunnington, Levi Greenwood and Ryan Bastinac might not appear to have the game-breaking qualities of their opposite numbers, Travis Boak, Hamish Hartlett, Wines and Brad Ebert, but their commitment was unbending.
Yet there was always the sense that the rope was straining and would eventually snap. Angus Monfries' sniper's bullet hamstring strain seconds later offered a glimmer of attritional hope, but the visitors rammed home four unanswered goals through the gut-busting corridor attacks that have become Ken Hinkley's signature.
Ultimately the nature of substitutions – all three of them – told a story of a sapping contest, Monfries and Jamie Macmillan succumbing to injuries, and umpire Jason Armstrong likewise after being steamrolled by Port ruckman Matthew Lobbe.
This was a last-man standing affair, and to widespread surprise and enormous credit, the survivors wore blue and white stripes.

Peter Hanlon has worked at The Age since 1995, initially as deputy sports editor, subsequently as editor of the Saturday and Sunday Age sports sections, and since 2007 as a senior sports writer. He writes extensively on the AFL, and has also covered the Beijing Olympics and Delhi Commonwealth Games.
Morning & Afternoon Newsletter
Delivered Mon–Fri.