MICK Malthouse will coach at Carlton in 2013 with at least three, and possibly four, fewer coaches than the Blues had under previous mentor Brett Ratten this year.
The Blues have nearly finalised their coaching panel, which the club has confirmed will either number six or seven, including Malthouse.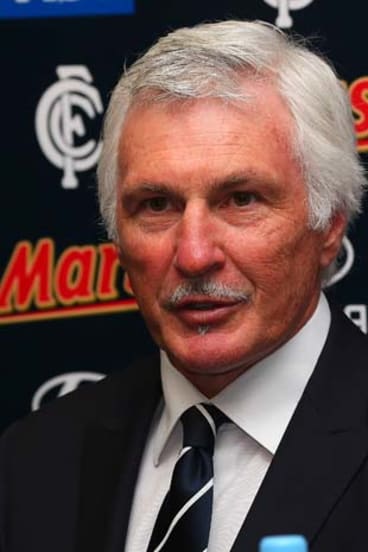 Carlton had 10 coaches on its 2012 panel, six of whom have departed. The reduction to six or seven means the Blues are bucking the competition-wide trend of expanding coaching panels.
While the Blues are paying out significant amounts of money to the coaches they moved on, with Ratten receiving in the range of $550,000 to $600,000, the club will reduce its recurrent spending on coaches by employing fewer, despite Malthouse's hefty contract.
Only two coaches, thus far, have been added to the Carlton panel - Malthouse and his long-time ally, ex-Eagles assistant and friend Robbie Wiley, with line coaches Gavin Brown (defence) and John Barker (forward) and development coaches Luke Webster and Matthew Capuano remaining.
Webster will combine coaching the VFL team with development duties.
The club is likely either to deploy Wiley as midfield coach, or hire one.
Carlton football operations manager Andrew McKay confirmed last night that the Blues would have no more than seven coaches in 2013 - and possibly just six.
''It's six at the moment, maybe seven,'' he said. ''But we won't be rushing in our decision whether to get that seventh person. It's got to be the right person. If he's not there, it will remain at six. We won't be replacing for replacing's sake.''
The Blues believe they do not need more than six or seven coaches. In the past, Malthouse has not wanted senior assistants working under him; rather, he has hired younger coaches, some of whom have been upgraded over time and later became senior coaches at other clubs.
Ratten and his senior lieutenants Alan Richardson and Mark Riley have all departed and taken up senior assistant roles at Hawthorn, Port Adelaide and Gold Coast respectively, while midfield coach Paul Williams was also let go.
The club paid Ratten out in full, reached a confidential settlement with Riley, and is believed to have paid Richardson and Williams three months' pay, as their contracts allowed.
Darren Harris, who worked in development and then coached the VFL team after Robert Hyde left for personal reasons, has gone to work for Leading Teams in Perth, while the Blues have decided to go without a full-time tackling coach.
Collingwood and Fremantle had 10 coaches in 2012, while Richmond and Hawthorn had nine each and a number of clubs had eight.

Jake Niall is a senior sports writer at 'The Age' specialising mainly in coverage of the AFL. He writes a weekly column for 'The Sunday Age' and has been on staff with 'The Age' or 'Sunday Age' since 1995. Jake, who combines original news with commentary, match-based writing, features and analysis, has won a number of awards, including the Alf Brown award for the best performer in AFL media in 2012, the Melbourne Press Club's 2007 Quill award for best sports story in any medium and a Walkley award, shared with colleagues Richard Baker, Nick McKenzie, Caroline Wilson and John Silvester, for best coverage of a major issue (Essendon scandal) in 2013.
Morning & Afternoon Newsletter
Delivered Mon–Fri.