He travelled second class to his home town of Canberra but Josh Bruce got the upgrade he wanted in the end.
The former Eastlake junior will make his AFL debut today against the Western Bulldogs on his home ground, Manuka Oval, after Greater Western Sydney veteran Chad Cornes injured his calf during yesterday's final training session.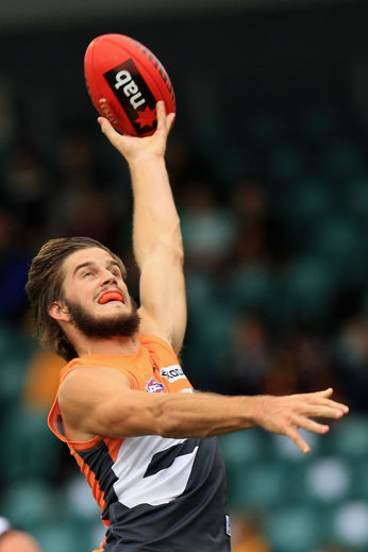 Bruce was buzzing after coach Kevin Sheedy gave him the nod to take Cornes's spot in defence.
He was unsure whether it was best to have the late call-up and have limited time to get nervous before his big day, or whether it was better to know early in the week and have a long time for the reality to sink in.
''I imagine if I had a couple more days to think about it I'd either think about it too much or I could get over it and be able to focus, but I think this way it's forced upon you and sometimes that's when you do your best work,'' Bruce said.
''You do it on instinct and don't get to think about it too much and hopefully that's the case tomorrow.''
He was meant to be playing against his older brother, Aaron, in the NEAFL curtain raiser this morning but will instead take centre stage in the main show.
Bruce travelled up with the GWS reserves on the bus, while the seniors flew up. But he didn't care how he arrived, his AFL dream was about to come true.
The 19-year-old's parents were flying back from Cairns yesterday afternoon when Bruce learned the news.
He wasn't sure when they'd land but they would be greeted by a barrage of missed calls from their second son.
It will be a special moment for the Bruce family.
Aaron was drafted by the Sydney Swans as a rookie in 2007 but was delisted at the end of the 2008 season without playing a game.
Josh will not face the same fate.
''I spoke to them a couple of hours ago and they were in Cairns and they've been on the plane, so as soon as they land mum will have about 15 missed calls and she'll be in tears for the rest of the night. She'll be pretty excited,'' he said.
Bruce was named in the 2010 under-18 All Australian side and the Giants selected him as a zone recruit under their list-establishment rules.
Initially recruited as a key forward, Sheedy has switched him to defence this season and he has been one of the best in the seconds.
It leaves the GWS defence light on for experience with Cornes and full-back Tim Mohr both out of the line-up, along with ruckman Dean Brogan and Rhys Palmer.
Giants co-captain Phil Davis will go to Bulldogs centre half-forward Liam Jones, while Bruce will pick up the Bulldogs' resting ruckman.
''Chad's obviously got a bit of soreness around his body … I think he had a pretty tough game last week against his old foe, in regard to Adelaide, so we'd rather not take the risk,'' Sheedy said.
''And in the end Josh is coming in and it's a great opportunity for him. He started with our club right from the infancy … it was good fortune for him that he was in good form at the right time.''