Bryce Gibbs and Carlton have committed to one another, with the free agent midfielder to sign a long-term contract of either four or five seasons.
They are in the final throes of agreeing a contract, with the only question being whether the term is for four years, which the club is happy to give, or five.
Carlton's view is a fifth year should be more conditional, or involve a little less money.
Gibbs is expected to receive only a small raise on what he is currently paid, with an annual wage in the $550,000 to $600,000 range, with potential to earn slightly more depending on how he performs.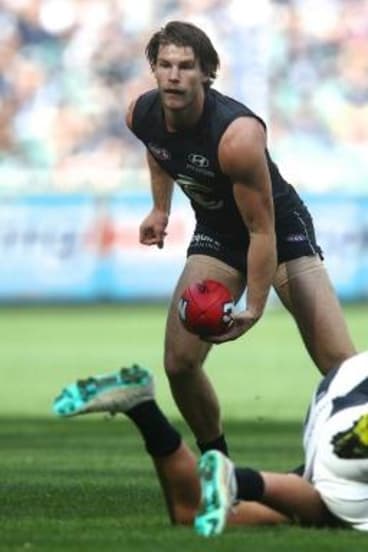 The Blues had considered whether they should keep Gibbs or take the significant draft compensation – almost certainly a top 10 draft pick – and use two early selections as the basis for a rebuild of the club's thin playing list.
Their opponent this weekend, Adelaide, had shown some interest in Gibbs, long the subject of speculation that he would return to his home state of South Australia.
But the Blues have taken the view that Gibbs is one of their best and most durable players. He has just turned 25 and while he is not among the game's elite, the club has few players in his critical mid-20s age bracket on which to add young talent and build a strong list.
He would be close to leading the club's best and fairest this season, in what has been a largely disappointing season so far for Carlton.
Gibbs' management, Elite Sports Properties, confirmed talks with the club were moving towards a final deal.
''We are continuing discussions with the club and things are progressing towards finalising a new contract,'' said Nigel Carmody from ESP.
The Carlton board must still give its formal consent to the Gibbs deal, because of the club's policy that substantial, longer-term contracts must receive such an endorsement. This is considered a formality.
The decision to retain Gibbs rather than receive a first-round compensation pick defies the urgings of some commentators, as well as influential Carlton supporters.
A number of clubs had been interested in Gibbs, who, like other free agents, wanted to be briefed on the club's list management direction before committing.
Crows coach Brenton Sanderson had been on record saying they would like Gibbs, but the midfielder was understood to have expressed a preference for remaining in Melbourne, having bought a home close to Visy Park.
The Blues have shown a willingness to give key players longer-term deals this year, having re-contracted skipper Marc Murphy, 26, on a four-year deal earlier this season and recently re-signed defender Michael Jamison, 27, on a three-year contract.
Gibbs has played 163 games since he was taken as the No.1 draft pick by Carlton in 2006. He was the second-youngest player ever to reach 150 games at Carlton.
He is averaging a career high of 10.6 contested possessions per game from a total of 24.6 disposals per game, the second-best of his career.
He is also on career peaks for tackles (5.0) and clearances (5.1).

Jake Niall is a senior sports writer at 'The Age' specialising mainly in coverage of the AFL. He writes a weekly column for 'The Sunday Age' and has been on staff with 'The Age' or 'Sunday Age' since 1995. Jake, who combines original news with commentary, match-based writing, features and analysis, has won a number of awards, including the Alf Brown award for the best performer in AFL media in 2012, the Melbourne Press Club's 2007 Quill award for best sports story in any medium and a Walkley award, shared with colleagues Richard Baker, Nick McKenzie, Caroline Wilson and John Silvester, for best coverage of a major issue (Essendon scandal) in 2013.
Morning & Afternoon Newsletter
Delivered Mon–Fri.