AS DEBATE rages over the future of Lance Franklin, the man drafted ahead of him, Jarryd Roughead, is confident the champion forward will remain at Hawthorn.
Roughead, Franklin and midfielder Jordan Lewis were all taken in the 2004 national draft and have played an instrumental role in the rise of Alastair Clarkson's Hawks.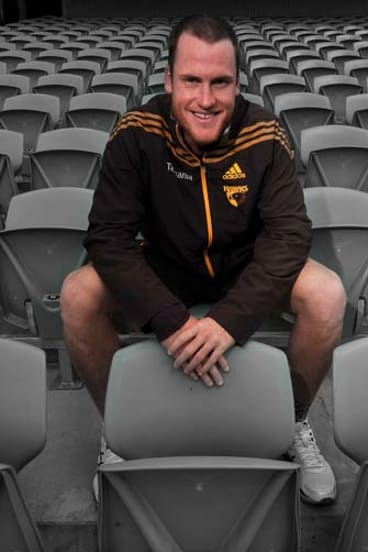 Franklin has put off negotiations on a new contract until the end of the season, despite the Hawks offering what is believed to be a four-year deal worth more than $4 million.
As he enters his ninth campaign and reflects on the changes he has witnessed in the game, Roughead is hopeful he can eventually retire alongside Franklin, a restricted free agent, and Lewis.
''From what he [Franklin] said, I don't think he has any intentions to leave,'' Roughead said.
''With free agency, it's a business. You look at the American sports and it's not like there is going to be a mid-season trade where we have to get rid of him because we are not going to get anything from him.
''You would like to see us all finish our careers together. I don't think it's not going to happen. He said it [contract discussions] are going to happen at the end of the year.''
Roughead is a major supporter of the US National Basketball Association, and has more than 40 player singlets, not to mention naming his young golden retriever ''Melo'' after New York Knicks superstar Carmelo Anthony.
Roughead, off contract after the 2014 season, says free agency is a good thing but acknowledges it has changed the dynamic between player and club.
''You only have to look at the States. That's where it might end up eventually, with mid-season trades,'' he said.
''It's interesting because, as a basketball fan, you are always on the internet to see what is happening with the trade deadlines [midway through the NBA season] in February.
''I don't think it [the AFL system] is going to be a full on as that. Clubs still preach a lot of loyalty but unfortunately with free agency coming in that might get swept under the carpet a bit compared to previous years.''
Roughead, having recovered from off-season ankle surgery, is set to again be one of the AFL's most versatile players, whether that be playing as a forward, in the ruck or attempting to win the ball on the ground at stoppages.
He was also sent to defence at times last season, but that may now change with full-back Brian Lake aboard.
Among the benefits the Hawks hope the former Western Bulldog brings is taking the glare off young defender Ryan Schoenmakers.
''To Schoey's credit, he fought so hard last year. The games that everyone seemed to kick a stink up about was when the opposition had big gorillas - [Tom] Hawkins and [Kurt] Tippett and [Travis] Cloke and guys like that,'' Roughead said.
''The games we didn't come up against them, he performed very well, not saying he didn't perform well against those bigger blokes.
''When we had those games against the Bulldogs in '08, '09 and '10, [Lake] was one of those blokes we tried to avoid kicking it high and long to because we knew he was such a good mark and a good defender. He's a two-time All-Australian, that is pretty impressive stuff.''
Another man pleased to see the 195-centimetre Lake arrive at Waverley Park is defender Josh Gibson, who is keen to have a role free from guarding the game's monster full-forwards.
''In terms of that tall defender, I'm rapt,'' Gibson said.
''He's going to take on some of those gorillas, which is helpful.''
Gibson said the team didn't take long to get over the 10-point grand final loss to the Swans, adding they were ready to reload for another shot this season.
''You want to play at the top and play in grand finals, and obviously they're not all going to go your way,'' he said.
''You have to deal with the losses [but] there's a lot of other teams that were wishing they could play.
''You lick your wounds, you review the game, and you come back in 2013 and do what you can to try and give yourself another chance of playing in a granny again.''

Jon Pierik is a sports writer with The Age, focusing primarily on AFL football, cricket and basketball. He has won awards for his cricket and basketball writing.
Morning & Afternoon Newsletter
Delivered Mon–Fri.