Cameron will say it clear: he's happy to do it Sheedy's way, for now
JUST five weeks into his new job as senior assistant coach and officially anointed heir to Kevin Sheedy at Greater Western Sydney, Leon Cameron has not yet experienced the first of those moments.
He knows, full well though, they're going to come soon enough.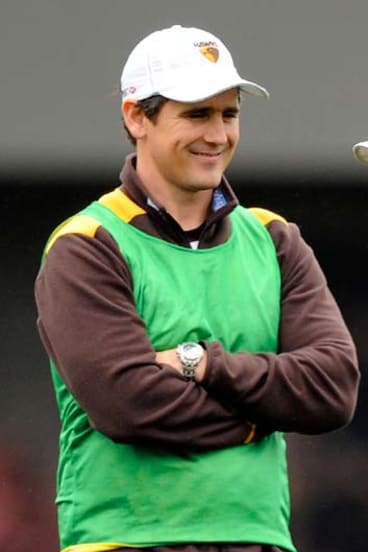 Those inevitable times when the man who will be taking over the Giants at the end of next year and replacing Sheedy as captain of the AFL's newest, shiniest ship is watching proceedings, either at training or even in a game, and thinking ''I would have done this'', or, more problematically, ''I wouldn't have done that''.
''I'd be lying if I said I wasn't thinking ahead,'' he says. ''I'd be lying to you, and I'd be lying to 'Sheeds'. We talk about it all the time. About when we get into the cut and thrust of games and trying to teach a certain style, and we change that because of that very moment or the game coming up, and how is that going to affect the next year.
''Absolutely, you look at things and say: 'OK, I'm taking over at the end of next August or September or whatever it is', but in saying that, one of the good things is Sheeds knows that as well, the other coaches know it, [football manager] Graeme Allan knows it. When we all sit down and have discussions, it's why are we doing this right now, why are we doing it for the start of next year, and why are we doing it for when I take over. That doesn't mean we always agree, but it does mean we all walk out heading in the one direction. And, yes, I know where I'm going, but not for one second do I forget that my role now is as senior assistant to Kevin.''
In 2013, Cameron will become the AFL's de facto 19th senior coach, having forsaken a job rebuilding Port Adelaide for a club already full of the best young talent in the football world. The recruiting done, the role now is to nurture these promising players. He prefers not to call his decision to opt for the Giants ahead of the Power a choice, but an opportunity too good to ignore.
''I get to have another 11-12 months' coaching experience under Kevin Sheedy, and all the experience he's had over 30-odd years in coaching, I get to find my feet in Sydney, and on top of that, there's a bunch of exciting young kids,'' he says.
Cameron has been struck by the ''energy'' of the club.
''It's a bit surreal, because I've never been involved with a club starting from scratch, but you can just feel that positive energy, from the players, and from all the staff, because they're just so excited to be involved in the AFL.''
What's struck him most so far?
''The competitiveness. Whether it's a handball game at training, to weights, to wrestling, to boxing, even probably to be the first to get from one training venue to the next,'' he laughs. ''Just a group of 18- and 19-year-olds who want to compete and learn. And the camaraderie is just enormous. Even the fact that a kid like Stephen Coniglio, or Jeremy Cameron or Adam Treloar have re-signed for three years … I've only been here a few weeks, but I can see something must be going very right at this footy club if seven of our eight rising stars from last season have already re-signed.''
Despite nine years now as an assistant coach at the Western Bulldogs and Hawthorn, Cameron will be tackling plenty of new duties, most importantly, alongside Sheedy, helping coach the coaches as well as the players. On that score, it's the past couple of years with the Hawks, their coach Alastair Clarkson and the club's ''fantastic system of managing people'' from which he'll draw most heavily.
''I had a really good chat with 'Clarko' about this. He said the biggest thing you'll notice is that everyone wants a piece of you,'' he says. ''Everyone wants a piece of 'Sheeds', and because they know in 12 months' time I'll become senior coach, they'll also want a piece of me as well.''
Not that the GWS leaders have much doubt about how Cameron will cope with management. The club's president and the head of the Business Council of Australia, Tony Shepherd, said recently Cameron was among the most impressive interviewees with whom he had ever dealt, his presentation founded upon three principles: honesty, empathy and curiosity.
''I think in any industry if you can't be honest with each other there's going to be a lack of trust,'' Cameron says.
Morning & Afternoon Newsletter
Delivered Mon–Fri.