Carlton lacks the necessary talent to mix it with the best, coach Mick Malthouse concedes, but he doesn't intend gifting games to the Blues' more capable players simply because of that.
Malthouse bemoaned crucial mistakes against Collingwood last Sunday night that cost the Blues their fifth game this season by 15 points or less.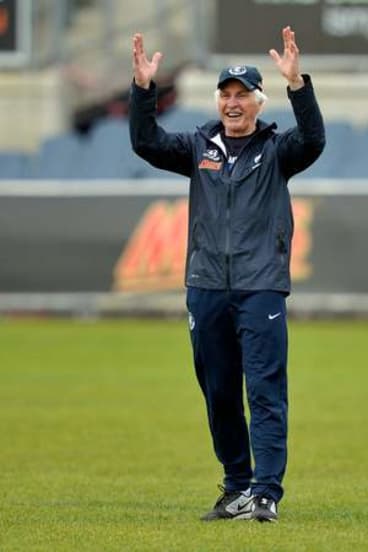 Those mistakes, he said on Wednesday, were a reflection not on the Blues' commitment, but their skill. But two of Carlton's more naturally gifted players, Jeff Garlett and Jarrad Waite - both of whom played in the VFL with the Northern Blues last weekend - won't necessarily earn a recall to play against St Kilda on Sunday.
Malthouse had some pointed comments about the pair, who were both quiet at the lower level.
He said Garlett, who won Carlton's goalkicking last year but has spent the past three games in the VFL, ''just isn't kicking enough goals''
"And if you kick enough goals and don't defend, you can probably get away with it, but if you don't do either, you don't play,'' Malthouse said.
There was another sting for Waite. ''Jarrad needs to come to grips with what we're trying to do here at Carlton. And that is build a side that is massively competitive.''
Malthouse indicated he was going to continue to blood newcomers to the senior line-up. Rookie-listed Blaine Johnson was the latest to make his debut against Collingwood, with Nick Holman and Irishman Ciaran Sheehan also ''on the cusp'' of playing their first games.
''That's the sort of pressure you have to have to improve. When they get their games they'll improve our list,'' he said.
Malthouse highlighted a passage of play late in the game against Collingwood to illustrate his comments about the talent gap between Carlton and the upper echelons of the AFL ladder, the moment when, with the game in the balance, a turnover from on-baller Ed Curnow allowed the Magpies' Steele Sidebottom to kick the sealer.
''One kicks it and loses it, the other picks it up and kicks a goal,'' he said. ''It's got nothing to do with want, it's got nothing to do with courage, it's just the ability to hit the right target or take the right option.
''Sidebottom spins around, [kicks goals] twice, and we have a couple of shots on goal and either don't make the distance or kick a point. So we can't get over the line in those [games].
"Is it lack of practice? No, it's not lack of practice. Is it perhaps our ability to have 22 very, very good footballers on the ground? We've got some good footballers and we've got some players that play with a lot of heart, but perhaps the talent level is not quite there.''
Malthouse also hit out at the AFLPA's push to have the qualification period for free agency reduced from eight years to six, arguing it would create a ''two-tiered'' system similar to English soccer's Premier League and further marginalise the weaker clubs.
''Make no mistake about it, free agency will only aid the top sides,'' he said. ''There's going to be a rarity [for a free agent to go to] a bottom side, because at that age players want to play in finals. If they look down the ladder and think, 'I might be the next saviour but it's going to be a long time', [they'll decide] I'm not going there.
''But players from down there will look up and think, 'I'm a bit jack of being in the middle range and I can get a game for Hawthorn, Collingwood, Geelong or whatever because they're near the top, that's where I'm going'.''
Carlton has already had two perspectives on free agency. The Blues lured Collingwood star Dale Thomas to Visy Park under the new system, but lost valuable forward Eddie Betts to Adelaide.

Rohan Connolly, a senior football writer for The Age and radio broadcaster with sports radio station 1116 SEN, has been covering the game since 1983. A multi-AFL Media Association award-winner known for his passion and love of the game, he analyses the AFL for the newspaper and contributes a blog and weekly video, "Footy Fix", for The Age's football website, Real Footy.
Morning & Afternoon Newsletter
Delivered Mon–Fri.