Carlton head of football Andrew McKay says Jason Tutt was in the "twilight" zone – too good for the VFL, but not good enough to crack their AFL team.
Canberra's Tutt was one of six players the Blues delisted on Tuesday, along with former Sydney Swan Andrejs Everitt, Dillon Viojo-Rainbow, Mark Whiley and rookies Andrew Gallucci and Billy Gowers.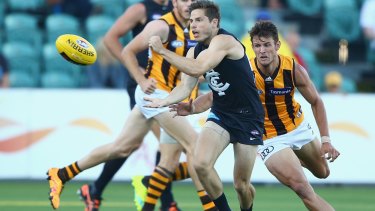 Tutt found out Carlton's decision on Tuesday morning as he was preparing to return for preseason in a couple of weeks.
He played just 14 games in his two seasons with the Blues, having been lured across from the Western Bulldogs when Mick Malthouse was the Carlton coach.
The 25-year-old has been starved of chances since Brendon Bolton took over the reins at Princes Park playing just one game this season and he finished second in the best and fairest for the Northern Blues – Carlton's VFL team.
Tutt has played 40 AFL games in six seasons since he burst on the scene, kicking three goals with his first three kicks on debut against Port Adelaide in 2011.
McKay praised Tutt's work ethic and said it was disappointing to have to let a good person go.
"He's been on the edge of senior selection for a lot of the year for us. Northern Blues, our VFL affiliate, he plays really good footy down there, dominates that level," McKay said.
"He's a good person, works hard, does everything right and plays good footy. Hard to fault. He'd be a really good pick up at any level under AFL.
"He's right in that twilight – dominates the level below, but doesn't quite do enough at AFL level."
Carlton's rebuild also counted against Tutt, who's been in the AFL system since the Bulldogs drafted him from Ainslie in the 2009 draft at pick 31.
McKay said given they were looking to rebuild they would lean towards selecting a younger player ahead of Tutt with an eye to the future.
Carlton finished 14th on the ladder this season with seven wins after finishing on the bottom in 2015.
They've turned over 28 players in the past two seasons.
An AFL club could pick up Tutt as a delisted free agent over three windows throughout November, he could also nominate for the preseason draft on November 28 or he could opt to play in a second-tier competition.
"He's been in the system a while and still had a couple of areas of his game that we would need for him to improve," McKay said.
"We're a club at the moment where we are a young, growing club and want to give an opportunity to younger players, more so than players Jason's age.
"It would've been harder and harder for him to get a game in the team because we would've leant on the side of youth. He's not old, but he's older than the draftees coming in."
David Polkinghorne covers the Canberra Raiders, local rugby league, Canberra Cavalry, racing and cycling, along with every other sport, for The Canberra Times.