Chad Wingard, football's hottest young property and the fresh face of reconciliation
The love story that created football's hottest young property goes some way to explaining how the quiet, high-achieving basketball fanatic Chad Wingard became not only the poster boy for the rebuilt Port Adelaide Football Club, but also the fresh young AFL face of reconciliation.
Julie Wingard, who is white, was 16 when she fell for the 19-year-old Trevor. He was an indigenous budding football star at Murray Bridge and the two played for the same local indoor cricket team. Chad, 20, came in the middle of their ''first family'' of three boys.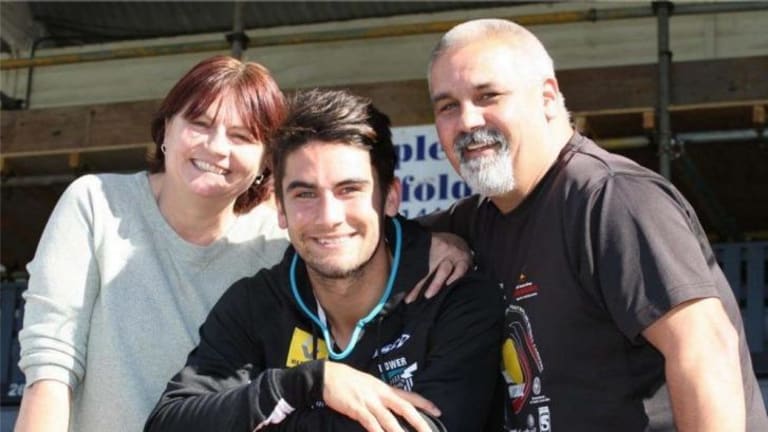 They brought up their children, they said, to have great respect for both cultures. "We wanted them to be the best of both," Trevor said. "We hope we helped teach them to have a great love of family as well as leading organised, hard-working lives and to make the best of their natural talents."
Never would they have expected that their middle son, the shyest of the three who barely left his room as a teenager when he wasn't playing sport, would be helping set the AFL's multicultural agenda, as the Port ambassador for the Aboriginal Power Cup and sitting on the AFL Players' Association's indigenous advisory board alongside Adam Goodes.
"I don't know if people really understand what indigenous round means for us," Wingard told Fairfax Media on the eve of his top-placed club's Alice Springs clash with Melbourne. "It means so much. It makes me so proud to see how far we have come and where we can go as a people.
"The AFL has the greatest tool in this country to promote our culture and reconciliation and we have the power through what we do to portray that across Australia."
Wingard, who famously does not follow football outside of Port, said Goodes had only recently become a cultural icon to him. "What he has done is amazing. He steps up for what is right and he just keeps doing it and it means so much to us."
The Wingards' extended family now numbers a further five brothers and sisters whom Julie, who works at a 24-7 emergency accommodation centre as well as at an indigenous creche, began fostering on a full-time basis. The first was Taygon, who joined the family five years ago. Now 10, Taygon ran out with the Port Adelaide team as its mascot before Wingard's 50th game.
The family's foster children are aged between three and 15 - four are indigenous, one is white - and some at the club wonder whether the family's unconventional set-up was misread by rival clubs when Wingard was being considered as a first-round draft choice. Certainly life has not turned out as Trevor Wingard had planned. "I was planning a holiday five years ago," he grumbled to his wife and star son, "but now I don't think that's ever going to happen."
Young Wingard, during our conversation in the Port Adelaide Social Club, remains more interested in discussing family matters than football. "They've given the kids such a great opportunity," he said of his parents. "But I do worry about them. I sort of feel sorry for them because you want to see your parents enjoy life after all they've done for you."
During his break-out 2013 season, Wingard told his football manager Peter Rohde that his career dream would be to reach the 100-game milestone for Port and then forge a basketball career in the US. This week he reinforced his 100-game ambition. "I think it would be just great to get my name on the locker," Wingard said. "And to have a father-son."
But basketball remains his passion and Wingard attributes his footwork and peripheral vision to his upbringing in that sport. "The two sports have so much in common," he said. "The structures, the set plays, zones, the defensive plays. And you have to jump to try to get the ball."
When Wingard was captaining both under-16 basketball and football teams at state level, Trevor Wingard became so concerned about physical wear and tear that he insisted he had to make a choice in order to give his body at least one day's rest each week.
Two weeks passed and the boy still could not choose, so Trevor - something of a football legend at Murray Bridge who only retired from playing three years ago - chose for him. "I'm a footy tragic," said the father, "and I knew which sport would give him the most success. But he didn't speak to me for a week."
But Wingard's parents had less success when their son was offered a $20,000-a-year scholarship to the Adelaide private school Rostrevor. They offered him an annual bribe of $5000 - the money they were paying to send him to Unity College at Murray Bridge - to complete years 11 and 12 there, but Wingard stood his ground.
''I didn't want to play for Rostrevor. I wanted to play for Sturt," Wingard said. "And I wanted to stay at my school and at home. Rostrevor is boys only and a boarding school, so those were a couple of warning bells for me."
Wingard dispels the myth that Greater Western Sydney - which has said they feared the go-home factor with Wingard - ever truly tried to lure him. While a Brisbane Lions contingent headed by Michael Voss visited the family at Murray Bridge and also spent time at his school interviewing Wingard's teachers, the Giants never made the trip. As it happened, Port took him at pick six, but Wingard said he was attracted, too, by Brisbane, preferring the structure of an established club to the new GWS.
All the stories about Wingard's remarkable lack of interest in the AFL outside of the Port Adelaide Football Club are true. The only full game he ever attended before he became a league footballer was as an under-13 when he was playing in a curtain-raiser at AAMI Stadium before a Port-North Melbourne clash.
Trevor made him stay for the AFL game because one of his two favourite players - the other was Nathan Eagleton - was lining up for the Kangaroos in Daniel Wells. Wingard said Wells and Eagleton were the only two footballers he had any awareness of growing up.
"I went and asked for his [Wells'] autograph, but I didn't have a pen or paper," Wingard said. "So it was pretty embarrassing, but he gave me quite a bit of time just talking to me.
"I just get bored watching footy. I couldn't watch a whole game. I usually last about five minutes. I don't read the papers and I couldn't tell you the names of any of the TV shows."
Wingard shares a house with Ollie Wines and Port's Irish rookie Daniel Flynn, along with his 18-year-old brother Jarrod, who is even less interested in football. "He keeps me away from footy and he keeps my feet on the ground," Wingard said of his younger brother.
Wingard's new-found fame and wealth does not appear to have changed him, something that remains a great source of pride to his parents. He shuns designer brands and labels and when Port assigned him a Renault as part of his contracted additional services allowance, Wingard headed for the used-car section of the dealership before being told to select a new one.
During our conversation, Julie Wingard told her son how surprised she was to read he had asked his teammates to call him LeBron after his Miami Heat basketball idol. As for Wingard, he was horrified and embarrassed at the report.
"It was never something I said like that," he insisted. "I don't want that nickname. I just admire LeBron so much and everyone wants to be the best, and I just said something like that.
"It's more of an insult to him because he's the king of kings and I'm just a little kid playing footy."

Caroline Wilson has been chief football writer for The Age since 1999. She was the first woman to cover Australian Rules football on a full-time basis and the first woman to win the AFL's gold media award. She has won the AFL Players' Association's football writer of the year (1999) and the AFL Media Association's most outstanding football writer and most outstanding feature writer (2000, 2003, 2005). In 2014 she won the Melbourne Press Club's Graham Perkin award as Australian journalist of the year. She also won a MPC Quill Award in 2003.
Morning & Afternoon Newsletter
Delivered Mon–Fri.