EXCLUSIVE
Carlton midfielder Dale Thomas had been at a family dinner with his mother when a fight involving members of the Coffin Cheaters erupted after two fans clashed over a photo of the AFL star.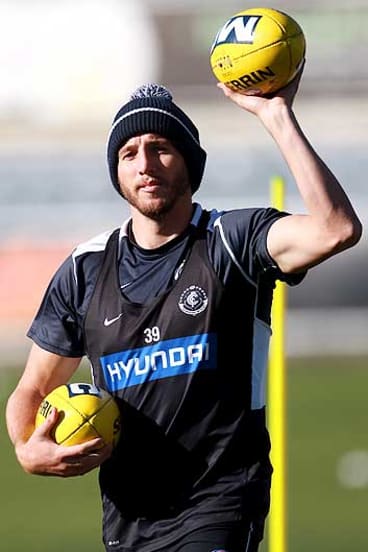 The brawl at a Warragul wine bar came on the same night that Carlton players Jeff Garlett and Mitch Robinson were bashed in Melbourne's CBD, but the club has no concerns about Thomas' behaviour.
Police have confirmed that Thomas had been getting a photo taken with one fan at Bank about 12.30am on August 3 when another patron wanting a photo became agitated.
A fight involving up to six people, including at least one member of the Coffin Cheaters Warragul chapter, kicked off as Thomas and his group left the venue.
"There was a bit of a fracas between two people wanting a photo," Warragul police Sergeant Jeff Robertson said.
"In no way did Dale Thomas instigate anything and as soon as the fracas occurred, he left."
Two people were arrested at the scene, with investigations continuing and charges for drug possession and rioutous behaviour possible, Sergeant Robertson said.
He confirmed at least one Coffin Cheater had been present, but would not comment on whether they were under investigation.
Police have reviewed CCTV from the venue.
Thomas, who grew up in Hallora, near Warragul, contacted Carlton football operations manager Andrew McKay immediately about the fight. He told McKay he had finished dinner and was having a drink with family and friends when the incident occurred.
The 27-year-old played a starring role on the Thursday before the incident as Carlton narrowly lost to Fremantle in Perth.
The manager of Bank, who did not wish to be named, said about 40 or 50 people had been inside the bar at the time of the brawl. There had been no damage to the venue, which has only recently opened.
"Chinese whispers have made it out to be worse than it was," the manager said.
Robinson was fined $5000 and expected to miss three to four weeks of football after he was assaulted in the CBD altercation on Garlett's birthday.
Robinson lied to the club about how he received a fractured eye socket. Garlett told the club of his involvement, but was slugged $2500 and was not considered for a senior recall as the incident occurred at 5am.
Neither player will face charges, with four men charged with assault-related offences in relation to the matter.
The Coffin Cheaters are the most established bikie club in Gippsland, with local police telling Fairfax Media last year they rarely have issues with members from two regional chapters.
"We don't talk to you and we don't talk to the police. That's the way we do things," a club member told the Latrobe Valley Express last October.
"People are always going to have their views about us, and us talking about what we do to you (the media) is never going to change that."

Nino is a crime reporter at The Age.
Morning & Afternoon Newsletter
Delivered Mon–Fri.