Dimattina seeks Dogs talks
AS THE Western Bulldogs continue their search for a successor to David Smorgon, Paul Dimattina says he wants to meet with the president within the next fortnight and continues to eye a ''respectful'' tilt at the top job.
Dimattina, a former player and wealthy restaurateur, believes the highly respected Smorgon should step down soon, rather than at his intended departure date of after next season.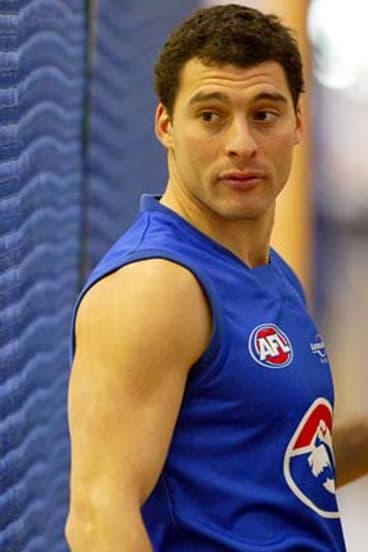 ''I am passionate about the place and love the place and think the time has come for new energy and a new set of eyes,'' Dimattina said yesterday. ''I am very respectful of what David has done for the club and I want to handle this situation respectfully. That's why I would love to meet him in the next couple of weeks.
''I don't think we need to get to a vote or any sort of election.''
Dimattina has been interviewed by the Bulldogs sub-committee as part of a plan to find a successor for Smorgon but he wants quicker change.
For Dimattina, 37, to become president, he first would need to be voted on to the board by club members at the annual general meeting. He would then need to be nominated by the board for the presidency.
This would appear a difficult task for there are those already questioning his credibility and whether he has a legitimate ticket. It hasn't been forgotten that he called for immediate change last year but backflipped.
That appeared to again be the case during an interview on radio station SEN yesterday when, in a bid to diffuse attention, he initially backed away from a report in The Age stating he wanted to take power soon. But he maintained the story was correct when later contacted by The Age.
Dimattina also said on radio he was not agitating against Smorgon. He later pointed to a poll in The Age which showed 50 per cent of more than 2000 voters wanted him to replace Smorgon. ''The online poll that has been run in The Age - that is a significant number,'' he said.
Smorgon has said he is not concerned about Dimattina's intentions.
Former president Peter Gordon has also said he would be interested in regaining the top job should Smorgon hand it to him.
Smorgon has been president since late 1996 when he replaced Gordon, a prominent lawyer.
Dimattina played 131 matches between 1995 and 2003 for the Dogs.
Criminal defence lawyer Rob Stary has also been interviewed by the sub-committee.
Morning & Afternoon Newsletter
Delivered Mon–Fri.