WITH four VFL premierships with Carlton under his belt, Alex Jesaulenko knows a thing or two about winning. And the Blues superstar has credited Eastlake as the club where he learnt that winning culture.
Jesaulenko will return to Canberra on Friday to help celebrate Eastlake's 50-year anniversary of the start of the club's golden era.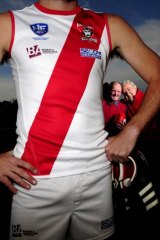 In 1962, Eastlake won the first of five consecutive premierships - a feat only bettered by rivals Ainslie from 1992-1997.
Those two clubs contested the grand final in '62 in atrocious conditions, with Eastlake prevailing 4.9 (33) to 2.6 (18) - the lowest-scoring Canberra grand final.
Torrential rain and freezing conditions made Narrabundah Oval a nightmare, with several players suffering from the exposure and Rob Shearer was taken to hospital at half-time.
Four players - Ken King, Arthur McGuffin, Neil Graham and David Grubb - played in all five premierships, while coach Roger Duffy coached all five and played in four.
Jesaulenko emerged from Eastlake's junior ranks to play in the last three flags before heading south to Carlton in '67, where he won three more grand finals in his first six years with the Blues.
He was Carlton captain-coach when he won his fourth flag in 1979 and he became a part of Aussie rules folklore when he pulled down a massive mark in the 1970 decider against Collingwood and the commentator exclaimed: ''Jesaulenko, you beauty!''
''[Eastlake] certainly provided a winning culture. I was lucky to play at a footy club that was on the way up that just had a new regime put in, with [former Carlton president] George Harris and his mob, appointed a new coach in Ronald Dale Barassi, they had experienced players and they recruited young guns … and I just fitted into the mix,'' Jesaulenko told The Canberra Times.
Aged 66, his memories of Eastlake were a little hazy but he didn't think it would take long for them to come flooding back once the boys get back together.
They have a dinner at the footy club on Friday night and will present the players with their jumpers before the game against Aspley next Saturday.
Eastlake will wear its traditional white guernsey with a red sash and there's another function at the club on Saturday night.
One thing Jesaulenko does remember was the culture at the club - it was a great place to be.
''I think we got paid $2 each or two pound each [per game], at the end of the year - we'd played 18 games - and we just put our $36 on the bar and drank it out, so we gave our money straight back to the club,'' he said.
Before the celebrations begin next week, Eastlake plays Tuggeranong in the NEAFL at Manuka Oval today, while Queanbeyan plays Ainslie at Margaret Donoghoe Oval.
Belconnen broke a five-game losing streak with a 91-point thumping of Sydney Uni, 21.8 (134) to 6.7 (43), at a wet and miserable Manuka Oval yesterday.