POLICING AFL football has never been an easy task. But the administering of the rules of the game and the league's judicial process is in danger of descending into farce.
What began as a sound enough idea to simplify the disciplinary process via a standardised points system, has become an unwieldy, wildly inconsistent and contradictory mess, one which threatens to leave most of the football community completely disillusioned.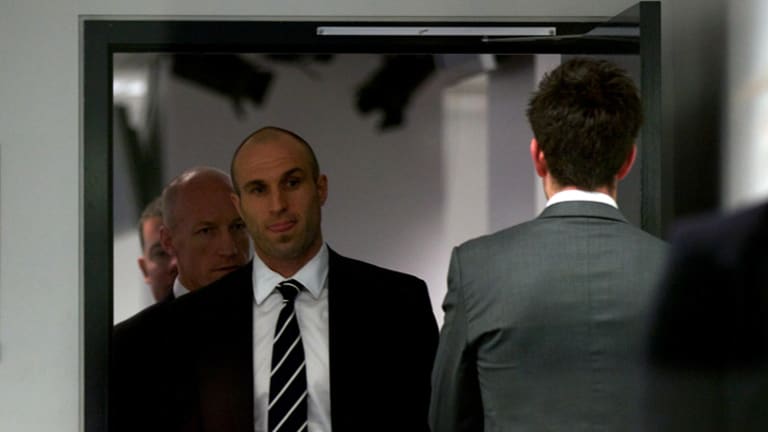 The Chris Judd drama only added fuel to the already raging fires of discontent among the playing fraternity and a significant portion of the fan base about the entire system. And the eventual four-game penalty handed to North Melbourne's Jack Ziebell has brought into question allegedly the game's most fundamental premise: winning the ball.
The old stand-alone tribunal certainly meant lots of paperwork and late nights for more people, but at least it usually delivered a reasonably uniform set of findings. Now we're stuck with an overly complex system a vast majority of people can't comprehend, in which penalties seldom reflect the merits of the incident being assessed.
More importantly, a system in which three levels of officialdom - umpires, the match review panel and the tribunal - deliver verdicts regularly in contrast to and effectively undermining each other.
In the Ziebell case, the tribunal backed the review panel, but certainly not umpire Justin Schmitt, who hadn't paid a free kick as two players - Ziebell and Carlton's Aaron Joseph - collided in their pursuit of the ball.
Schmitt told the Carlton players remonstrating with Ziebell: "He was going for the ball. He just went the ball."
Review panel chairman Mark Fraser, in laying a charge, conceded that Ziebell was looking at the ball, and indeed got his hands to the ball, but slapped a "negligent" rating on Ziebell's actions anyway.
The tribunal determined that Ziebell had a "realistic alternative" to contest the ball rather than jumping in the air, but felt no compunction to explain what it actually was.
I certainly can't fathom what it might have been, other than to stand back and let Joseph have first dibs. If that's what players are now going to have to do, then we've just effectively altered the very essence of our game. And not for the better.
The slide tackle incident kerfuffle earlier this season was more convoluted and ludicrous officiating at work.
North Melbourne's Lindsay Thomas won a free kick for high contact by Sydney's Gary Rohan, only to find himself handed a three-match suspension by the review panel for rough conduct. Rohan broke his leg when the two players, coming from opposite directions on slippery turf, made contact.
The tribunal overturned that verdict, arriving at the conclusion that no one but the review panel had seriously challenged, that this was an unfortunate accident. It also overturned the one-match penalty given to Fremantle's Greg Broughton for a slide into Gold Coast's David Swallow, mainly because the Docker had arrived first to the ball.
Fraser's response after that reversal was hardly encouraging on the consistency front. "Obviously the tribunal decisions … will change our thinking a little bit, because the tribunal didn't believe that that was rough conduct," he said.
So, two judicial bodies with wildly conflicting ideas about what is punishable. And, from the sounds of it, doing very little comparing of notes.
The Thomas and Broughton verdicts were just one of a number of review panel findings with which the tribunal has disagreed. It overturned the ridiculously harsh two-match penalty given to Hawthorn's Brendan Whitecross after Geelong skipper Joel Selwood cannoned into him, a rough conduct charge dished out to the Cats' Steve Johnson, while a striking charge on St Kilda's Leigh Montagna was withdrawn. Montagna had been charged after Melbourne's James Magner ended up with a cut eye, found later to have been accidentally caused by Montagna's knee.
Tribunal counsel Jeff Gleeson was told by Fraser: "Had the match review panel been aware that the contact was made by the knee, the [panel] would not have charged Montagna."
Hang on a second. So the review panel wasn't sure what caused the cut, didn't bother to find out, but charged him anyway. Yep, there's a system ticking over beautifully. Not.
Don't we have a major problem if an umpire, on the spot and viewing an incident in real time and in context, can award a free kick, only for the player who wins the free to end up being suspended?
And don't we have an even bigger problem if the AFL's judicial bodies pick and choose who and what they're going to make an example of? You could argue the Judd "chicken wing" effort was a very bad look, and an adequate suspension symbolically important.
But was Josh Hunt's effort in needlessly standing forcefully on Eddie Betts' hand a few weeks ago any less damaging a look? It was just as unrequired, unsportsmanlike and, to be frank, cowardly. Judd got four weeks, fair enough. Hunt got a $1350 fine.
There's just too many contradictions like that going on, from penalty to penalty, between the umpires running the game and those who deliver the verdicts after it, between the verdicts themselves, overloaded with the asterisks and footnotes of loading, discounts and early pleas. And frankly, in the wake of the Ziebell case particularly, between what we know as the spirit of the game, and how it's being policed.
It's one big mess and nobody - players, fans or club officials - is happy. If the AFL is, it's either content with some pretty low standards or in complete denial about a system that has spun way out of control.

Rohan Connolly, a senior football writer for The Age and radio broadcaster with sports radio station 1116 SEN, has been covering the game since 1983. A multi-AFL Media Association award-winner known for his passion and love of the game, he analyses the AFL for the newspaper and contributes a blog and weekly video, "Footy Fix", for The Age's football website, Real Footy.
Morning & Afternoon Newsletter
Delivered Mon–Fri.