Essendon coach Mark Thompson has denied that he said he would not pay his $30,000 fine to the AFL imposed on him for his role in the club's supplements scandal.
After Saturday night's gutsy two-point win over Port Adelaide at Adelaide Oval, Thompson repeatedly claimed: "I never said I was not going to pay the fine.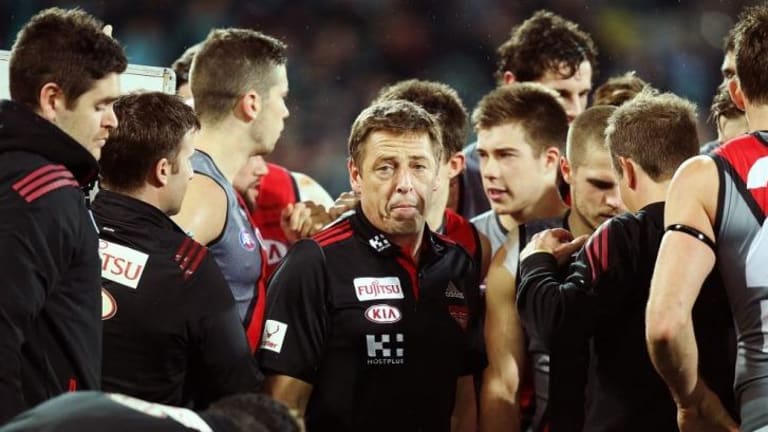 "I do not have to pay the fine until the 31st of October, 2014; that is the invoice date so I haven't refused to pay."
When asked again whether he would pay the fine by that date, Thompson said: "I will wait and see."
The media conference then ended, but the raising of the saga certainly did not quell his immense satisfaction of beating Port which was denied regaining top spot and kept Essendon's finals hopes alive.
Thompson revealed that after the game his players told him it was the clearest and most communicative game (player-to-player) they had experienced as a team.
"That's a great thing," Thompson said. "It means they know what they are doing. It looked professional, it looked measured, and it was good to watch. I enjoyed that.
"Last week was a big wake-up call for the squad. All week they had been really honest with each other, talking about their onfield experiences and opening themselves up to their experiences, which is vitally important to get anything done otherwise you just avoid, so they dealt with a lot of stuff.
"They (his players) thought, we can play these games, occasionally win and lose some, but I think it meant something to them losing to Geelong, and they were prepared to do something about it."
As predicted, Thompson made team adjustments, including playing Jason Winderlich as a defender – and with great success.
"It is great to see improvement; great to sere reward," Thompson said. "If you don't get the rewards, how long can you endure, how long can you believe? That's why you need victories like this along the way; they are fantastic.
"It was clearly our best performance because Port are as good team... we are happy to take the points out of Adelaide any time."
Power coach Ken Hinkley rued his side's lack of poise during the game. He credited Essendon's intense pressure for keeping his team off its game.
"Our lack of composure at times was pretty alarming for us and our willingness to continually do the right thing,'' he said.
"Games are made up of little moments, little seconds, little minutes and we just didn't work in the right way often enough during that game and we came up short just by a little bit.
"Essendon really tackled us hard tonight and they were really good in tight early when they needed to be."
With aap
Morning & Afternoon Newsletter
Delivered Mon–Fri.