THE NEAFL inter-conference grand final looks to have earned a reprieve, although its final fate won't be known until the end of the week.
As part of an annual review, the northern conference clubs met on Friday and discussed the future of the decider.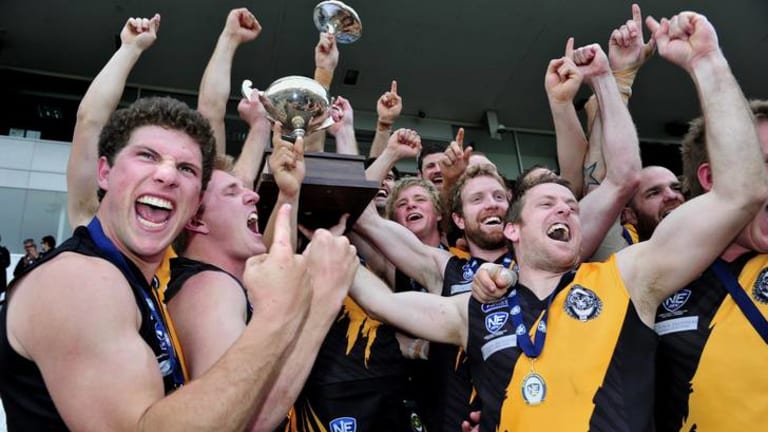 NEAFL northern conference manager Craig Millar said most of the clubs supported keeping the game, but he would meet eastern conference manager Jack Masters and AFL second-tier competition manager Simon Laughton during the week to make a final decision.
The inter-conference grand final has yet to become the ''pinnacle'' the league envisioned, although the merged competition has only just finished its second season.
Most clubs still view their conference decider as the main aim, with the final game an afterthought.
But Millar felt that the fixture would probably remain.
''The one thing that clearly came out of yesterday's meeting is that in some capacity the clubs would still like to see it continue … naturally you've got clubs that think, 'Is it the pinnacle?' and other clubs say, 'We think it's a really important concept to build the strength of the competition','' he said.
''The powers that be … will sit down next week and have a chat and work out which direction we're going to go.
''It would be fair to say we're leaning at this stage to leaving it where it is, but without having sat down and really spoken to Jack and Simon, we won't make a call on it until the end of next week.''
Ainslie lost to the NT Thunder in the inaugural NEAFL grand final, while Queanbeyan was outgunned by the Brisbane Lions reserves this year. The Tricolours were in favour of the game continuing and just thought the concept needed more time.
Millar said it was a similar vibe up north.
''It might be like any new concept and you've just got to give it some time,'' Millar said.
''You've got to give it some time to build and evolve.
''The NEAFL is a pretty dynamic and new concept … and we've just got to let it build over the next couple of years.''
One idea was to move the decider to the start of the following season, but Millar ruled that out.
''Definitely not. Just with the fixturing, if you could imagine the complexity of the NEAFL fixture, with the four AFL clubs, the Thunder in the NTFL season [which runs over summer], ground availability in Sydney and Canberra on the back of cricket … we just wouldn't be able to squeeze it in,'' he said.
''And some clubs said if you had a high turnover of players then you might be a completely different team playing in the NEAFL championship game the following year and you're potentially diluting the meaning of the game.''
Morning & Afternoon Newsletter
Delivered Mon–Fri.