He burst onto the scene with three goals from his first three kicks, but Tuggeranong junior Jason Tutt has decided to get on with life rather than chase an AFL lifeline.
Carlton delisted Tutt in October after two years with the club, having also played 26 games for the Western Bulldogs before that.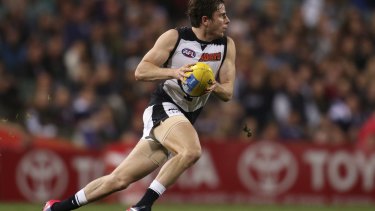 The 25-year-old looked to resurrect his football career through last year's trade and draft periods, but was eventually overlooked.
Rather than spend a year playing in one of the second-tier competitions like the VFL or SANFL with an eye on earning an AFL recall, Tutt has opted to pursue a career post football instead.
He's joined De La Salle College in Melbourne, where he'll play for their "old boys" team in the Victorian Amateur Football Association.
But he'll also mentor the school's promising talent that plays in the TAC Cup - the elite Victorian under-18 competition - and help them get ready for a possible AFL career.
He'll do some specific skills coaching and help with the off-field and mental-health side of things.
Player welfare and development is an area that's interested him for a while and that's what he's decided to pursue rather than an AFL return.
​"For me it was more about that [a long-term career] than trying to play VFL or something and get back into the AFL," Tutt said.
"After missing out on the pre-season drafts and all the stuff that goes with that ... probably the likelihood of getting picked up again is pretty slim so I've decided on the next career and putting my best foot forward in terms of that.
"I'm excited about stepping away from the AFL and moving on to a new chapter in my life."
Tutt will continue his university degree in exercise science and PE teaching.
He spoke to Canberra Demons coach Kade Klemke about the possibility of playing in the NEAFL, where he would also have had the chance to be an assistant coach.
But he's settled in Melbourne, which is also the perfect place to be if he wants an off-field role in player welfare with an AFL club in the future.
"That's probably the ultimate goal, is to get back into the AFL system, but you've also got to be in the right place at the right time or you've got to have experience so doing the stuff with the school and working with those top-end talent kids I think that will be a good stepping stone for me," Tutt said.
David Polkinghorne covers the Canberra Raiders, local rugby league, Canberra Cavalry, racing and cycling, along with every other sport, for The Canberra Times.