Former Cat Matthew Egan takes legal action over foot injury
Former Geelong footballer Matthew Egan is suing the club's doctor and an orthopaedic surgeon for negligence after a foot injury prematurely ended his career.
Egan, 31, had played every home and away game for the Cats in 2007 before being injured in round 22 in a marking contest with Brisbane Lion Jonathan Brown, forcing him to miss out on playing in the team's grand final win over Port Adelaide.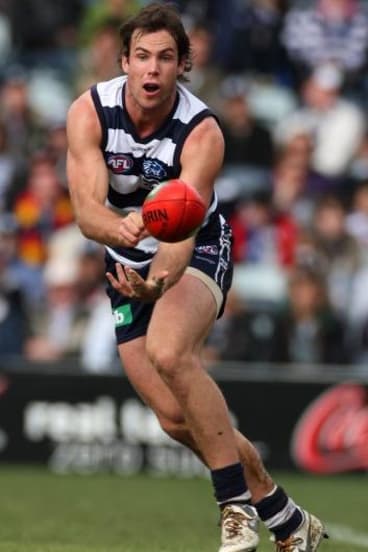 In a writ filed with the Supreme Court, Egan is suing orthopaedic surgeon Mark Blackney and Geelong club doctor Chris Bradshaw for negligence over the medical treatment he received after sustaining a stress fracture to his navicular bone in his right foot when playing for the Cats on September 1, 2007.
The writ claimed Dr Bradshaw was responsible for the medical care and management of Egan's navicular fracture and owed him a duty of care to a standard expected of a qualified sports medicine physician.
Dr Bradshaw had referred Egan to Blackney for an orthopedic assessment before the surgeon operated on Egan's foot on September 3, 2007.
Egan, the 2007 All-Australian centre half-back, began a rehabilitation program about 11 days later aimed at getting him fit to play in the grand final.
But on September 18, on the fifth day of the rehabilitation program "which involved weaving and a quickened pace", according to the writ, Egan suffered pain in his foot and could not continue.
Mr Blackney decided Egan would not be able to play in the grand final and Dr Bradshaw advised him to stop the rehabilitation program.
In the writ, Egan, who played 59 games for Geelong after debuting in 2005 and is currently an assistant coach at Essendon, claimed Mr Blackney and Dr Bradshaw had failed to:
* discuss the treatment options available for Egan's navicular stress fracture;
* inform Egan of the risk involved in having an operation on his foot;
* inform Egan that even with an operation, there was "virtually no prospect" of him playing football within the month following surgery;
* inform Egan the average return time to sport following surgery was five months;
* inform Egan there were considerable risks of undergoing surgery and the rehabilitation program.
Since the surgery, Egan had been unable to return to playing AFL football; was delisted by the Cats in 2010; had undergone six more operations culminating in the fusion of his right navicular bone to his right talus bone in March 2011; and had been assessed by an independent orthopaedic surgeon who confirmed the degree of impairment resulting from his injury at more than 5 per cent.
Egan claimed that as a result of Mr Blackney and Dr Bradshaw's negligence, he had suffered injury, loss and damage.
He now had a restricted range of motion in his right ankle, scarring, on-going pain and disability, and an "emotional reaction" because of his injury.
The writ said Egan was seeking damages plus costs but was not making a claim for loss of earnings.
Morning & Afternoon Newsletter
Delivered Mon–Fri.