Canberra could lose this year's NEAFL eastern conference grand final and the best-and-fairest dinner for the first time.
The eastern conference decider and the Mulrooney Medal count have been held in the nation's capital since the league's inception in 2011.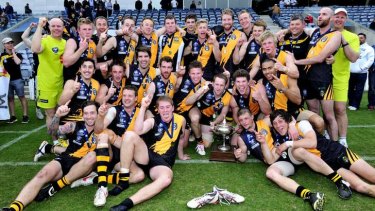 But Manuka Oval will be dug up after Greater Western Sydney's game against the Western Bulldogs there on July 6 to have drainage installed and will be out of action for the rest of the NEAFL season.
It means the finals series needs a new home.
Eastern conference manager Andrew Knott said finals would be allocated to whichever team earned hosting rights.
Given the Sydney Swans reserves' emphatic form, the decider looks set to be held in Sydney.
But if a Canberra-based team earns hosting rights then it will be up for grabs among the local clubs.
They have until the end of the week to put in a tender, which would also include hosting the AFL Canberra division-one and under-18 grand finals.
Belconnen and Tuggeranong have already applied.
Knott said the grand final would probably return to Manuka next year, but no definite decision had been made.
''With the grand final we've actually put that out to tender to clubs to see if they want to host the whole finals day, so that would be a NEAFL slash AFL Canberra package … and we're going to be making a decision and an announcement within the next two weeks or so,'' he said.
''.. We haven't looked that far ahead [to 2014].
''Going on history, Manuka is a fantastic venue and traditionally it's been home for all the finals so I don't necessarily see that changing, but I suppose it depends how this finals series goes.
''If a club does host and it is a fantastic venue and it goes off well, I'm open to explore other options.''
The NEAFL was also looking at revamping the best-and-fairest dinner.
It could be separated from the AFL Canberra presentation dinner and held as a stand-alone event.
The Mulrooney Medal night could find itself oscillating between Canberra and Sydney on an annual basis.
''The NEAFL is a state league competition, there's AFL clubs involved, we want to make it a high-profile thing, and we need to do some high-profile events around that,'' Knott said.
''The medal night is a key event in our calendar, but it mightn't even be a medal night, it could be a breakfast before the [NEAFL] grand final.''
Eastlake, which plays at Manuka Oval, will play its two remaining home games after July 6 at Phillip's Football Park and Ainslie Oval as part of a double-header.
David Polkinghorne covers the Canberra Raiders, local rugby league, Canberra Cavalry, racing and cycling, along with every other sport, for The Canberra Times.