The GWS Giants have withdrawn their multimillion-dollar bid for Lance Franklin in the belief that the dual premiership winning Hawthorn forward will accept a similarly rich offer from the Sydney Swans.
"The GWS Giants have withdrawn their offer to Buddy Franklin based on advice that he will accept an offer from the Swans." the Giants tweeted early Tuesday afternoon.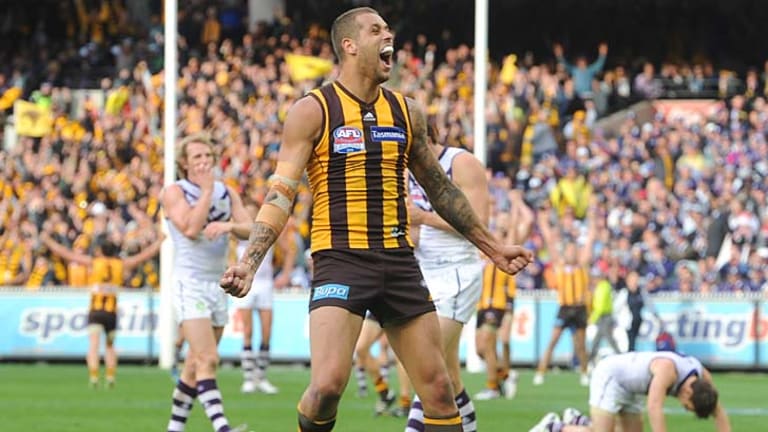 Soon after the club released an article on its website, in which it said GWS had been advised by Franklin's manager Liam Pickering that the Hawks star intended to accept an offer from the Sydney Swans.
"We put forward what we believed to be both a sensible and attractive offer to Franklin. Contrary to media reports, that offer was $1.2 million a year over six years," CEO David Matthews said.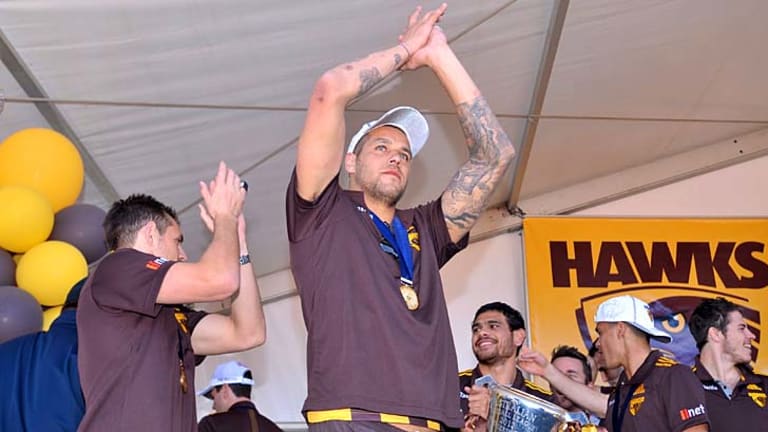 "It appears he has a significantly higher financial offer which we would not have been prepared to make based on our due diligence. We have every confidence in our list management strategy but we cannot compromise it for the sake of one individual.
"We have been patient and shown a lot of respect through the process. This decision now allows us to pursue other options during the forthcoming trade period."
Collingwood president Eddie McGuire and former Western Bulldogs great Luke Darcy suggested there would be outrage from other clubs if Franklin joins the Swans. Both the Swans and Greater Western Sydney are given a 9.8 per cent cost-of-living allowance above the league-wide salary cap. That arrangement was hotly questioned by rival clubs after the Swans snared ex-Adelaide star forward Kurt Tippett after winning last year's premiership.
But that unease will reach new levels if the Swans thwart GWS's efforts to poach Franklin with their own reported $7 million, five-year offer for the dual-premiership free agent.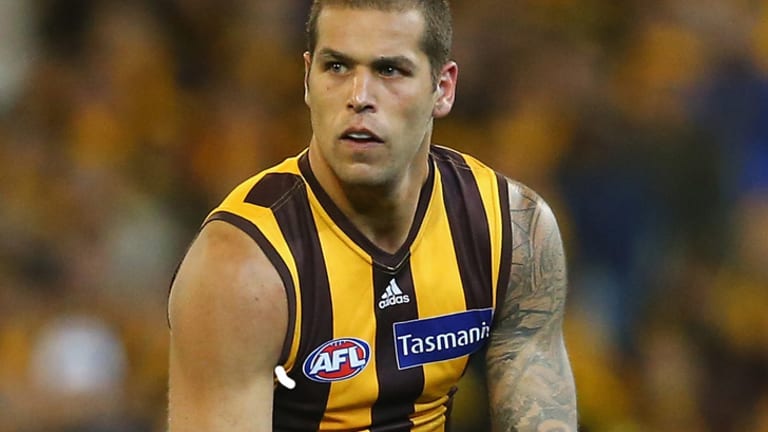 "I think there would be a riot. There would actually be a riot in AFL football," Darcy predicted on Melbourne's Triple-M radio on Tuesday.McGuire, a long-time critic of the Sydney clubs' allowances, agreed, saying: "I think so."
Sydney is reportedly prepared to pay Franklin about $7 million – at $1.4 million a season – over five years, however the Swans have refused to discuss the offer publicly.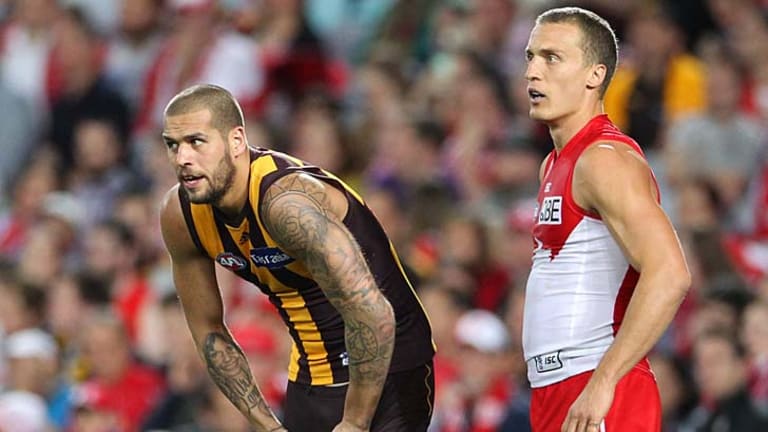 GWS has confirmed it contacted Franklin's manager Liam Pickering last week with an official offer – believed to be one of the biggest in the game's history at as much as $2 million a season, including third-party deals.
Fresh from winning his second premiership with the Hawks, the 26-year-old has stated he is hopeful of revealing his long-awaited decision on Tuesday or Wednesday.
A Franklin-to-Sydney move would not only be a significant blow to cross-town rival GWS, it would also raise eyebrows among those clubs already perplexed at how the Swans were able to land former Crow Kurt Tippett immediately after winning last year's premiership.
The Swans' salary cap would appear to be bursting, however the retirements of premiership players Jude Bolton, Martin Mattner and Mitch Morton, as well as the potential departures of Jesse White and Shane Mumford to trades, could theoretically open up enough room to accommodate Franklin.
The possibility of a Franklin-Tippett forward line, the two biggest fish in the recruiting market over the past two years, would certainly put the Swans' controversial $900,000-a-year cost-of-living allowance back in the spotlight.
Given the youthful Giants took the wooden spoon this year, there would be considerably less angst if Franklin ended up in their colours.
Adrian Anderson, the former AFL general manager of football, suggested the AFL allowance for the Sydney clubs meant an argument could be mounted that if Franklin does go to the Swans, the league is helping to recruit him.
"You could look at it that way," Anderson told 3AW radio.
"There's a very vigorous debate.
"Sydney will say that the cost of living up there is higher and they spread it across all the players on the list and it doesn't enable them to fund a player like that.
"But at the end of the day, the simple fact is they've got 10 per cent more. He added there were aspects of the Sydney lifestyle that in many players' minds meant the higher cost-of-living would be offset anyway, without the extra allowance
"You look at a place like Adelaide.
"You could argue as a young player that it's a more attractive, exciting environment to go to a place like Sydney, where it is more expensive, (but) it is exciting and fun, compared with Adelaide.
"I don't want to throw any aspersions on Adelaide as a city, but it doesn't have all the appeal and attractions for a young fella like Sydney does."
Asked whether that meant the Swans didn't need the AFL subsidy to recruit players, Anderson said: "Potentially."
The GWS offer was believed to be worth close to $2 million per season.
In June, Samantha Lane reported that Richmond President Gary March had slammed the cost of living allowance granted Sydney, bringing a furious response from then Swans chairman Richard Colless.
'When you look at the financials for 2013, and the premiers of the competition are forecasting to make a loss, if any of the Melbourne clubs forecast to make a loss and then went and paid $800,000 to get a player in, we would be getting hauled in front of the [AFL] commission,'' the Tigers boss told SEN radio.
"For me, I think there is a problem with the integrity of the game with the way the expansion teams - and I put Sydney into that - can administer their businesses as opposed to the Victorian clubs.''
Colless said he was sick of such "misinformation".

''We've spent the last six months encouraging the AFL to support the less-viable clubs, which wasn't a very fashionable view for the wealthy Victorian clubs, and I don't know if jealousy is the right word, but I haven't been overwhelmed with a sense of goodwill from rival clubs. There's two reasons for this. One is the fact that we were good enough to win a premiership, and the other reason, and the lightning rod, I think, is Tippett."
- AAP, with Matt Murnane and Will Brodie
On the trade table
Dale Thomas (Coll)
Restricted free agent. Set for a major offer from Carlton. Potential Hawthorn interest should Franklin go.
Nick Dal Santo (StK)
Has a trigger clause to remain a Saint next season but is wanted by North Melbourne and Essendon.
Heath Shaw (Coll)
Contracted for two more years but both parties have agreed to a split should a deal be done. Melbourne, Geelong and North all interested.
Stewart Crameri (Ess)
Out of contract and has been offered a four-year, $1.8 million deal by the Bulldogs.
Eddie Betts (Carl)
Out of contract. Has been offered a long-term deal by both Adelaide and North Melbourne. Blues offered a contract on lower terms than the other two.
Colin Sylvia (Melb)
Out of contract. Has been offered a new deal but is yet to re-commit.
Paul Chapman (Geel)
Out of contract. Unrestricted free agent. Wants to play on for another year.
James Podsiadly (Geel)
Out of contract. Wants to play on for another year.
Jesse White (Syd)
Out of contract. Has told Sydney wants to be traded to Victoria. Collingwood most interested.
Taylor Adams (GWS)
Out of contract. The tough midfielder has attracted interest from several clubs, including Collingwood, Richmond and Essendon.
Jared Polec (Bris Lions)
Out of contract. Has walked out on the Lions and sparked a bidding war between the Crows and Port Adelaide.
Sam Docherty (Bris Lions)
Out of contract. The young rebounding defender has met with North, Essendon, Carlton and the Bulldogs but has not ruled out returning to the Lions.
Elliot Yeo (Bris Lions)
Out of contract. Has attracted interest from West Coast.
Billy Longer (Bris Lions)
Out-of-contract ruckman wants to be traded. Will meet Hawthorn this week. Richmond also keen.
Patrick Karnezis (Bris Lions)
Out of contract. Collingwood, again, among clubs reported to be interested.
James Polkinghorne (Bris Lions)
Out of contract. Possibly on the move.
Aaron Cornelius (Bris Lions)
Out of contract.
Brent Staker (Bris Lions)
Out of contract. Possible interest from Carlton. In negotiations still with Brisbane.
- Trading prospects compiled by Jon Pierik, Michael Gleeson
with AAP
Morning & Afternoon Newsletter
Delivered Mon–Fri.