Brian Lake is set to be slugged with either a hefty fine or be made to face the tribunal for a match-based ban when his prolonged choke on Drew Petrie is evaluated by the match review panel on Monday.
The incident involving Lake, widely condemned by pundits and even his Hawthorn coach and teammates, is the third headlock-type incident to come before the panel in the past six weeks. GWS forward Jeremy Cameron and Richmond forward Ty Vickery each accepted $3000 fines for acts committed on opponents in, respectively, round 10 and round 12.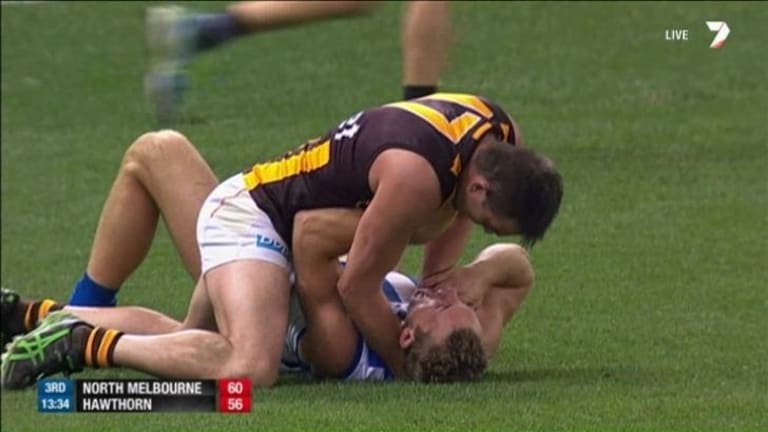 In explaining the Vickery penalty, which was $4000 before the early-plea discount, panel member Joel Bowden said its rationale was clear.
"We really don't like this ... at all when someone puts someone into a headlock or a choker," he told the AFL website.
North Melbourne spearhead Petrie said he had expected Lake to relinquish his grip on him once he stopped resisting in their scuffle on the half-forward line on Friday night, but that the Hawks defender had not done so.
"I was engaged initially as well and then I put my arms down, hoping that we'd both just stand up and run back to position again ... and we managed just to keep going on there so I had to get back involved," he told The Sunday Footy Show.
Petrie nevertheless said he was "comfortable with how the events panned out", and was adamant he had not been in danger of losing consciousness due to lack of oxygen and that Lake had not applied "strong force" to his throat.
"I'm OK – physical game, thing happens within games,'' Petrie said. "We both got up and played on. No one was hurt."
Petrie also said any resulting contact made by his fingers to Lake's face during the incident had been accidental.
"I didn't mean to gouge or scratch him. I'm sure come tomorrow there'll be something go on and we might hear more about it," he said.
"If that was my doing, putting the scratch on his face, I didn't mean to scratch him. I'm not a scratcher or a gouger or anything like that. I was just engaged in a bit of a wrestle and grabbed at something, as he had hold of me as well."
Lake's captain at the Hawks, Luke Hodge, told AFL Game Day the defender had transgressed, but stressed he had owned up to that inside the club.
"We don't condone anything like that,'' Hodge said. "We want to play hard, physical football but when it comes to that stage we don't agree with that. Brian admits he made a mistake, he did the wrong thing in the heat of the moment and we're very disappointed in what he did. But he's owned up to it and he'll move on."
Because the choking-type hold Lake made on Petrie is not explicitly listed in the AFL's list of offences the panel has the power to set a financial penalty it considers appropriate, as it did with Cameron and Vickery and now-retired Western Bulldogs full forward Barry Hall, for a headlock on North Melbourne's Scott Thompson in early 2010. After an investigation for the latter, which included a medical examination of Thompson, the panel decreed a more serious rough conduct or serious misconduct charge was not warranted.
If the panel skips its own judgment and refers the incident to the tribunal it would expose the Hawks player to the risk of suspension. Lake currently has 37.5 carryover points and a 10 per cent loading for a suspension from last year's grand final, although the tribunal is not forced to apply that to any penalty of its own creation.
Former Essendon forward Matthew Lloyd said he supported a referral of Lake to the tribunal.
"It's rare that I go [to a match] as a broadcaster ... that you feel uncomfortable watching something happen, but I was very uncomfortable with that. I thought it was a shocking look for the game," he told The Sunday Footy Show.
Former Western Bulldogs coach Terry Wallace expressed a similar view on SEN, revealing that when its player Daniel Southern was fined $10,000 for a headlock on West Coast's Peter Sumich 20 years ago the defender was privately castigated for it.
Petrie's contention he was not seriously physically stricken from the incident is seemingly aided by the fact that just over two minutes after he was finally released by Lake the Kangaroos spearhead took a towering pack mark on the goal line.
The clean record of West Coast spearhead Josh Kennedy may not be enough to save him from suspension for a high bump on Sydney's Zak Jones in the first two minutes of Sunday's match in Perth, because of the resulting substitution of the first-year player.
While Kennedy shunned the chance to tackle he did not leave the ground to deliver the bump, which would theoretically limit the conduct grading to medium. A classification of medium impact would trigger a two-match ban that could be cut to one. A classification of high impact would deliver a base penalty of three matches, although that too could be cut to one through a combination of good-record and guilty-plea discounts.
Gold Coast defender Rory Thompson may have to rely on an early plea to avoid suspension for a behind-play blow to the midriff of Collingwood's Travis Cloke at the weekend. GWS ruckman Shane Mumford should at worst be reprimanded for a glancing high blow to Adelaide's Josh Jenkins as the pair tussled ahead of a marking contest.
MATCH REVIEW PANEL – ROUND 16 PREDICTIONS
Mitchell (Haw) misconduct for kneeing Thompson (NM). No charge; insufficient impact.
Lake (Haw) misconduct for choking Petrie (NM). Direct referral to tribunal.
Petrie (NM) misconduct for unnecessary contact to face of Lake (Haw). No charge; insufficient impact.
Mumford (GWS) striking Jenkins (Adel). Negligent, low impact, high contact. 80 points (reprimand); 60 with guilty plea (reprimand)
Thompson (GC) striking Cloke (Coll). Intentional, low impact, body contact. 125 points (1 match); 93.75 with guilty plea (reprimand).
R. Gray (PA) striking Chapman (Ess). No charge; insufficient impact.
Chapman (Ess) striking R. Gray (PA). No charge; insufficient impact.
Kennedy (WC) rough conduct to Jones (Syd). Negligent, high impact, high contact. 325 down due to good record to 243.75 (2 matches); 182.81 with guilty plea (1 match).

Jesse Hogan has been a reporter at The Age since 2004, and has been part of its sports department since 2008. He is primarily focused on cricket and has covered a number of the Australian team's overseas tours, including the 2011 World Cup. He also reports on AFL and soccer.
Morning & Afternoon Newsletter
Delivered Mon–Fri.