Essendon legend Tim Watson would be "absolutely devastated" if his son Jobe was stripped of his Brownlow Medal, as Essendon is engulfed by a drugs probe.
The Australian Sports Anti-Doping Authority and the AFL will investigate the Bombers' use of possibly illegal performance-enhancing drugs, focusing on the possibility that players were injected with peptides or "related substances" and were asked to sign consent forms given to them by some club conditioning staff.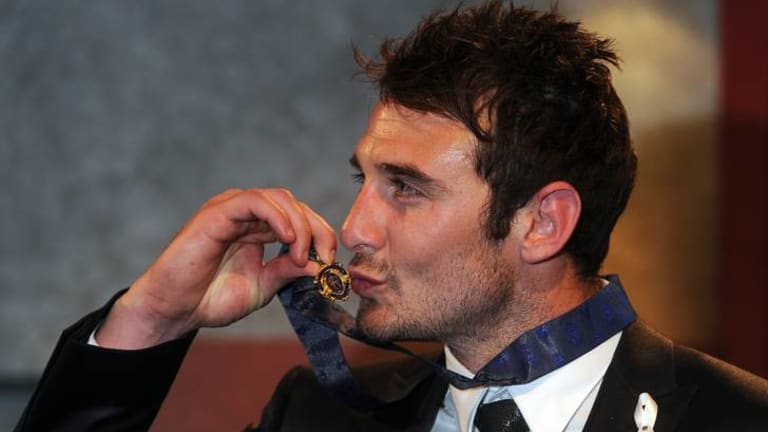 Players could potentially face bans of more than two years if found guilty of using performance-enhancing drugs.
"As a parent, I'd be devastated for him," Watson said. "You'd be completely and utterly destroyed and that is one of the components of this story too, there are lots of things that are going on that we don't know about.
''I'm angry, I'm frustrated as a former player and a parent.
"I've got no idea where this investigation will go and I don't think anybody does."
Watson said he had not yet spoken to his son about the probe, and planned to do so today. "I had a conversation yesterday with Jobe about his knee and that was before this broke and I haven't spoken to him since," he said on SEN.
Essendon was under siege, with security guards keeping fans and media out of the club's new Tullamarine facility as the players trained on Wednesday morning.
Watson found it difficult to conceive that "AFL clubs would allow people into the clubs ... not in a controlled way that everyone is on the same page".
"One would think that everybody within their football club has the checks and balances whereby they know the people they're employing, they know the substances and the composition of any substances being given to the players as well ... getting their players fitter and faster and stronger, they're going to push those because that's what being in an elite environment is all about," he said.
"But I hope that the correct checks and balances and the correct checks on the people are conducted before you employ them, because then you know exactly what it is that's going on within your football club."
He said regardless of what the ASADA and AFL investigation finds, his old club needed to look hard at its management.
''I was thinking about the gullibility of people who are in charge of a football club,'' Watson said.
''I understand the naivety of players because that's why they are - they come into the system, they're a bit like cattle, they get told this is what they need to do.
''If a supplement was there, of course they would be thinking 'OK, if the club has given their sanction, then this is OK ... there is nothing illegal or untoward'.
''I'm bewildered that this could possibly even take place in a modern-day, AFL, professional football club. It beggars belief, at face value, they have allowed what has been reported to occur.''
With AAP
Morning & Afternoon Newsletter
Delivered Mon–Fri.