The leadership void at the helm of Australian football appears to be nearing an end, which is fortunate because it was in danger of having been filled by stealth.
And the evidence was mounting that the most powerful man in football was not AFL Commission chairman Mike Fitzpatrick nor league chief executive Andrew Demetriou, but Collingwood president Eddie McGuire.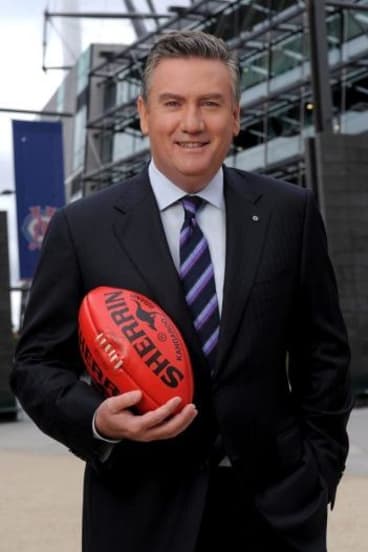 The good news for the AFL is that its near-certain new chief, Gillon McLachlan, comes heavily recommended by McGuire, and his own club's chief executive, Gary Pert, knocked back approaches from the AFL Commission's headhunters because he believed the job rightly belonged to McLachlan.
It is true that most clubs back McLachlan, but having McGuire onside is the trump card.
McGuire's latest coup was all too easy and took place late last week when Richmond and Melbourne launched a united push to create a new unique timeslot on the quickly-filling football calendar - Anzac Day eve.
Whether or not you like the idea - and next year there will be a game on the night of April 24 because it falls on a Friday - is largely irrelevant. The Tigers' big mistake before sending out the story was not consulting McGuire, who made his distaste known quickly for any attempt to further dilute the Magpies' hold on Anzac Day. By Friday morning, Demetriou had followed suit, saying that a permanent fixture on Anzac Day eve was unlikely.
McGuire as the true power in the AFL system is helped by the fact he sits on most AFL working parties that matter. When the league needs to bring clubs on board, it enlists McGuire. Ditto when it needs to win over the public.
When Demetriou and McLachlan planned their trip to New York last year, McGuire was one of the first on the list of club chiefs for whom they booked a seat, hoping to bring him on board in their bid to take money from the wealthier clubs to boost the coffers of the poor.
His greatest recent victory on behalf of Collingwood will become clear over the coming weeks as the league eventually rolls out its new equalisation structure.
While Hawthorn worked diligently to win back lost ground in capping the wealthy clubs' annual ''Robin Hood'' tax at $500,000, it was McGuire's fury late in the day at the proposed wealth tax on football department spending that led to that money being capped at an annual rate, saving Collingwood millions.
How can the AFL Commission claim to be independent when it identified equalisation as a top priority and then allow the final model to become so watered down - largely through fear of angering Collingwood and the McGuire media machine?
The smaller clubs are still fuming.
McGuire also sits on the AFL's working group that identifies potential AFL commissioners. He is one of only two club presidents afforded such a position of power - the other is West Coast's Alan Cransberg - and it is no surprise that his close friend Jeff Browne's name is constantly thrown up. Browne has even been touted as a future chairman. This is nothing against McGuire or Browne, who has plenty of strong support elsewhere, but surely McGuire's influence on the AFL is disproportionate.
The AFL Commission's failure to stand up without fear or favour to Essendon and various officials last year in the dying stages of the penalty negotiations into the Bombers' supplements scandal, could have been handled better to win over Essendon by bringing in McGuire instead of Australian Sports Commission boss John Wylie. Certainly it was McGuire who ultimately brought Demetriou and Essendon chairman Paul Little together.
There is a rule for McGuire and quite another for most other football people. The Adelaide Football Club sacked Matt Rendell less than six months into a three-year contract in 2012 after deeming he had made some casually racist comments at an unofficial meeting with two AFL officials.
McGuire insulted Adam Goodes with his King Kong reference last year and was charged with racial vilification, but only after Demetriou declared he had done nothing seriously wrong. (Demetriou had supported the treatment of Rendell.)
No one seriously expected the Collingwood board to stand up to McGuire on the Goodes issue, but the AFL's default position was limp.
Then last week, McGuire was appointed chef de mission of the AFL's International Rules team with the view that even that seemingly dying horse could be revived with the backing of ''Eddie Everywhere''.
Reigning premiership coach and newly appointed International Rules coach Alastair Clarkson agreed that McGuire's appointment was the most crucial in the attempted revival of the hybrid game.
No one disputes this. No one is suggesting that the game should not celebrate McGuire's golden touch and his ability to take hold of an issue - or a prized Sunday night TV timeslot - and run with it generally successfully.
But surely the AFL Commission must remind itself from time to time that McGuire is the president of the Collingwood Football Club - a job in which he has excelled by any definition, but a job that ultimately should rob him on some crucial occasions of football statesman status.
That it feels the need to kowtow to McGuire on so many big-ticket issues is disturbing, even in an industry where the male top-end-of-town rules.

Caroline Wilson has been chief football writer for The Age since 1999. She was the first woman to cover Australian Rules football on a full-time basis and the first woman to win the AFL's gold media award. She has won the AFL Players' Association's football writer of the year (1999) and the AFL Media Association's most outstanding football writer and most outstanding feature writer (2000, 2003, 2005). In 2014 she won the Melbourne Press Club's Graham Perkin award as Australian journalist of the year. She also won a MPC Quill Award in 2003.
Morning & Afternoon Newsletter
Delivered Mon–Fri.