North set to pay draft price for AFLW recruiting spree
North Melbourne are expected to pay the price for their AFLW recruiting spree by being pushed to the back of this year's draft order.
The Kangaroos on Monday confirmed three more signings – including that of Collingwood drawcard Moana Hope – as the women's league expansion signing period drew to a close.
The AFL is set to finalise its 2018 draft order by the close of business tomorrow, with the Roos tipped by insiders to effectively be penalised for landing so many stars in recent weeks, as the league tries to keep the fledgling competition as even as possible.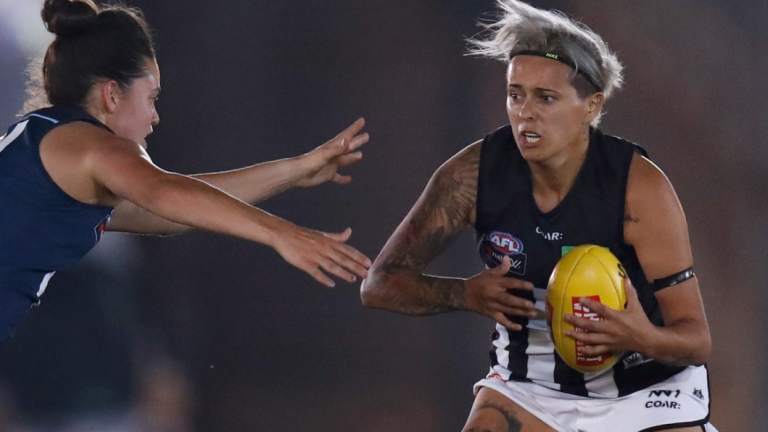 Fellow expansion club Geelong, who on Monday announced the signatures of former Melbourne and Greater Western Sydney player Maddie Boyd and outgoing GWS forward Phoebe McWilliams, are unlikely to fare quite as badly when the draft order is revealed, with the consensus being that their recruiting haul has not been as impressive as North's.
Collingwood, who had marketable forward Hope and ruck Emma King join Jess Duffin and Jas Garner in defecting to Arden Street, will be compensated by the AFL in accordance with a league formula.
The Western Bulldogs and Brisbane Lions, the latter of whom on Monday lost gun Kaitlyn Ashmore to the Roos, are also expected to benefit from compensation picks.
Hope left leaves the Holden Centre after two up-and-down seasons in black and white.
"Mo is one of the most dynamic forwards in the competition," Kangaroos coach Scott Gowans said.
"She reads the ball incredibly well and is super exciting to watch."
Gowans was also excited about the additions of Ashmore and King.
"Kaitlyn has a great ability to carry the ball through the midfield and out in space, and can break games open with her speed," Gowans said.
"She is a very exciting player to watch with great versatility. I'm sure fans will be as excited as us to see her in action in North colours.
"Emma has great tactical skill, she is also very physical and athletic which enables her to be a dominant ruck and key target up forward."
The Roos have assembled a fearsome array of talent for 2019, including the league's best and fairest player Emma Kearney, Pies star Garner and key Lion Jamie Stanton. Others to sign with North are Danielle Hardiman, Duffin, Kate Gillespie-Jones, Tahlia Randall, Brittany Gibson, Jenna Bruton, Daria Bannister, Maddison Smith, Ash Riddell, Georgia Nanscawen and Elisha King.
Daniel is an Age sports reporter.