A central figure in James Hird's fight against the AFL has lashed out at Essendon chairman Paul Little over comments he made about the suspended coach in an interview with Fairfax Media.
Ian Hanke, a former Liberal Party PR adviser who played a key back-room role for Hird throughout the Essendon supplements scandal, has savaged Little for ''undermining'' Hird in an effort to ''appease'' the AFL and chief executive Andrew Demetriou.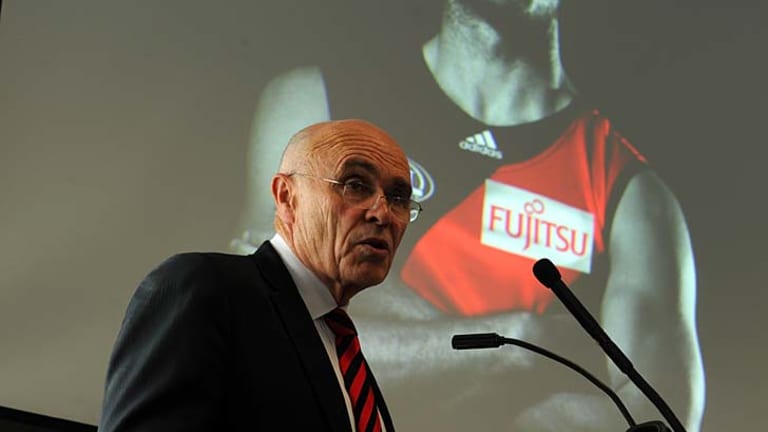 Little said Hird would return to the club a ''better person'' than the one suspended for 12 months last year by the AFL, but conceded that he faced a difficult task convincing Hird to move on from the fall-out of the supplements saga.
Little likened Hird the coach to Hird the passionate footballer whose first instinct was to ''whack right back'' after being belted on the playing arena, but admitted that tactic could not be tolerated as the club moved to reform its culture.
Hanke used Twitter over the weekend to take aim at Little for his comments, and predicted that Bombers supporters would be just as outraged as he was at Little's ''appalling'' behaviour.
''Just read Age interview with Paul Little. Got to seriously wonder what he was thinking. No excuses for such appaklng [sic] behaviour from him,'' he tweeted.
''Little really thinks that trying to appease the AFL by undermining his own is a good idea? Really?
''I imagine EFC members will be flaying Little and rightfully so. What planet does he live on… Planet Demetriou. Good grief.''
Describing his relationship with Demetriou as a work in progress,
Little also expressed regret that he had not been able to negotiate directly with Demetriou as the investigation into Essendon's 2012 supplement program unfolded.
Hanke also took exception to those comments, accusing the Essendon chairman of ''shoring up his position'' in the AFL's ''boys club''.
Hanke claimed the AFL had played ''jury, judge and executioner'' in punishing Hird and others at Essendon, pointing out that ASADA's investigation into the club's program had yet to reach a point where infraction notices would be issued to players.
''Little should be railing about the appalling AFL processes so that such a travesty never happens again and reform is instituted. The more I think about this, the worse it is.''
Hanke's criticism of Little is somewhat surprising given the president's unwavering support of Hird in the aftermath of the supplements scandal.
Essendon could not be contacted for comment on Sunday.
Morning & Afternoon Newsletter
Delivered Mon–Fri.