MICK Malthouse's football and literary commitments are on a collision course, with the publishers of a soon-to-be-released memoir about the controversial coach left frustrated and concerned the book could struggle for relevance given his decision to return to a senior position with Carlton.
Malthouse: A Football Life, penned by Malthouse's daughter Christi, is due for release next month but will not include any significant mention of the three-time premiership coach's decision to end his one-year retirement, a source of disappointment to publisher Allen & Unwin, who paid the author a significant advance estimated at between $75,000 and $100,000.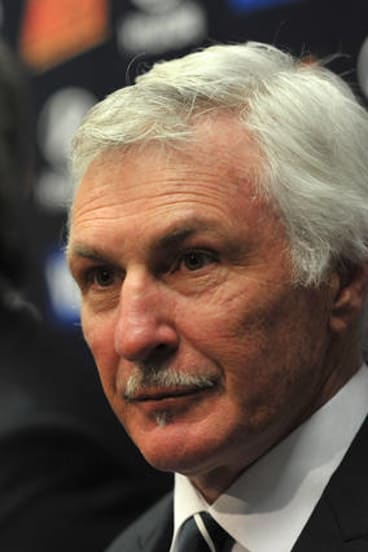 And Allen & Unwin's publisher, Foong Ling Kong, confirmed a proposed month-long promotional tour had been hastily rearranged to suit Malthouse's new coaching commitments and the Blues' high-altitude training camp in Arizona, which the coach insisted Carlton commit to before taking the job.
Allen & Unwin was forced to insert a one-page stop press in the memoir briefly outlining Malthouse's decision to join Carlton, something both the coach and his daughter have insisted took place only after Brett Ratten was sacked. The Age understands the publisher has also been frustrated that continuing predictions Malthouse would take the job have been circulating for months and yet the book will have no mention of the fact except in the hastily arranged stop press.
''It's untidy,'' Kong said. ''There's some parts of the book that are out of step with what has taken place, but I'm sure people will find it a fascinating story. The book is already printing, so all we could do was put in a one-page stop press with breaking news about Carlton.''
Publishing sources told The Age there were also commercial concerns given Malthouse's fallout with Collingwood and his inflammatory comments in recent weeks regarding Carlton's interest in Travis Cloke. Collingwood fans have bombarded social media, disenchanted with their former coach's change of heart regarding his previous insistence he could not coach against his Magpie players. Given he has not yet been embraced by Carlton, he finds himself in limbo in terms of public interest towards the new book.
Malthouse: A Football Life was the second of a two-book deal with Allen & Unwin following last year's The Ox is Slow but the Earth is Patient, written in conjunction with Malthouse's former fitness lieutenant at Collingwood, David Buttifant.
With the new book scheduled to be launched on October 23, Malthouse will begin his promotional tour with Christi on October 24 but a lengthy series of engagements in Western Australia have been either cut or brought forward given the Blues' Arizona trip.
Carlton had booked to return to train in the high altitude and heat of Qatar but changed that plan following talks with Malthouse, who had also previously stated his promotional book tour with his daughter was ''non-negotiable''.
Ratten commented in a radio interview three days ago that the Blues had suddenly found the significant extra money to fund Arizona, with the team departing along with the new coach on November 8.
Ratten also expressed on 3AW how disappointed he was at the club's treatment of senior assistant Mark Riley, who has been offered a development role with the club after being a midfield assistant. Riley is understood to have taken sick leave while weighing up his future.
The club's other midfield coach, Paul Williams, has been sacked.
Caroline Wilson has been chief football writer for The Age since 1999. She was the first woman to cover Australian Rules football on a full-time basis and the first woman to win the AFL's gold media award. She has won the AFL Players' Association's football writer of the year (1999) and the AFL Media Association's most outstanding football writer and most outstanding feature writer (2000, 2003, 2005). In 2014 she won the Melbourne Press Club's Graham Perkin award as Australian journalist of the year. She also won a MPC Quill Award in 2003.
Morning & Afternoon Newsletter
Delivered Mon–Fri.