HAVING rejected an approach to take charge of the National Rugby League, Gillon McLachlan has been promoted to the new role of AFL deputy chief executive officer, prompting speculation about how long Andrew Demetriou will continue in the top job.
In what is clearly a time of change and renewal at league headquarters following the departures of three members of the executive in recent months - Adrian Anderson (football operations), Andrew Catterall (strategy and marketing) and Christina Ogg (human resources) - the AFL has hired a recruiting firm to seek Anderson's replacement, a general manager of people and culture and a general manager of fan development and customer acquisition.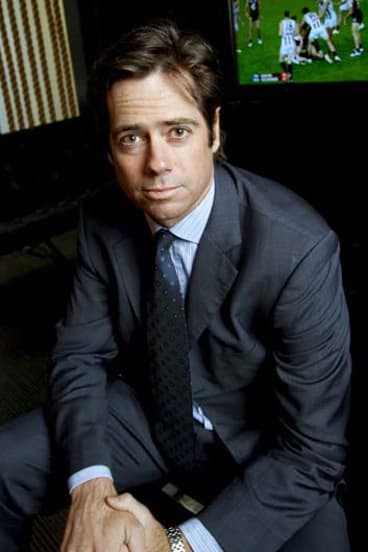 McLachlan will be interim football operations manager until Anderson's replacement is found.
This wide role could yet be split, with one person taking control of on-field issues and another in charge of the increasingly complex areas of integrity and drugs.
McLachlan, in his previous guise as chief operating officer, impressed when deputising for Demetriou during the year when the chief executive took almost two months of long-service leave.
AFL chairman Mike Fitzpatrick publicly thanked him for his excellent work during a high-powered lunch on grand final day.
In recent years, McLachlan has overseen the $1.25 billion broadcast rights deal and the expansion of AFL Media, which he says is set to break even on its estimated $5 million investment next season.
He is also responsible for the fixture, venue agreements and stadium infrastructure.
Club bosses had felt that Demetriou, 51, might step aside after the collective bargaining agreement with the players was brokered last season, but he has repeatedly said this year he has renewed enthusiasm and is keen to bed down the two new clubs, Gold Coast and Greater Western Sydney.
Demetriou has been chief executive since 2003, having spent the three previous years as football operations manager.

Jon Pierik is a sports writer with The Age, focusing primarily on AFL football, cricket and basketball. He has won awards for his cricket and basketball writing.
Morning & Afternoon Newsletter
Delivered Mon–Fri.