Richmond's renaissance has stalled, if not reversed. Paradise has been postponed, or indefinitely cancelled. The Tigers will not be at the pointy end of the ladder in 2014 and, from 1-3, they have as much chance of playing finals as the Bulldogs.
To be one win and three losses wouldn't be disastrous if Richmond had been lumbered with Collingwood's schedule. Alas, it has dropped three "eight point'' games, to Gold Coast, the Bulldogs and Collingwood. It is yet to run into the truly nasty cage matches, such as Hawthorn, Freo, Geelongand West Coast in Perth.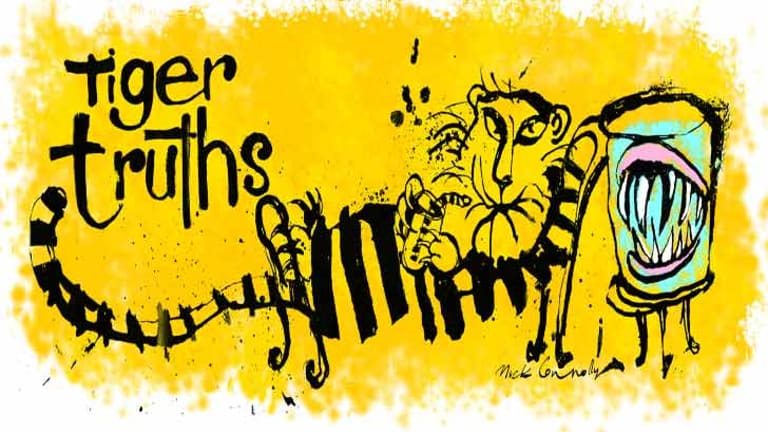 They should be lighting candles to Carlton at Punt Road this week.
Standing in the suitably sombre rooms on Friday evening, some of us could hear Damien Hardwick's invective. Trent Cotchin later explained that the coach felt short steps had been taken on a few occasions, in effect that contests had been squibbed. No coach - certainly not a brutal back pocket graduate of Alastair Clarkson's coaching school - will tolerate multiple instances of his players applying the handbreak in the face of incoming traffic.
But insufficient fortitude will only be an issue for the Tigers if it afflicts those, including Hardwick, who make decisions about the playing list. The football department must be clear sighted about this team, and its inadequacies, and then act.
This doesn't mean adopting a Game of Thrones list-management philosophy and garroting every player of questionable value. The Tigers can't rid themselves of 13-15 players. They just can't afford to squib a few tough calls. They know that this list won't take them beyond the lower reaches of the top eight, at best. Despite Hardwick's diagnosis, the Collingwood defeat was due more to lack of class - and terrible ball use - than faint hearts.
Hardwick isn't the problem. He can coach. The days of scapegoating the coach at Tigerland, happily, have been consigned to the pre-internet era. The Richmond regime is more stable - and capable - than at any stage during the past 30 years. The Tigers are actually making money, have first-world facilities and are untroubled in retaining and even attracting players. Their recruiting has been sound since 2006, if less spectacular than Geelong's.
So what's gone wrong?
Expansion hasn't helped. Under Hardwick, the Tigers had been making steady progress, from terrible early in 2010 - almost Melbourne-like - to play finals in 2013. They managed this because their first draft choices were pretty decent from the time Francis Jackson gave up his job as a teacher at Brighton Grammar and went full-time as head of recruiting. They nailed the selections of Jack Riewoldt (2006), Cotchin (2007), Dustin Martin (2009), Brandon Ellis (2011) and Nick Vlastuin (2012), while Tyrone Vickery (2008) and Reece Conca (2010) were OK choices, in that both will play 150-plus games. They haven't had any Jarrad Oakley-Nicholls-like catastrophes.
But the Tigers, like Carlton of 2003-2008, were building upon such a shallow base that they had absolutely no margin for error. Hawthorn, for instance, had major busts with top six picks Beau Dowler and Mitch Thorp in 2005-2006 (imagine if the Hawks had taken Joel Selwood, not Thorp), yet had enough cattle to cover for the clangers.
Expansion meant that the Tigers were getting access to Conca, not pick No. 2 in an uncompromised draft pool, and Ellis (No. 15), instead of a key position forward. Arguably, they ought to have chosen Tom Lynch (Gold Coast) rather than Conca, but that's expecting them to extract the maximum return from every single first pick, which no club - the Cats included - has ever managed over six or seven years.
What's happened, though, is irrelevant to what has to happen next if they're to extricate themselves from mid-table no-man's land. Avoiding Carlton's fatal overrating of its list is paramount, albeit they are in much better shape than the lifeless Blues.
The Tigers will need to think carefully about free agency. James Frawley obviously would benefit the defence, but can't be acquired at $750,000-$800,000 - unless he's paid in New Zealand dollars. Bryce Gibbs seems more likely to stay at Carlton or head to South Australia. They will need to trade out players - not simply in - by identifying the dispensables.
Blair Hartley's eye for a recycled/overlooked bargain has seen Richmond plug some short-term holes with Shaun Grigg, Bachar Houli, Ivan Maric, Steven Morris and now Matt Thomas and Shaun Hampson. Individually, these players are AFL-standard; collectively, to have six of them - plus Shane Edwards, Jake King, an inconsistent Vickery and a raft of unprovens such as Ben Griffiths and Dylan Grimes - creates a critical mass of C-graders. Some might graduate to Bs, most won't.
Vickery's future must be up for discussion. He has talent and, from what one can gather, is a thoughtful young man. The Tigers, alas, need a genuine power forward. Vickery's value lies as a third tall, since he isn't built for punishment and his poor games are double bogeys. The Tigers remain a big man short and if King is your only defensive small forward, you're in strife. Dustin Martin is a one-way runner who doesn't tackle.
Vlastuin is very capable, Ellis is capable of much better. At Richmond, that pair don't have the luxury of being gradually eased into the frontline, in the manner of young Hawthorn, Sydney or Geelong mids. Brett Deledio's abilities have been underappreciated; his worth is more evident when the Tigers are without him. Cotchin carries an inordinate leadership load.
To a degree, the Tigers were flattered by their home-and-away results in 2013. They were a 12-13-win team that was inflated to 15 wins by a favourable fixture.
They did lose to the Blues, only five matches ago. That's where they stand. Administrative hardness at the ball will be needed, in the right measure.

Jake Niall is a senior sports writer at 'The Age' specialising mainly in coverage of the AFL. He writes a weekly column for 'The Sunday Age' and has been on staff with 'The Age' or 'Sunday Age' since 1995. Jake, who combines original news with commentary, match-based writing, features and analysis, has won a number of awards, including the Alf Brown award for the best performer in AFL media in 2012, the Melbourne Press Club's 2007 Quill award for best sports story in any medium and a Walkley award, shared with colleagues Richard Baker, Nick McKenzie, Caroline Wilson and John Silvester, for best coverage of a major issue (Essendon scandal) in 2013.
Morning & Afternoon Newsletter
Delivered Mon–Fri.