Port Adelaide feels at home in prison-bar guernsey
It was 24 years ago that Geof Motley stood before a packed Alberton Oval hall and told club members that Port Adelaide should not go into the VFL unless it could wear its famous black and white prison-gate guernsey.
Port's audacious bid to join the competition failed then, but not without the local Tigers down the road branding it as an "act of treachery" and Collingwood president Allan McAlister crying: "There will only ever be one club wearing a black and white guernsey in the VFL – Collingwood."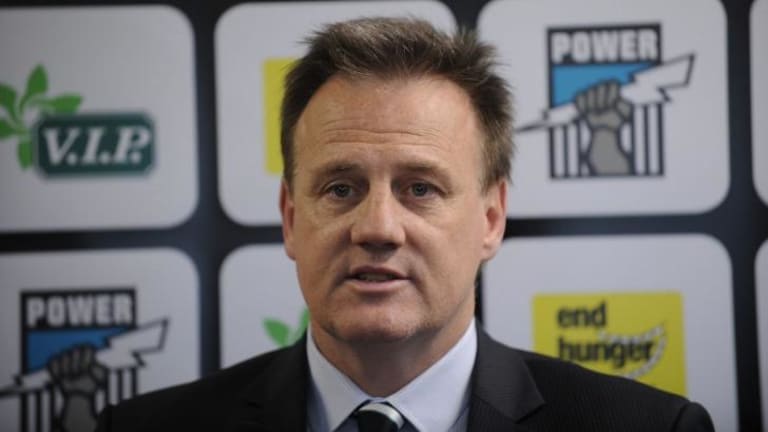 And after Port board member Greg Boulton had called the attending media "a bunch of whores", which brought a backlash of bad press in support of McAlister's response, we all moved on.
Today we can report we were wrong. This Sunday Port will run through the players' race at Adelaide Oval named after Motley wearing its famous black-and-white prison gate guernsey to take on the Tigers of a different breed in a cut-throat battle of a different kind – the first elimination final.
The approval by the AFL, confirmation the supplier could make a set of new guernseys in time, and amazingly with the blessing of Collingwood, was all met with applause thundering from the skies above Alberton, suggesting Port people much prefer the prison gate to the V-like black top designed by a 12-year-old girl in a competition.
It leaves us to ponder why the AFL hasn't forced Richmond to have an appropriate away strip to avoid a clash – like it made West Coast wear its away strip at home in round 20 – and whether Port is trying to use this saga as a motivational tool. Probably not, but it makes good pre-final debate.
Port chief executive Keith Thomas said for Port to be able to wear its famous guernsey again on the national stage, especially in the first historic AFL final at the Adelaide Oval, was a great opportunity.
"It will fill our community with enormous pride," Thomas said. "Ironically the strip, with white shorts, will resemble the exact uniform worn by our 1965 SANFL premiership team, the last premiership won by Port Adelaide at the Adelaide Oval." For the record, Port led Sturt by 29 points at three-quarter-time and won by three with Motley best on ground.
Despite anxiety levels rising at administrative and supporter base levels, Port vice-captain Brad Ebert didn't seem entirely sure how he felt about the guernsey issue.
"I think it is fantastic for the club and I would be very happy to wear the prison-bar guernsey again," Ebert said.
"We got to do it last year and it was great day for the club; the last game at AAMI (Stadium). Oh, we didn't actually win the game in the end, but in terms of a different jumper and stuff it was exciting for the whole playing group.
"It is going to be no different this weekend, but in saying that, the whole group hasn't been overly excited or unhappy with the situation; we're happy to run out and play in anything."
It must be difficult for Port to be split between two guernseys, but it is difficult to imagine anyone from Collingwood suggesting they would be happy playing in anything but their black and white vertical stripes.
Morning & Afternoon Newsletter
Delivered Mon–Fri.