DISENCHANTED Carlton assistant Mark Riley is now expected to remain at the club in a development role, despite his former colleague Brett Ratten suggesting that staying could prove untenable given the club's treatment of him.
Riley returned from sick leave on Monday and is understood to have accepted his new role - new coach Mick Malthouse did not want him as a senior assistant - despite initially believing the Blues were trying to sack him.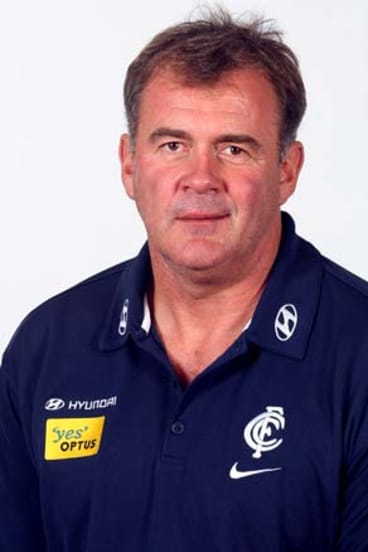 The treatment of Carlton's assistants placed a dampener on Malthouse's appointment and last week led to some heated words between AFL boss Andrew Demetriou and Coaches Association chief executive Danny Frawley.
Ratten said earlier this month that he could not see how Riley could return to work at the Blues after the way he had been treated. Riley's decision came as sacked midfield coach Paul Williams yesterday publicly attacked the club's integrity. Williams believed he deserved a 12-month pay-out under his contract but a threatened legal stoush appears to have been avoided, with Williams accepting his three-month termination clause which was written into his deal.
Riley's contract was watertight and had he been dismissed Carlton would have been forced to pay him a year's salary. The Blues believed Riley was headed for the Gold Coast and a stand-off ensued, with Carlton determined only to pay Riley if he remained in a football role at Carlton or with the Northern Blues.
Carlton's other midfield coach, Alan Richardson, was also dismissed but accepted his three months' termination, while Williams' legal concerns prompted an interview on Channel Nine's The Footy Show involving the AFL Coaches Association's lawyer, Chris Pollard.
It was that interview which raised Carlton's and Demetriou's ire and led to a fiery meeting between Demetriou and Frawley. Last night, Carlton chief executive Greg Swann told 3AW he planned to meet Frawley. Swann also stressed he had attempted to be upfront with Williams and had only erred in breaking the news to him too soon - a move that affected Malthouse's appointment.
Williams has criticised the Blues over their handling of his departure. ''I very much have had a different experience over the last couple of weeks,'' he said.
''It's one that I hope, looking back on it, [where] the club can actually get better at handling that sort of situation. All we wanted from the get-go was just tell us the truth, tell us exactly what's going on. Don't try to sell us something that we know isn't happening - and they weren't quite able to do that.''
Caroline Wilson has been chief football writer for The Age since 1999. She was the first woman to cover Australian Rules football on a full-time basis and the first woman to win the AFL's gold media award. She has won the AFL Players' Association's football writer of the year (1999) and the AFL Media Association's most outstanding football writer and most outstanding feature writer (2000, 2003, 2005). In 2014 she won the Melbourne Press Club's Graham Perkin award as Australian journalist of the year. She also won a MPC Quill Award in 2003.
Morning & Afternoon Newsletter
Delivered Mon–Fri.