HAWTHORN 4.1 9.3 9.7 13.12 (90) ESSENDON 1.5 3.7 9.10 12.14 (86)
GOALS: Hawthorn: Rioli 2, Breust 2, Suckling 2, Hill, Hale, Gunston, Lewis, Roughead, Simpkin, Puopolo. Essendon: Ambrose 3, Carlisle 2, Hardingham 2, Stanton, Zaharakis, Hocking, Merrett, Chapman. BEST: Hawthorn: Burgoyne, Gibson, Rioli, Hill, Smith, McEvoy, Suckling, Birchall. Essendon: Goddard, Hibberd, Chapman, Gleeson, Hooker, Ambrose, Heppell, Watson.
INJURIES: Hawthorn: Mitchell (calf) replaced in selected side by Litherland, Hodge (groin). Essendon: Ryder (ankle).
UMPIRES: Ryan, Meredith, Chamberlain. CROWD: 44,163 at Etihad Stadium.
They had led. They trailed. They had less than a minute to go. They had Cyril Rioli.
That was Hawthorn's night. Masterful for a half, destroyed for a quarter, valiant in a comeback. The Hawks were behind when the ball was smuggled forward and kicked with a toe-poke from a cluster of legs to the forward sprite who spun and turned and curled in the goal that re-established the lead and reasserted the dominance his side had comfortably had for a half, and not so comfortably tried to reclaim in the last quarter.
Between times, Essendon was gallant - the word for sides that lose without really deserving it.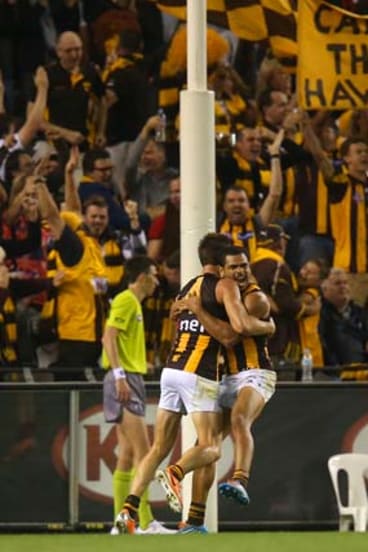 It was a match in which the Hawks lost their captain and most important defender, while Essendon lost its ruckman - another one - and theoretically most significant component.
Essendon matched Hawthorn for endeavour and attack, desperation and desire for the entire night. It did not match the reigning premier in ability to kick and make the right choices for half the night. It was the difference in the end.
The Bombers should have led at the first change: they had more of the ball; five centre clearances to one, five more inside-50s, and more shots at goal. The reason they weren't was clear in one regard - they kicked 1.5 and a couple more out on the full. Jake Carlisle pushed one across goal from four metres out.
The other reason was equally clear, Hawthorn went inside its attacking 50 with purpose and clear-eyed, clean-skilled delivery. Essendon was slow to move the ball forward - halted in its tracks by Hawthorn - then lobbed balls long and high to the goal square.
The Hawks are the best kicking side in the competition and it was the ability to find the kick to match the vision that was the difference in the teams.
There was a sense as Hawthorn assailed Essendon in the first half that the Bombers might have preferred things when Lance Franklin was at the Hawks. At least then they knew where most of the danger was coming from. Franklin had 50 goals in 10 games against the Dons, so they knew where most of the assaults were being directed, even if they were largely powerless to defend against them.
This time they had a rolling list of targets to combat. David Hale, Jack Gunston and Jarryd Roughead shuffled up and down the forward line taking turns, and at other times Shaun Burgoyne became another target. The Hawks had four different goalkickers in the first quarter, eight to half-time.
Then the change came. Essendon returned for the third term and learnt the lesson of the first. It challenged Hawthorn with run, moved the ball sharply, pushed hard up at Hawthorn players to stop their run and brought a hesitation to their game. Brendon Goddard marshalled the back line and dispatched Dyson Heppell on rebounding runs, Michael Hibberd was industrious, and Martin Gleeson played all night with a maturity that matched his energy.
Even when they had been trailing, the Bombers had been competitive. They were playing slowly and crudely, they were playing a little stupidly, but they weren't being beaten for the ball or losing in the contest. They were just kicking poorly and making some poor choices.
When they began taking the game on, they forced Hawthorn to be hesitant. Having only managed three goals for a half, they kicked six goals for the third quarter. David Zaharakis' first was a settler, Carlisle's was generous from a free kick against Luke Hodge for deliberate out of bounds when he tried to rush a behind, but when Patrick Ambrose rattled two in a minute, the Bombers had belief. Brent Stanton made good Paul Chapman's chip, and Heath Hocking put them in front.
Trading blows in the last, the Dons held on ... until Cyril intervened.

Michael Gleeson is a senior AFL football writer and Fairfax Media's athletics writer. He also covers tennis, cricket and other sports. He won the AFL Players Association Grant Hattam Trophy for excellence in journalism for the second time in 2014 and was a finalist in the 2014 Quill Awards for best sports feature writer. He was also a finalist in the 2014 Australian Sports Commission awards for his work on 'Boots for Kids'. He is a winner of the AFL Media Association award for best news reporter and a two-time winner of Cricket Victoria's cricket writer of the year award. Michael has covered multiple Olympics, Commonwealth Games and world championships and 15 seasons of AFL, He has also written seven books - five sports books and two true crime books.
Morning & Afternoon Newsletter
Delivered Mon–Fri.