Roos hits out at change in umpiring
Refusing to blame a controversial umpiring decision for Melbourne's eight-point loss to Gold Coast, Paul Roos admits he wishes the AFL's umpiring department had warned all clubs much earlier about a "dramatic shift" in the way the game is being officiated.
While stressing he had no problem with how the umpires are interpreting the rules, Roos said coaches should have been given the opportunity to warn their players during the pre-season that change was coming.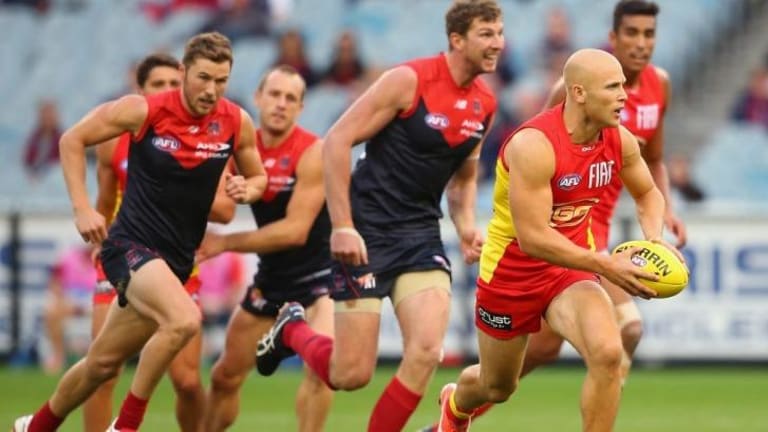 It was a highly questionable holding free kick - off-the-ball at a stoppage inside Gold Coast's forward 50 awarded to Gary Ablett in the last quarter - that raised the ire of Melbourne supporters, given it allowed the Suns captain to kick a crucial set shot goal with five minutes remaining.
Roos said he did not see the specific incident, and did not want to use the free kick as an excuse, although Demons supporters were clearly upset and booed both the umpires and Ablett loudly from that point on.
Roos said there had been "a lot of changes" to umpiring interpretations between seasons, and that the trend had actually moved sharply away from the type of free kick for minor contact that was awarded to Ablett.
"What I will say about the umpires, I think they are doing a great job, but I would have loved ... to have a clearer understanding of how the umpires are going to umpire this year," he said.
"It's a dramatically different game now to what it was in past years, so it would have been nice to get a bit more of a heads-up about that going into the season.
"I think we've seen in the first four or five weeks, there is just less free kicks ... very few 50-metre penalties paid, the one for push-in-the-back doesn't happen anymore when the bloke is on top of the guy on the ground.
"The specific one with Gary, I would have to look at it again ... unfortunately [we] didn't need a free kick at that time."
Roos admitted the tactical decision to substitute midfielder Dom Tyson (13 disposals, four clearances) was a mistake, and that he would have kept the ball-winner on if he had his time again.
While happy that his team was able to "win ugly" away from home, Gold Coast coach Guy McKenna did not seem amused by an embarrassing goal review decision that former Richmond champion Matthew Richardson (commentating the game on Fairfax Radio) described as the "worst I have ever seen".
A set shot from Melbourne swingman James Frawley was judged a goal after a long review, despite Suns defender Rory Thompson appearing to deflect the ball i a metre before the goal line.
In a farcical scenario, all players on the ground had set up for the shot to be ruled a behind, and replays showed Frawley laughing when the goal was awarded.
"My father was a goal umpire, and I think the umpires do an enormous job, whether they are on the wrong or the right side of the ledger," McKenna said.
"We are all human, we had enough players making mistakes and, as a coach, I've made mistakes," he said.
"I will tell you the truth, I thought they got a hand on it, but how can you see when you are sitting 150 metres away?
"I will always back the defender to say if they've touched it - they've touched it.
"There was some moans and groans from the [coach's] box. The other coaches watched [the replay] and they had their opinions, which I won't air."
Morning & Afternoon Newsletter
Delivered Mon–Fri.