Sheedy, Longmire question rotation cap
Greater Western Sydney coach Kevin Sheedy and Sydney counterpart John Longmire both raised concerns on Thursday about the AFL's trial of an interchange cap in the pre-season.
GWS and the Swans will have six players on the bench when they and Carlton feature in Sunday's triple-header at Blacktown.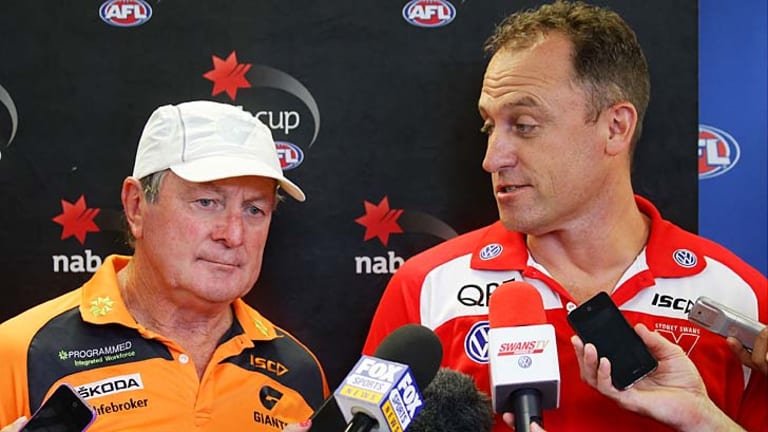 But the following week the NAB Cup reverts to full matches and the league will trial a limit of 80 rotations, with three interchange players and a substitute.
For Longmire it will be a nightmare as he looks to get a handful of underdone premiership players, including co-captain Adam Goodes who is recovering from a knee injury, match fit for the season proper.
"I understand the AFL's decision to trial it and I think it's a good thing rather than bringing it straight in," Longmire said.
"But the difficulty in trialling it in this period is that it substantially reduces the amount of flexibility you have to prepare your players for round one.
"(It makes it hard) to get the required minutes into all of them, particularly when you've got players coming back from injury."
Longmire was confident his club would adapt, but pondered whether the league could have tested the rule in a different environment.
"I'm not sure whether there are ways of trialling it rather than this time of the year," he said.
"Maybe a lower-level trial over the course of 12 months might be worth consideration.
"It's a significant difference. Last year we averaged 130 odd, so it'll change what it (football) looks like."
Sheedy suggested the cap would exacerbate the downfalls of the stringent concussion rule, which prevents players from returning to the field after they've been knocked out.
"They probably should consider releasing the fourth player on the bench (the substitute)," Sheedy said.
"We should talk about that instead of shoving it into our season.
"We all respect the doctor's decision on concussion, but if two of your own players knock each other out, you are in real trouble.
"Because there's only two on the bench (and limited rotations) for the rest of the match."
AAP
Morning & Afternoon Newsletter
Delivered Mon–Fri.