Sheedy taunts Swans as Giants sweat on stars for showdown
Greater Western Sydney have fired the first shot before this weekend's cross-town showdown but their chances of causing a boilover could be dealt a hammer blow by the AFL's match-review panel on Monday.
Rather than kowtow to Sydney, master coach and salesman Kevin Sheedy will continue to refer to the game as the ''battle of the bridge'', a title the Swans take great umbrage to as they feel it pigeonholes them as an eastern suburbs club.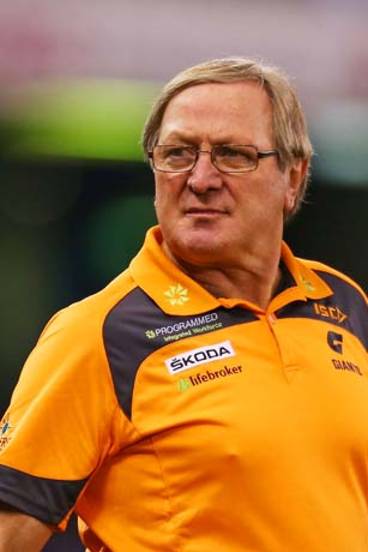 ''It's the battle of the bridge and not the derby, put a line through derby. Throw it down the drainpipe as far as I'm concerned,'' he said. ''It's the way the people in the west want it to be. We've spoken to lots of people and they like the idea. They love the idea of the Anzac Bridge and the Sydney Harbour Bridge, so I'll go on my own personal recommendation. Our fans out west like it, they know it's a landmark.''
Sheedy also accused the Swans of having ''given us nothing'' in the Giants' short existence.
''That's all right, that's OK, we understand that,'' said Sheedy, who believes the rivalry could in time be similar to that shared between Melbourne's Carlton, Collingwood and Essendon.
''We're not here to dance with each other, and we never will be. The Swans won the premiership for the sake of our game, but in general, they don't need to [give us anything]. We're competitors. We're like Coles and Woolworths in the same town.''
The comments continue the niggle between Sydney's two AFL clubs before and after round one when the Swans were seething at ''disrespectful'' remarks by Giants chief David Matthews suggesting the club had not adequately promoted the code in their 30 years in the city.
It's believed the Swans players were also bemused by the amount of on-field chirp from the Giants during the season-opener. The Giants might not have as much to crow about on the field if young guns Jeremy Cameron and Taylor Adams fall foul of the match-review panel. Cameron will come under scrutiny for a heavy hit that left Western Bulldogs defender Jason Johannisen with a season-ending shoulder injury.
Johannisen has been cleared of neck injuries, which could help the Giants forward as it limits the chances of the panel deeming contact to have been high.
Adams appeared to land a blow that felled Adam Cooney on the stroke of half-time, sparking a melee that is likely to result in several players being fined.