Sheedy warns 'fat' clubs to lay off Giants
GREATER Western Sydney coach Kevin Sheedy claims some Melbourne clubs have become fat on self-interest and that they can forget about recruiting Giants players back to their home states.
Sheedy clearly took exception to a recent get-together of the leaders of Melbourne's wealthiest clubs, where club presidents and chief executives met to discuss equalisation in the AFL amid the growing gap in wealth between clubs.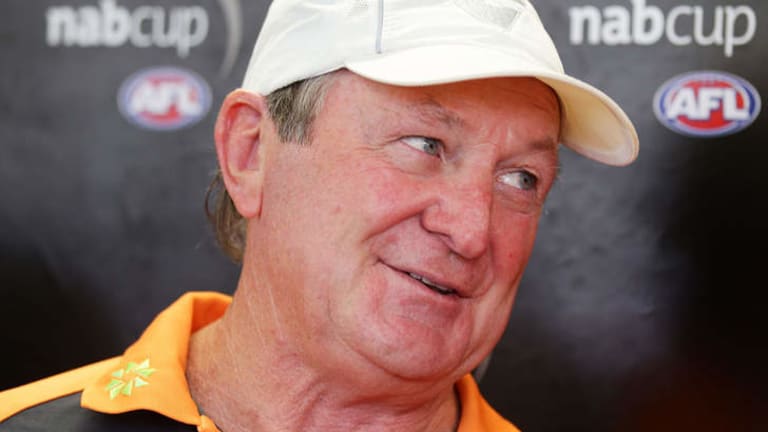 The leaders of Collingwood, Carlton, Hawthorn and Richmond agreed that Etihad Stadium should be bought with money from the AFL's Future Fund to solve poor stadium deals that are hurting financially struggling clubs, and that the league should scrap salary cap concessions, including the cost-of-living allowance for Sydney clubs. Essendon leaders were also to attend the lunch until their club was rocked by the supplements scandal.
The clubs also resolved to push for an end to draft concessions and Hawthorn president Andrew Newbold later said the Giants ''have indigestion they have so many draft picks''.
The Giants had eight of the first 10 picks in the 2011 national draft and were also granted access to 10 17-year-olds before they became the 18th club. After finishing last in their debut season they had the first three picks in last year's national draft.
GWS posted an open letter on its website on Tuesday in which Sheedy cheekily addressed the Hawks president as ''Mr Newbloke'' - following Jeff Kennett's departure - and said he had to address the ''nonsense'' of Newbold's remark.
''My response is that some clubs down in Melbourne have got fat on their own self-interest. But then as Paul Keating liked to say, in the race of life always back self-interest - at least you know it's trying,'' Sheedy said.
Sheedy said some figures seemed to be working to undermine the AFL's expansion, and that the Giants were entitled to the same draft picks as the Gold Coast before it joined the competition. His club would have been a basket case had it not been granted access to young players.
''What were we supposed to do? Pluck players from outer space? Nobody wanted another Brisbane Bears,'' he said.
''That was a club that spent its first eight years around the bottom of the ladder, struggling to win a game. It wasn't until their ninth year in the competition that they won 10 games in a season and played finals.
''Even then we had to send Fitzroy north to help them get into a grand final. What did they do? Won three premierships in a row and everyone down south was suddenly squealing they had been given too much. After more than 15 years in the competition!''
Sheedy urged critics of expansion to look at the greater good of growing the game - he said Collingwood president Eddie McGuire understood the concept - but warned established clubs they would not be able to ''pinch any of them''.
More than half of the 52 players on the Giants list come from Victoria, including Jonathon Patton and Lachie Whitfield, the past two No. 1 draft picks.
''Yes, I'm sorry to tell you but Jeremy Cameron, Adam Treloar, Dylan Shiel, Stephen Coniglio and Toby Greene - just to name a few - want to stay in Sydney. And we'll be announcing more soon,'' Sheedy said.
''It seems you want us in the competition but not if we are eventually going to be successful.
''Sometimes you actually have to look at what is best for the game as a whole and not just your club. In this respect, the AFL has got it absolutely right.''
Adam Cooper joined The Age in 2011 after a decade with AAP, the country's news service. Email or tweet Adam with your news tips.
Morning & Afternoon Newsletter
Delivered Mon–Fri.