Every time Gary Ablett senior went near the ball you could physically feel the crowd's expectation but, as a coach, three-time premiership player Jason Akermanis says he would rather have Gary Ablett junior in his team.
Canberra will get to see the brilliance of the younger model when Greater Western Sydney takes on the Gold Coast Suns at Manuka Oval on Saturday and Territorians can continue the debate as to whether son has surpassed the brilliance of his father.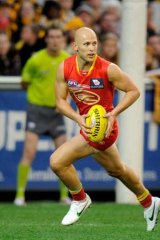 Akermanis and Suns coach Guy McKenna believe the son is better, while Giants mentor Kevin Sheedy and former Carlton full-back Stephen Silvagni think the two are on a par.
The two Abletts are different players cut from the same cloth - senior was one of the most devastating full-forwards ever, kicking 1030 career goals, while junior is the best midfielder of the modern era.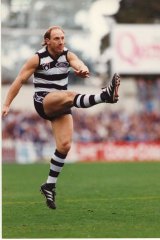 Their name is legendary in Geelong, where they both played most of their football.
While Akermanis said the dad's brilliant best was better than the son, his bad days meant it was junior's consistency that made him stand out.
Gary Ablett junior never plays a bad game.
Akermanis played once against senior - a draw between the Brisbane Bears and Geelong at Kardinia Park in 1996 - and it was that brilliant best that made the crowd come alive.
Ablett could pull down amazing park marks, kick impossible goals and he wasn't afraid to run through unsuspecting defenders who got in his way.
''He got the crowd going, every time he goes near it you don't just hear the noise, you feel it as it's coming towards him,'' Akermanis told The Canberra Times.
''The rumble of the crowd noise just hits you and you go, 'I hope they cheer like that for me some day'.''
In his West Coast playing days McKenna found himself up against a Cats forward line boasting Ablett senior and now he's coaching the son.
He thought young Ablett would need to retire before an evaluation could be made, but felt junior was slightly ahead.
Again it was the consistency of performance that put him in front.
''I'd probably lean towards Gazza now because … the modern greats seem to be around the ball and be able to tackle and chase and harass and pick up possessions as well,'' McKenna said.
''And to do it as regularly as Gary's done it, I've probably got him slightly ahead of Gary senior, but I was on the end of a couple of pastings from his old man too so I know how good he was.''
Sheedy, who has coached against teams containing father and son over the past 30 years, felt the two were on an equal footing.
But he said Canberrans needed to take the opportunity to see one of the greats of the game while they had the chance. The AFL draw might not bring him here again.
''I think Gary Ablett junior [is] really starting to square up and look at his father right in the eye because that's how great a player he is,'' Sheedy said.
''It might be the last time you see Gary Ablett ever play in Canberra.
''The AFL draw might not have [Gold Coast] here … so this may be one of the last times you see a guy like Gary Ablett junior playing.''
Silvagni was named at full-back in the AFL team of the century and spent many Saturday afternoons trying to stop Ablett senior in an era of great full-forwards.
Playing on Ablett, Jason Dunstall and Tony Lockett was Silvagni's bread and butter.
Now ''SOS'' is the GWS list manager.
He didn't think you could compare players from different eras and said they were both ''very, very special'' players.
When asked who he would rather have in his team he simply replied: ''If you had one of them in your team, you'd be very happy. I couldn't split it, to be honest.''
David Polkinghorne covers the Canberra Raiders, local rugby league, Canberra Cavalry, racing and cycling, along with every other sport, for The Canberra Times.