Swans on streak play down prospects
SYDNEY doesn't like giving much away at the best of times - and with five consecutive wins, this really is the best of times at the SCG. Just don't expect the Swans to start talking themselves up any time soon.
Sooner or later they might have to though. Few blinked when they pummeled Greater Western Sydney in round one. Their victory against North Melbourne, when grossly undermanned, raised eyebrows.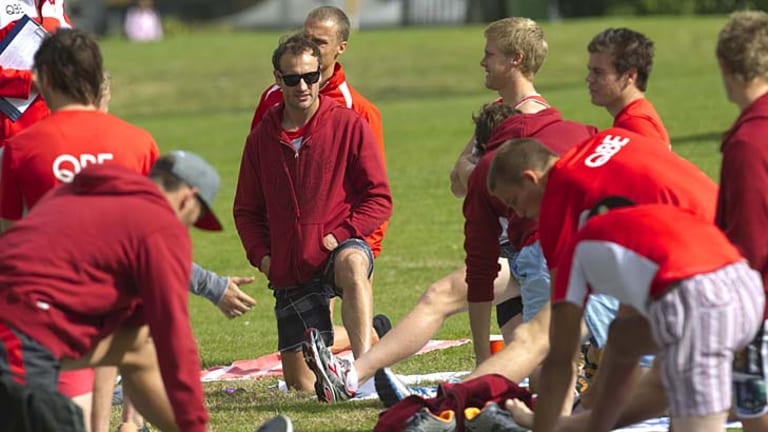 But last weekend's crushing defeat of pre-season flag favourite Hawthorn, on its private playground of Launceston, has made the whole competition take note.
Suddenly the Swans and their seemingly endless conga line of dynamic midfielders have admirers in all corners, not least the Hawks, who suggested the Swans deserve to be rated as premiership contenders.
But while yesterday's training session at the SCG hummed with the kind of confidence reserved for winning teams in their pomp, one of their new generation of midfielders, 19-year-old Luke Parker, was at pains to play down what it means to be unbeaten going into May.
''There's a bit of confidence going around the club and we're happy with how we've been going, but I don't think the boys are getting too carried away,'' he said.
''We're happy with where we're sitting at the moment but I think the main thing is to keep it going and keep sticking to our roles … but there's no doubt the vibe is up around the club.''
Asked if his side was now a top-four contender, Parker was reluctant to embrace the expectation.
''I guess we don't look too far ahead. It's only the first five games we've won,'' he said. ''We've started off really well but we're just really looking forward to the next week against Adelaide and hopefully we can make it 6-0.
''As a team we set goals and standards that each player is expected to play by. That's what we've been doing each week and that's why we've been able to be successful so far.''
Tongues have been wagging at how the Swans burned the Hawks during the second half last Sunday, and Parker concedes that type of result can only provide more self-belief.
''That game was one where we really wanted to win,'' he said. ''Hawthorn are a benchmark of the competition and we wanted to show we could match it with the best teams, so that was a real confidence boost for the boys.''
Parker claims the club's faith in youth has enabled the transition.
''[It's] probably [because] the young guys have now been given the opportunity to go through the midfield,'' he said.
Parker said coach John Longmire told his midfielders over summer to step up from being also-rans if they wanted to compete with the league's elite.
''It was something we focused on during the pre-season. We've [now] got a lot of big tanks in the engine room. We wanted to get a big fitness base up to match with the best midfields in the competition,'' he said.
Morning & Afternoon Newsletter
Delivered Mon–Fri.