Who would they have lost? Would it have been Cyril? What about Jack Gunston? Would he have lasted at the club just long enough to win a second flag then, like a guest at a dinner party asked to leave before dessert, been forced to find another home?
Perhaps it would have been Grant Birchall, Isaac Smith, Liam Shiels or Ryan Schoenmakers. Almost certainly one of them, and maybe two, would have been priced out of Hawthorn so it could afford to keep Lance Franklin.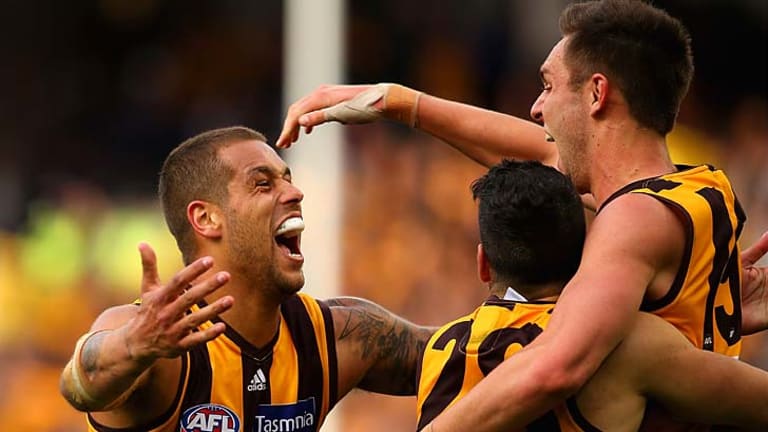 If Buddy had accepted the offer on the table to stay at Hawthorn in July last year, the consequences would have been far-reaching for the Hawks' list. Just as Geelong was able to hold its list of elite talent together because Gary Ablett went, so too was Hawthorn saved the Sophie's choice of whom to sacrifice because Franklin chose instead to walk.
Hawthorn ultimately did not have an offer on the table for Franklin by year's end. It had already begun signing other players after July rather than waiting on Buddy's signature. Had he come back to them at the end of the year and said he wanted to stay, there would have been that awkward moment of having to say 'sorry it's not there any more. We've shared it among your teammates'.
That moment was going to come to one of Hawthorn's players whether it was Franklin or one of his teammates - the money could be there for one or for some, but not for all.
Hawthorn would probably not have lost a player for this year if Franklin had stayed, but it is accepted that the trickle-down effect on the player payment cap would have meant one or more players in the under-26 or 27 age bracket would have been squeezed at the end of this year. It is also doubtful they could have entertained the trade for Ben McEvoy had Franklin stayed.
Undoubtedly, Gary Ablett leaving Geelong helped it hold together its remaining list of talent. Geelong has acknowledged that it would have lost one if not more players had Ablett stayed. Of course it also went on to win a premiership without him. Hawthorn might do the same.
Far from sliding without Franklin the Hawks presently sit atop the ladder, with a percentage of 180 and enough room in their salary cap to accommodate all they want to keep.
Furthermore, despite losing a two-time Coleman medallist, a man who won their goal-kicking six times, it has just won a game by 25 goals and has two of the three players leading the AFL goal-kicking. In fact it has four of the top 10 goalkickers in the league so far this year.
Hawthorn has had 10 individual goalkickers in all games this season bar the round-five loss to Geelong. Only once in the opening seven rounds last year did it do that and eventually it only did it eight times for the season.
The Hawks have the greatest spread of goalkickers in the league, averaging 10.57 individual goalkickers per game. Interestingly the team with the next best spread is Sydney with 8.86.
Last year, Hawthorn averaged eight individual goalkickers a game, second only behind Geelong. But that spread, along with its efficiency this year without Franklin, has increased.
Until last year the Hawks went to Franklin more than 40 per cent of the time they went inside 50. Last year that figure dropped to 28 per cent as they tweaked their ball movement and method of attack, but he was still clearly the first-choice target inside 50.
This year, the relatively diminutive Luke Breust is the first-choice target for the Hawks, having been used 21 per cent of the time to Jarryd Roughead's 20 per cent. Those figures help explain the spread of goalkickers and why Hawthorn has to date not suffered without Buddy.
Sydney is presently seventh on the ladder. Franklin has missed one game but he sits behind 20 other goalkickers who have booted more than him this year.
These are facts not opinion. They are not facts intended to suggest after such a premature period of time that the Sydney deal - as exorbitantly long as it is - was wrong for the Swans, who may yet win one or more flags with Franklin. These are facts that speak rather of Hawthorn and the fact that losing Buddy may prove a saviour, not a loss.

Michael Gleeson is a senior AFL football writer and Fairfax Media's athletics writer. He also covers tennis, cricket and other sports. He won the AFL Players Association Grant Hattam Trophy for excellence in journalism for the second time in 2014 and was a finalist in the 2014 Quill Awards for best sports feature writer. He was also a finalist in the 2014 Australian Sports Commission awards for his work on 'Boots for Kids'. He is a winner of the AFL Media Association award for best news reporter and a two-time winner of Cricket Victoria's cricket writer of the year award. Michael has covered multiple Olympics, Commonwealth Games and world championships and 15 seasons of AFL, He has also written seven books - five sports books and two true crime books.
Morning & Afternoon Newsletter
Delivered Mon–Fri.