RICHMOND 6.3 10.6 12.12 14.14 (98) CARLTON 2.4 5.5 9.7 12.14 (86)
GOALS Richmond: Vickery 4, Ellis 2, Martin 2, Deledio, Griffiths, King, Riewoldt, Edwards, Cotchin. Carlton: Yarran 3, Everitt 2, Menzel 2, Gibbs, Garlett,Waite, Simpson, Bell.
BEST Richmond: Cotchin, Vickery, Thomas, Edwards, Ellis, Martin, Deledio. Carlton: Yarran, Murphy, Bell, Waite, Buckley.
UMPIRES Stevic, Stewart, Leppard.
CROWD 62,037 at MCG.
The script was the same. It was all set up for another humiliation. We could all see it coming, as the Blues gradually whittled down the lead.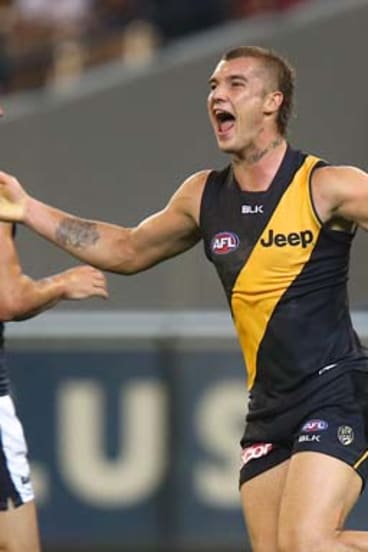 The Tigers were dying on their feet. Dale Thomas had been switched on Trent Cotchin and energised the Blues after Carlton's inept first half. When Bryce Gibbs dribbled a Daicos-like goal from somewhere near the hotdog stand, most of the 62,000 reckoned we were witnessing another groundhog day - a repeat of that elimination final.
By the time Troy Menzel snapped a goal to close the gap to a point, Richmond folk were entitled to head for the exits. The scores were levelled with precisely seven minutes left.
This time, however, the Tigers found the second wind that they had not located in previous capitulations. First they regained the ball - and Carlton botched a few chances and then, in the critical moment, Ty Vickery slotted a goal in time-on that put the Tigers eight points up.
At this point, Richmond had fought off Carlton and, no less important, it had conquered its own doubts and obvious frailities.
This time, Richmond regained their composure. It did not hurt the Tigers, either, that they did not have to contend with Chris Judd, who was so decisive in that final last September.
Richmond played a style of game that you might compare to a poor-man's Hawthorn, based on using the ball and moving it to score. This game required skill and verve - and winning the ball. The question was whether the Tigers had sufficient grit, or whether they would succumb when the Carlton charge came.
Carlton's method was very much in keeping with Mick Malthouse's successful teams - it was predicated on pressure, and intensity. If the Carlton intensity was even slightly down, the Blues looked awful - scrappy and unskilled. But when they became frenetic - with frenzied tackling, quick movement and stronger in the contest - they seemed entirely capable of exposing the fragile Tigers; they don't have a dominant key forward, but they had the more dangerous smalls - Chris Yarran and Jeff Garlett - while Jarrad Waite's athletic gifts came to the fore after half-time.
For the first half, Richmond's fluency and superior skills held sway. The major difference between the sides in the first hour was that the Tigers could retain possession - and convert - while Carlton couldn't.
Where Carlton's first half goals were labor intensive - scrounged from snaps by the likes of Chris Yarran, after the ball emerged from a scrum - Richmond could score from fluent ball movement, capped by a mark or a long, clean shot.
But the pattern of the match reversed in the second half, when Malthouse's hallmarks - pressure at the player with the ball, and winning the contested ball - wrested the ascendancy from an uncertain Richmond.
The pattern, of course, maintained the status quo for these clubs - Richmond opening up a sizeable lead in the first half, only to be chased down by a Carlton team that finished with a powerful burst. You could feel the belief ebbing from Richmond and surging within the Blues with every minute of the second half.
If the Tigers had the better of play in the formative first quarter, they also were remarkably accurate. Brandon Ellis nailed the first of two long shots from near the boundary, Cotchin slotted one from a similarly acute angle, as did Shane Edwards. Tyrone Vickery - given an initial mismatch on defensive duffer Sam Rowe - converted via a checkside shot, while a blazing Brett Deledio sank one from outside 50m on a 45 degree angle.
Richmond led 4.1 to a behind after nine and a half minutes; typically, thats a scoreline that suggests a game that is awaiting last rites, but not when Richmond is against the Lazurus with a triple bypass Blues.
The Blues, meanwhile, butchered opportunities, both to create or score a goal. Tom Bell, showing signs that he's adding some football nous to his physical gifts, was prominent in the first half, along with the consistent Kade Simpson, who slotted a well thought and executed long goal.
But everything the Blues did seemed hard work, in comparison with the more fluent Tigers, who simply have more skilful players, headed by Deledio, Trent Cotchin and their apprentices, Ellis and Vlastuin. Vickery played a significant part with four goals, given that Riewoldt was quiet.
But when the match became a fight, Carlton's blue collar qualites - which are intrinsic to all Malthouse-coached sides - meant the contest was on the Blues' terms. Dylan Buckley was among those who lifted, along with Thomas, Waite and Murphy. The Blues also ran harder, and found space after half-time. It was their inability to finish that probably cost them another groundhog victory over the flatlining Tigers.

Jake Niall is a senior sports writer at 'The Age' specialising mainly in coverage of the AFL. He writes a weekly column for 'The Sunday Age' and has been on staff with 'The Age' or 'Sunday Age' since 1995. Jake, who combines original news with commentary, match-based writing, features and analysis, has won a number of awards, including the Alf Brown award for the best performer in AFL media in 2012, the Melbourne Press Club's 2007 Quill award for best sports story in any medium and a Walkley award, shared with colleagues Richard Baker, Nick McKenzie, Caroline Wilson and John Silvester, for best coverage of a major issue (Essendon scandal) in 2013.
Morning & Afternoon Newsletter
Delivered Mon–Fri.