That Ivan Maric makes Richmond better is an understanding that reaches beyond football, draping a sense of how things should be done over this famous club like, well, a mullet spilling over broad shoulders. "I really admire him," says captain Trent Cotchin, who is proud to call Maric one of his closest friends at Tigerland.
"I think the simplest way to put it with Ivvy is the way he lives and breathes in his personal life - with regard to the care he shows everyone, his morals as a person - that's pretty well reflected in the way he plays his footy and what he expects of others."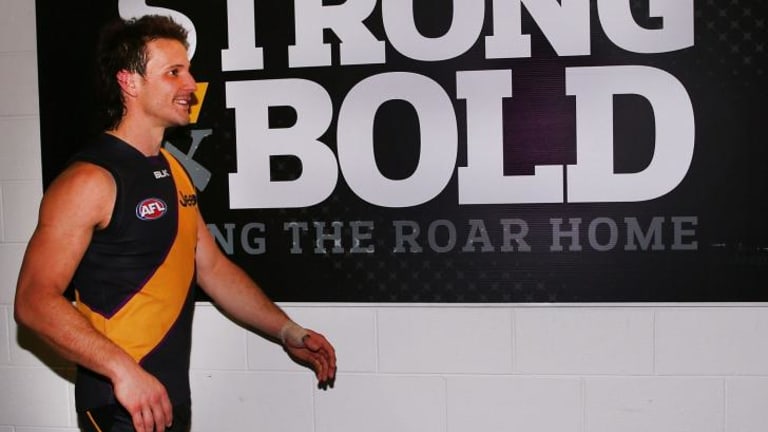 The ruckman's comments three weeks ago that Richmond's 3-10 start to the season had stemmed from poor standards on the training track and around the club were jarring, but nothing everyone at Punt Road hadn't already heard him say. One long-time football department staffer reckons speaking up would have been in "no-brainer" territory for Maric. "He's the one, if things aren't going right, he'll get up and say so at a team meeting."
Assistant coach Brendon Lade - who for Port Adelaide rucked against Maric in the 28-year-old's debut for Adelaide in 2006 - echoes Cotchin's observation that everything he says and does is geared towards the betterment of individual and team.
"Being around he and his wife (Erin) a lot, seeing him at home, he's stubborn as all men can be," Lade says. "At the club, whatever it takes to be the best he can be, he'll do it. If that means telling a coach, another player, an admin staffer that they're not doing their job properly, he'll do it.
"That's the challenge for the rest of our group - to make sure they keep doing that as well. He's setting a very good example, and we need to make sure as a group that we keep following it."
Analysis of where a season of great promise went so wrong pretty much starts with Maric's February surgery to remove spurs from his ankle. By the time he returned in round 11, finals talk had been usurped by crisis talk; fully up and going, he has been at the heart of a belated charge that faces its biggest do-or-die moment against the Crows on Saturday night.
Maric spent seven seasons toiling for 77 games in Adelaide, arriving in the 2004 draft with Jonathon Griffin and John Meesen, joining Matthew Clarke, Rhett Biglands and Ben Hudson. If the air really is thinner up there for ruckmen, there were so many competing for oxygen in his rookie years it's a wonder someone didn't pass out.
Hudson and Maric share a manager, and when his move to the Bulldogs cleared the Crows' big-man traffic jam, Hudson joked that Maric should pay him 10 per cent of all future earnings. "For whatever reason he wasn't given a go at being the number one in Adelaide, but he's thrived on the responsibility since," Hudson says. "He's just grown."
Cotchin recalls watching a highlights package before Maric's 100th game last season, and struggling with the image of his mate in a Crows jumper (the bowl haircut Lade remembers him sporting probably didn't help). "It almost didn't seem like him, just didn't seem right," Cotchin says.
He concedes that the distinctive, high-kneed gait has always been there, adding to the imposing figure he becomes when wound up. But he can picture Maric only in yellow and black.
His talismanic quality appeals to Tony Jewell, the Tigers' last premiership coach, who believes one thing about the game that hasn't changed is the value of filling your team with as many genuinely tough blokes as can stretch a jumper over their torsos. Jewell loved playing alongside and later coaching Francis Bourke - "he was like a security blanket, you just drew strength off him" - and sees the same qualities in Maric.
"He looks like the spiritual leader," Jewell says, adding that he sees a bit of former Hawk Don Scott in him, too. "When he's up and running and getting excited, pushing forward, he's dragging the whole side along with him.
"There's not too many ruckmen in the AFL at the moment who you'd say are as influential in an aggressive way as he is. Having these big, steely, strong blokes around you as you're about to run down the race on to the ground, I just reckon people draw on them."
Cotchin is happy to share the leadership load, and says he bounces ideas off Maric all the time. Cotchin thinks people who jump to conclusions miss Maric's depth; Maric speaks slowly, deliberately and in disarmingly soothing tones, and some confuse length of the message's delivery with uncertainty over what to say.
"He just really takes his time to say what he wants to say," Cotchin says. "It has a really positive impact now, the way he speaks. He has so much respect within our footy club, and in more recent times in the whole AFL competition."
He shares the Jewell ethos, walking taller at centre bounces, "knowing the bloke to your right hand side is really going to give you his best". It makes Maric a treasured teammate. "That's why we love him."

Peter Hanlon has worked at The Age since 1995, initially as deputy sports editor, subsequently as editor of the Saturday and Sunday Age sports sections, and since 2007 as a senior sports writer. He writes extensively on the AFL, and has also covered the Beijing Olympics and Delhi Commonwealth Games.
Morning & Afternoon Newsletter
Delivered Mon–Fri.