THE winds of change sweeping through Carlton appear to be gaining even greater force, with Blues midfielder Brock McLean believing the time is right for Chris Judd to step down as captain.
McLean said it would be in Judd's best interests to give up the extra pressure and responsibility of being skipper, allowing the dual Brownlow medallist to focus on maintaining his elite playing level during the twilight of his career.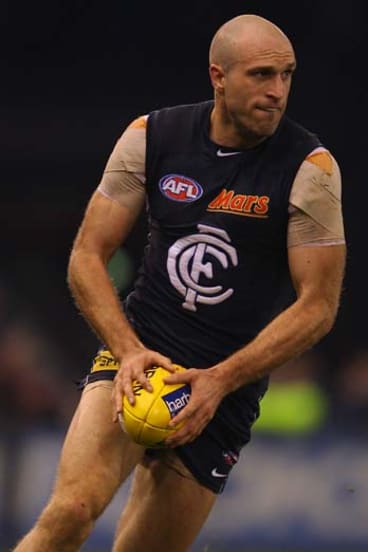 Judd was considered by some to be a reluctant skipper at former club West Coast and Carlton now had enough leaders for the 29-year-old to walk away from the captaincy - if he wanted to - and play his last handful of seasons unburdened.
But McLean was careful to stress his opinion was his own and, therefore, might not reflect a common majority within the playing group.
''I can only speak for myself but, personally, I think it would probably be the best thing for Chris to focus on his footy,'' McLean said when asked directly about whether the time was right for Judd to step aside.
''The best player Chris can be for the footy club is the best player at the club. So, personally, I think he is best off focusing on his footy.''
There was already a growing belief before McLean's comments on Wednesday that Judd was ready to give up the captaincy, with new coach Mick Malthouse a long-time believer that the leadership load the three-time best and fairest carries at Visy Park is too heavy.
McLean said either of Judd's midfield stablemates, Andrew Carrazzo or Marc Murphy, could step up and do the job this season, should the incumbent skipper decide to give it up.
Carlton president Stephen Kernahan has already stated that a decision on the captaincy, made by the players and coaching staff, would probably be left until February.
''There are two standouts for me, and I can't speak on behalf of anyone else, but they would be Andrew Carrazzo and Marc Murphy,'' McLean said when he was asked about potential candidates.
''Carrots [Carrazzo] is probably a little bit more experienced and older than Murph and been around a bit longer, so I reckon he's got a very good handle on things,'' he said.
''The way he talks to the playing group, both in a positive and a demanding manner, I think that's something that we need.
''And Marc Murphy, I think his best way of leading is leading by example.
''His performances in the last few years, when he has been out on the park, have been pretty outstanding.''
Morning & Afternoon Newsletter
Delivered Mon–Fri.